Meet Midas the four-eared cat that is taking Instagram by storm
Midas - the world's most adorable four-eared cat- has found her forever home in Europe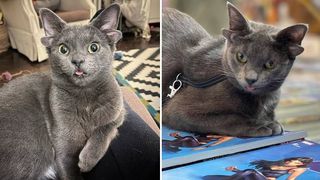 (Image credit: Instagram / @midas_x24)
Midas, a super sweet four-eared cat, is taking Instagram by storm in the cutest videos and pictures that are frequently shared by their owners.
The fancy feline, who has more than 309K followers on their page @midas_x24, was adopted by a woman in Ankara, Turkey, late last year, when the kitty was just four months of age.
Owner Canis Dosemeci and her partner certainly weren't put off by the additional pair of small ears that can be seen nestled within Midas' normal ears.
It's believed that this unusual facial development came about as a result of a recessive gene mutation which would have most likely been passed down from the feline's parents.
However, this slight difference in her appearance has meant that Midas also has a defective jaw - not that that stops her from living her best life.
But the best part of it all is, her ears are fully functional… all four of them!
Midas' owner, Canis, confirmed that she had her beloved pet checked out by her local veterinarian who discovered that all four of the ears are connected to the central ear canal meaning she's got purr-fect hearing!
But these cool ears aren't Midas' only special feature. If you look closely enough, this adorable animal has a white, heart shaped marking on her belly.
Despite all of her differences, Midas is just like any other kitty you'd see roaming around the neighborhood, without a care in the world. As you can see from the hundreds of social media posts, Midas loves to both lounge around and play fun games.
Canis has said that Midas "is a very playful cat. But very friendly as well" who "sleeps all day and is awake all night."
And this cute kitty isn't alone in the popular social media posts either.
Midas' favorite friend isn't a fellow feline at all but a 12-year-old dog named Suzy instead. However, Midas' antics can sometimes be a bit much for the mature golden retriever - no matter how many times she tries to sneak up on the unsuspecting pooch.
This loving owner hopes that Midas' Instagram account will help inspire more people to adopt their animals instead of buying them from pet shops and breeders.
Get the best advice, tips and top tech for your beloved Pets
Chloe is a freelance writer, editor, and proofreader, who has more than ten years' experience in creating animal-focussed content. From National Geographic to Animal Planet, Chloe's passion for creating fact-filled features all about wildlife and the environment is evident. But it's not just wild animals that Chloe's fascinated by. Having written more than 75 articles for PetsRadar - and having her very own four-legged friend by her side - it's no wonder that her love of dogs (and, of course, cats) has grown exponentially.
Her website, www.chloemaywrites.com, and social media pages - @ChloeMayWrites on Instagram, Facebook, and Twitter - showcase her knowledge through daily facts and trivia tidbits. For example, did you know that snails have teeth?!