Misunderstood Rottweiler snuggles into owner after nobody wanted to stroke him at the park
You should never judge a book by its cover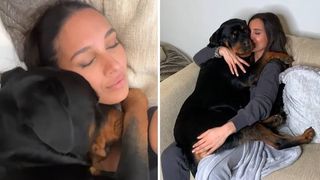 (Image credit: Instagram / nala_the_needy_rottie)
A misunderstood Rottweiler was left dejected after nobody wanted to stroke him during a visit to the park. Fortunately, the internet has rallied around the cuddly pup, with a video of him seeking comfort by snuggling with his owner going viral on TikTok.
The video, which explains the sad situation in a series of captions, has already amassed more than 8 million views and 1.4 million likes despite only being shared five days ago. Commenters have been quick to express their disbelief at fellow park-goers' ways, with hundreds queuing up to do what others wouldn't and give him a huge hug themselves.
The clip was posted on an account called "Nala The Needy Rot," but actually features Nala's brother, two-year-old Axel. It shows the pup hugging his owner with his paws flopped gently around her shoulders, affectionately burying his snout into her neck.
Captions accompanying the video read: "He went to the park today and nobody wanted to play with him. He doesn't understand why people ignore him."
"Their loss," Axel's owner writes, and the populous dog-loving community of TikTok appears to agree.
"People are afraid of them (Rottweilers) but they are so sweet," Sandzyrdz81 commented on the video, with Sabrina-Bianca adding: "I would've asked to pet him… I love big dogs."
Alyssa agreed, saying: "I swear if I saw you in public I would cry. I love Rotties so much. They're the biggest sweethearts ever."
Several commenters even offered to drop what they were doing and hop on a plane, train or whatever mode of transport was available to give Axel the affection he deserves. Meanwhile others remained shocked that anyone could pass up the opportunity to say hello to such a friendly fellow.
"Nobody wanted to what now?" one aghast viewer wrote, and their sentiments were shared by several others in the comment section.
So, though pet-owners at the park may have spurned the chance to show Axel some love, the internet has proven there are plenty of Rottweiler fans out there.
And so there should be. If you're prepared to put in plenty of effort to properly train and socialize them as a puppy, they're likely to be an obedient, calm, fun and loyal breed to have as a companion.
Get the best advice, tips and top tech for your beloved Pets
Having grown up on farms in rural south west England, there has rarely been a moment in Harry's life when his home hasn't been filled with a cacophony of animal noises. From dogs, cats, hamsters and rabbits to chickens, goats, tortoises and a particularly mischievous lamb, he has always enjoyed being surrounded by a wide variety of pets. Currently, he enjoys living in the (comparatively quiet) company of his one-year-old cavachon, Archie. As a writer, he started his journalistic career in 2018 as a reporter earning bylines in more than 70 regional and national UK newspapers over the next three years. After this, he began writing for magazines, producing features and reviews for titles including Men's Health, Good Housekeeping, Elle and Esquire.