Meet Mr Marbles - Owner of Insta-influencer Lil Bub introduces his new feline friend
Mr Marbles is the new "magical space cat" in Lil Bub's family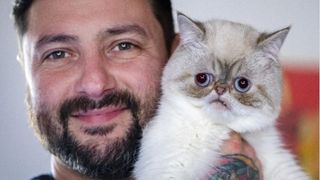 (Image credit: Instagram)
Mr Marbles Marshmallow is the new feline friend who's joined the family of Lil Bub, the Instagram sensation who sadly passed away back in December 2019 at the age of 8.
A number of genetic anomalies meant that Lil Bub remained kitten-sized for her whole life. She also had disproportionately short limbs and shorter lower jaw which was missing a full set of teeth, causing her tongue to permanently hang out. This gave her a very distinctive appearance that endeared her to her Instagram audience.
Despite the challenges she faced, her winning personality won over the internet, garnering over 2.3 million Instagram followers and almost 3 million Facebook subscribers.
While her loss will always be felt, her former owner, Mike Bridavsky, has given a home to a similarly visually striking cat.
Mr Marbles, who has been dubbed the 'magical space cat', was adopted from a local shelter.
"He is a truly magical critter undoubtedly sent to us by our beloved BUB" said Bridavsky. "He weighs five pounds, has an impressive snaggletooth, a head shaped like a donut, enormous blue eyes, and a double-wide half-length tail that probably belonged to a raccoon in a past life.
"I literally cried tears of joy when I first held him in my lap on our way home from the shelter – the same feeling I had the first time I held BUB 11 years ago."
Mr Marbles certainly has a unique look - with wide eyes and a bit of a frown. This shouldn't fool you though, as according to Bridavsky, Mr Marbles is "incredibly happy, curious, confident, and sometimes a little confused," adding that he likes nothing more than to follow the family around and snuggle next to them.
Well, we're already won over. Personally, we can't wait to see what Mr Marbles gets up to, and happily we will all have plenty of opportunities to find out.
You can follow the adventures of Mr Marbles on Instagram @itsmistermarbles.
Get the best advice, tips and top tech for your beloved Pets
Steve writes and proofreads buying guides, news stories and advice for Pets Radar, drawing on his lifelong experience as a pet owner. Currently sharing his house with two cats and a dog, he draws on the many highs and occasional lows of pet ownership he has borne witness to in his writing. He has worked in publishing for 15 years as an editor, sub editor and writer on a range of titles, such as SciFiNow, How It Works, All About History, Real Crime and Horrorville. You can follow him on Twitter @stevewright22