One simple tip, some treats, and this trainer's advice to get your dog to remain in the stay position
You might be missing this crucial part of getting your dog to remain in the 'stay' position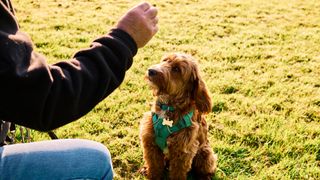 (Image credit: Getty)
Do you want to teach your dog to stay but can't get them to hold this in the desired position? It's a tricky command to master, especially if you own a lively canine who dashes off at any given moment to play with his best puppy toys.
Perhaps you feel like you have tried everything to train your dog to remain in the stay position and have reached the end of your tether. If this is the case we're glad you've landed on our site.
Thankfully, Tom Davis, who goes by the name America's Canine Educator, has identified one common mistake that countless dog owners make when attempting to teach their dogs to stay and he wants to share his simple solution.
In the video above, Davis identifies where most canine owners slip up when teaching their dog the 'stay' command. He says that one of the biggest mistakes that he sees happen all the time is owners telling their dog to stay, then taking a few steps back and recalling their dog to them. "The dog starts to anticipate being released, and will break the stay on their own," he explains.
Davis doesn't leave us hanging, instead, he says, "I'm going to teach you how to make your stay better with your dog."
He explains that in order for you to get your canine to stay in a better position for a longer duration you need to 'pay' them here multiple times. AKA, you are going to want to carry plenty of the best dog treats in your pockets so that you can reward (pay) your dog with treats.
Also, don't forget to use your voice to praise your dog verbally and instill this command as a positive one in their memory. So as you bring your dog the food be sure to say something like 'Good stay'.
"The only time that they're going to get up is when they say the 'B' word, the break word," Davis notes, "And if your dog gets up at any point just use your body pressure and your voice pressure." Verbal cues like 'Ah ah' or 'Stop' will be helpful.
Rome wasn't built in a day and neither is teaching your dog to stay. It takes time to learn a new command so you should always approach canine your canine with patience and consistency in order to build long-term results.
Get the best advice, tips and top tech for your beloved Pets
Jessica is Staff Writer at PetsRadar who joined the team after spending over a year writing for the brand's sister site, Fit&Well. She is an avid dog spotter whilst out for her weekly runs and brings to the team a passion for creating informative and helpful digital content, which she has been putting to practice since graduating with a degree in Magazine Journalism in 2021.