Paralyzed dog's heartwarming reaction to wheelchair harness leaves netizens in tears
Rose's excitement about a trip outside is reducing TikTok viewers to tears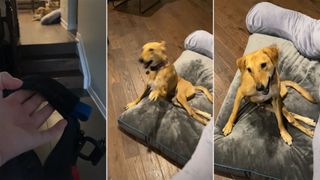 (Image credit: TikTok / @twopawsrose)
Rose suffers from two paralyzed hind legs, but as a viral TikTok video has demonstrated, she's far from an unhappy dog.
The video shows Rose's owner approaching her with her wheelchair harness, and Rose's reaction when she sees it coming is absolutely priceless.
It's exactly the same as you'll get from any dog that spots you getting the leash out or hears you uttering the "W-A-L-K" word, and Rose's excitement has been delighting viewers and reducing many of them to tears.
As the video shows, Rose is lying on her bed as her owner heads towards her with the harness, but as soon as she realizes what's happening her face lights up and she hauls herself up on her front legs and bounces around as best she can, ready for a trip outside.
So far the video's racked up over six million views on TikTok, as well as thousands of adoring comments.
"Thanks for making me cry. What an angel," says one, while another adds, "So heartbreaking but sooo adorable!"
What lots of people want to know, though, is what Rose looks like when she's in her wheelchair, and her owner has been quick to answer this request. "Ask and you shall receive," she says, and here's Rose out and about:
How happy does she look there? And while Rose is clearly living her best life when she's out having fun on her wheels, she clearly doesn't need the wheelchair to have a fantastic time.
Another TikTok post shows her out of her wheelchair and just being a silly dog on the grass:
So there you go; just because a dog doesn't have the full complement of working legs, that doesn't mean that it can't live a rewarding and fun-packed life.
If you want to see more of Rose's heartwarming antics, head for her owner's TikTok page.
Get the best advice, tips and top tech for your beloved Pets
Jim is a writer, performer and cat-wrangler based in Bath, who last year adopted a pair of sibling rescue cats who turned out to be effectively feral, and has spent a lot of time since then trying to get them accustomed to people (some success) and each other (ongoing project).