Paralyzed dog shows baby how to "crawl" and the results are adorable
Watch how Kahlua The Paralyzed Dog taught her human's child to move around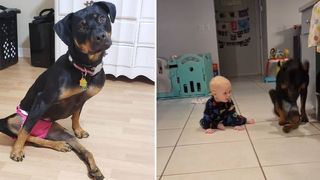 (Image credit: Kahlua The Paralyzed Dog)
Kahlua The Paralyzed Dog has a unique way of getting around, and it seems to have rubbed off on her owner's baby, Caleb.
In a video, posted to TikTok, baby Caleb can be seen dragging himself across the floor with his arms while his furry companion bounces adorably past him, set to the caption "our paralyzed dog taught the baby to get around".
The adorable duo's crawling antics has understandably racked up over 1.3 million likes and 27.1K shares, with Kahlua winning the hearts of thousands of TikTokers across the globe.
kellianderson262 commented "Sweet doggie, my heart just melted", while mothermagickreation gushed: "Oh my heart! This is the most precious thing I've seen."
Kahlua's owners revealed that the cheerful pup "doesn't realize she is paralyzed" and that Caleb "doesn't crawl at all...this is how he gets around now," thanks to the influence of his furry best friend, who overcame a terrible accident before he came to live with his current owners.
Rescued a few years ago, Kahlua's previous owners said she had fallen from a three storey balcony and it broke her spine. Her foster family rehabilitated her and helped her adjust to her new life without fully functioning legs and having to wear a diaper and she's taken it all in her stride.
The lovely lady was able to find a new forever family and is "living her best life" according to her owner, who says she is proud to have the paralyzed pup as part of their family. Watch her story below:
Kahlua has her very own TikTok with over 84K followers, where you can follow all her adventures.
She can be seen teaching her little brother Caleb how to fetch, hanging out with her fur-sibling, the stunning golden mutt, Sully, and bouncing around on her butt (she has little wheels to help her get around when she is outside of the house) and generally winning at life.
Get the best advice, tips and top tech for your beloved Pets