Viral videos of a sweet Pit Bull swimming in a pool charms TikTok
This is one adorable dog who loves water so much she won't get out of the pool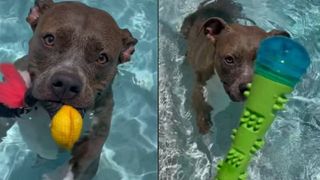 (Image credit: @MySoulisart / TikTok)
Pearl the Pit Bull is making waves on TikTok with her obsession with her swimming pool. Every chance this sweet little dog gets she dives into the water, and once she's in, there is very little her owner Alicia can do to get her back out. Even if she needs to get to work!
In a video that has captured the hearts of TikTok users worldwide, and has racked up over two and a half million views, you can hear Alicia telling Pearl that it's time to get out, while Pearl does everything she can to stay in the water.
When Pearl sees that Alicia is holding a towel her glum face makes it clear what she thinks of that idea. Even when Pearl is called out by her owner who tells her: "You know you are being naughty" Pearl still wavers, torn between following her owner's orders and the irresistible draw of staying in the water. Pearl is so like a naughty teenager in clearly knowing what her owner wants her to do but still doing everything she can to put off actually getting out, that it's hilarious.
Of the 6000 admiring comments, the comparison with a recalcitrant teenager was not lost.
As @kayla commented, "She said "Oops, I fell back in" So something my kids would do." while @Jason added, "The stalling like every kid does. It's not just one species." Of course, if teenagers looked this cute then it's likely they'd get away with a lot more!
Alicia knows that "She's a water dog through and through, we can't keep her out of it." And Pearl is clearly as at home in the water as she is on land. Check out this post showing her perfectly balancing as she stands up in the pool.
And if you want cuteness overload, the video below of her patiently waiting for her toy to be thrown in the pool, staying as still as possible, her eyes focused completely on the toy, is not to be missed.
It's clear that you can get too much of a good thing though, even if Pearl doesn't recognize it. In the TikTok below she clearly needs to take a rest after multiple throws and fetches, but Pearl isn't having any of that. Not when there's still balls to be fetched!
To keep up with Pearl and her water-loving antics, you can follow her exploits on @mysoulisart on TikTok. Long may her love of the pool continue!
Get the best advice, tips and top tech for your beloved Pets
Jamie Middleton is a freelance editor and writer who has been editing and creating content for magazines and websites for over 20 years. As well as writing about the pets he loves, he has helped create websites about tech and innovation like TechRadar.com, Innovate UK and TechSPARK, written programmes for music festivals, books on inventions and architecture, TV listings magazines, and edited publications about cars such as Lexus, Toyota and Jaguar. In his spare time he writes fiction books and poetry - or at least he does when he is permitted to by his cat Pirate, who enjoys the warmth of laptops too much to allow being creative to get in the way.