Best swimming pool for dogs: Puncture-proof, portable and perfect for parties
Help your pup beat the heat with style using our guide to the best swimming pool for dogs
Included in this guide:
1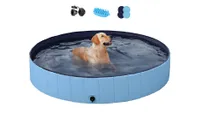 YAHEETECH
Foldable Pool
2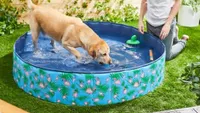 Frisco
Outdoor Swimming Pool
3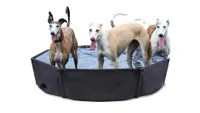 Polog
Foldable Dog Pool
4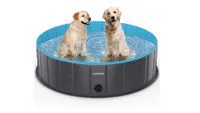 Lunaoo
Foldable Dog Pool
5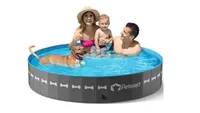 Peteast
Foldable Dog Swimming Pool
6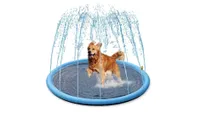 Flying
Paws Splash Sprinkler Pad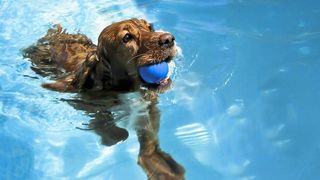 (Image credit: Getty Images)
Bring a refreshing twist to warm days; the best swimming pool for dogs can easily be assembled in your backyard for the ultimate pup pool party.
Although having a place for your canine companion to splash around in feels like a glamorous accessory, it's actually a very practical addition to the backyard.
As most dogs have heavy, thick coats and can't sweat through their skin, our furry friends need an extra spot of help to cooldown. Common signs that your dog is struggling with the heat include panting, excessive drooling, excessive thirst and an elevated body temperature.
Most of the time when the sun's high in the sky dogs are best sticking to a shady spot, but providing them with plenty of water is also an absolute essential. A swimming pool not only gives a dog a chance to feel some cool water through their fur and lets them enjoy one of their favorite pastimes, you may spot them lapping up some of the good stuff too.
If you've been thinking of setting up a spot in the backyard for your canine companions to splash about, here's our guide to the best pools for dogs you can buy in 2021.
Looking for further inspiration? Why not treat your pooch to one of the best cooling mats for dogs and provide the ultimate cooldown combination?
PetsRadar's pick of the best swimming pool for dogs
Best overall pool for dogs: YAHEETECH Foldable Pool
Best stylish dog pool: Frisco Outdoor Swimming Pool
Best puncture-proof dog pool: Polog Foldable Dog Pool
Best portable dog pool: Lunaoo Foldable Dog Pool
Best large dog pool: Peteast Foldable Dog Swimming Pool
Best sprinkler pool for dogs: Splash Sprinkler Pad
YAHEETECH Foldable Pool
Best overall pool for dogs
Size: 39, 48, 55, 63 inches | Material: Hard plastic | Additional accessories?: Yes
Multiple colors
Foldable
Comes with multiple accessories
Not ideal for heavy diggers
If you're looking for an extra roomy addition to your yard, then look no further than the YAHEETECH Foldable Extra Large Pool. The product is available in a few sizes: from 39 inches all the way to XXL at 63 inches, as well as a few color options.
If you opt for the XXL size, expect a water capacity of 106 gallons; there's plenty of room here for larger breeds to splash around in, including gentle giants like the Saint Bernards.
Made from thick and durable hard plastic, the product holds up well against any furry visitors, but beware if your dog has nails on the long side: the bottom of the pool can be torn open.
The manufacturers suggest trimming nails as a way to prevent this, while providing four repair patches which can be used to prevent any accidental damage that does occur.
If your dog loves to dig, you may be best looking elsewhere; otherwise this paddling pool is a fantastic option for big breeds who love to swim.
Frisco Outdoor Swimming Pool
Size: Medium, Large, Extra Large | Material: PVC | Additional accessories?: Yes, for additional cost
Stylish design
Fun extras available
Doesn't need to be inflated
Portable
Not ideal for chewers
Having a tropical pool party in the backyard this summer? You need this super stylish pool for dogs who love to look good when they swim.
The product is available in multiple sizes, including a respectable 63 x 63 x 11.8 inches in the XL size. You don't need to inflate it either, which is great news for those who'd rather spend more time lounging in the sun and inflating the pool.
Its fun tropical print looks a treat but it's the extra goodies you can buy that makes this a summer must-have. For an additional cost, you can pick up some funky accessories to match the stylish high standard of the pool. Bundles include ice-cream style floating dog toys or a shark dog life jacket if you fancy turning your pooch into the dog equivalent of Jaws.
Made from PVC, the pool is lightweight and foldable, making it a highly portable option if you're looking to hit the beach instead. However, this material choice does present one major design flaw: if you have a dog who prefers to chew the pool then swim, you may find your dreams of the perfect tropical party deflating in front of your very eyes.
Polog Foldable Dog Pool
Best puncture-proof dog pool
Size: Small, Medium, Large, Extra Large | Material: Hard PVC | Additional accessories?: No
Handy side drainage hole
Collapsible
Multiple sizes
Lack of color options
Made from thick and durable hard PVC, the Polog Foldable Dog Pool won't easily go down. It can withstand being emptied and refilled on a frequent basis, not to mention your dog's paws pouncing all over the floor though the manufacturer does indicate you should trim your dog's nails.
A typically sturdy addition to the yard, the product is easy to assemble too: you can use the spout to fill water, while it can be easily drained away with the side drainage hole. The pool can be folded down and stored as a bonus on the portability front.
Available in a dark navy color, the pool will easily disguise any grass stains and muddy marks that'll inevitably ensue when you've got an eager pup on your hands, but it's also a bit of a downside.
The product isn't the most creative in the style stakes: a wider choice of colors and patterns would be welcome. However, if you'd prefer a pool that can be brought to the party time and time again, it's easy to overlook the style in favor of durability.
Lunaoo Foldable Dog Pool
Sizes: Small, Large, Extra Large | Material: PVC | Additional accessories?: No
3-year warranty
Portable
Non-slip base
Limited color choice
Could be more durable
Whether you're hitting the backyard or the beach, the Lunaoo Foldable Dog Pool is easy to pack up and go. The pool can easily be pulled inwards and folded so it takes up little room to store.
An additional bag to store the product would have been an added bonus; there are no extra accessories here, but you can always pop it into one you own at home.
To set up, you don't need to inflate, just open up and fold out; this handy pool for dogs comes with in-built drains which makes filling and draining a breeze.
The bottom of the pool is made out of thick non-slip material to prevent pets from slipping, but it's also the weakest point of the pool. Some pet owners have reported signs of wear and tear to the base.
Peteast Foldable Dog Swimming Pool
Sizes: 64 inches | Material: PVC and fibreboard | Additional accessories?: No
Anti-slip
Foldable
Doesn't need inflated
XXL size
Durable
Assembly can be tricky
For when a large dog pool isn't enough, opt for XXL. At 64 inches, the Peteast Foldable Dog Swimming Pool can fit the whole family in. Yet, it's not so big that it takes up the entire yard.
This handy pool can also be folded down and easily stored, while assembly is also reasonably simple, although it may take a few attempts to get a hang off.
There's no need to inflate here: the pool comes with a built-in drainage hole so you can drain or refresh water easily.
One of the biggest plus points of this product is how sturdy it is. Alongside the PVC, the product features thick fiberboard to improve durability.
Even for dogs that love to chew or use their claws, you might be pleasantly surprised here by how well this pool can hold up.
Flying Paws Splash Sprinkler Pad
Best sprinkler pool for dogs
Sizes: 59 inches | Material: PVC | Additional accessories?: No
Great alternative to traditional dog pool
Easy to set up
Thick PVC
Limited colors
Not for destructive dogs
Not eco-friendly
Whether your dog is a little shy when it comes to deeper water or your simply love the fun factor on offer here, opting for Splash Sprinkler Pad is a great option.
This sprinkler pool comes in at a pretty roomy 59 inches so there's plenty of room for kids and dogs to enjoy their time in the sun.
To set up, simply plug it to any garden hose or PVC tubing then adjust water pressure to control the height of water streams. When you're done, easily drain the water, wash the splash mat and hang it over to dry.
It's fairly sturdy too, you might find yourself impressed by just how thick and durable the PVC here is, but it's not suitable for dogs with long nails or that love to chew.
Pet owners who care for the environment may also find themselves concerned about wasting so much water from the sprinkler functionality.
How to choose the best swimming pool for dogs
Durability
We all know our furry friends love nothing more than chewing or digging their way through their toy collection; so durability is a must. Look for a pool that is made from hard plastic or PVC. Of course, even the hardiest of pools will struggle with a dog's nails, so where possible give them a trim.
Portability
Can the pool be easily moved then stored away again? If you're looking to take it to the beach party, you'll want a pool that can fold down with ease, then reassembled.
Many pools for dogs don't need to be inflated, but simply pop up making it easier to start the party.
Size
How big or small is your pooch? Is it just for your dog or do you want the whole family to splash around? Most pools for dogs come in multiple sizes making it easy to select one that will work for even the largest of canines.
Style
If you're looking to bring your pool out for special events rather than everyday use then you may want to go all out in the style stakes. Many pools for dogs feature simple muted colors that aren't particularly exciting for a pool party, but fortunately there are a few out there that feature jazzy patterns.
Safety
Does the pool come with an anti-slip base? What about any additional accessories that would help you repair the pool in the event of overzealous chewing?
A long-lasting, durable pool is most ideal, but where pets are concerned, it's usually best to be prepared for absolutely everything!
Get the best advice, tips and top tech for your beloved Pets
Thank you for signing up to Petsradar. You will receive a verification email shortly.
There was a problem. Please refresh the page and try again.