Best swimming pools for dogs: Puncture-proof and portable
The best swimming pools for dogs will help your canine companion beat the heat and stay cool and comfortable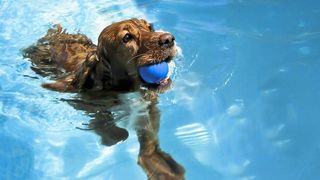 (Image credit: Getty Images)
Investing in one of the best swimming pools for dogs is well worth it if you're looking for a way to keep your canine companion cool and comfortable during those sticky summer months. And if you have children, it can be a great way to help them strengthen their bond with their furry friend. Just add in a few of the best dog toys and you've got yourself the ultimate pup pool party!
When it comes to how to avoid dog heatstroke, purchasing a pool can be a great start. Most of our canine companions have heavy and thick coats and because they can't sweat through their skin, they often need help to cool down when the weather is particularly hot. Prevention is always better than cure and a dip in the pool can help prevent some of the common signs of heat exhaustion, including panting, excessive drooling, excessive thirst and an elevated body temperature.
If you're in the market for a dog pool, there are a few things worth bearing in mind before you buy one. First up, look for strong and durable materials that won't be easily punctured by your canine's claws. PVC is always a good option. You'll also want to check the instructions so you know whether you need an air pump or whether the pool can be laid flat and immediately filled with water. A foldable pool is well worth considering if you'd like to be able to transport it easily.
You'll find that most dog pools come in a range of sizes, so regardless of the size of your hound and your family, you'll easily find one that can accommodate you all. And if you're looking for ways to keep your pup cool when they're out of the pool, be sure to check out our guide to the best cooling mats for dogs. For now though, let's take a look at roundup of the best pools for dogs...
PetsRadar's pick of the best swimming pools for dogs
Why you can trust PetsRadar Our expert reviewers spend hours testing and comparing products and services so you can choose the best for you. Find out more about how we test.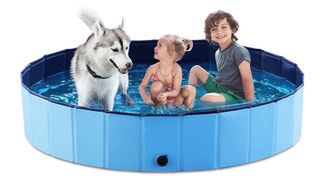 Jasonwell Foldable Dog Pet Bath Pool
Best overall pool for dogs
Specifications
Size:
32, 39, 48, 55, 63 inches
Material:
Polyvinyl Chloride
Additional accessories?:
No
Reasons to buy
+
Multiple sizes
+
Foldable and portable
+
Slip resistant
Reasons to avoid
-
Not ideal for heavy diggers
If you're looking for an extra roomy addition to your yard, then look no further than the Jasonwell Foldable Extra Large Pool. The product is available in a few sizes: from 32 inches all the way to XXL at 63 inches, so there's a pool to suit every family!
If you opt for the XXL size, expect a water capacity of 106 gallons; there's plenty of room here for larger breeds to splash around in, including gentle giants like the Saint Bernard.
Made from thick and durable hard plastic, the product holds up well against any furry visitors, but beware if your dog has nails on the long side: the bottom of the pool can be torn open.
The manufacturers suggest trimming nails as a way to prevent this, although we recommend having some repair patches on hand so that you can quickly sort any accidental damage that does occur.
Foldable and easy to store, this is a great portable pool and it's slip-resistant and durable, so you can ensure everyone stays safe while splashing about.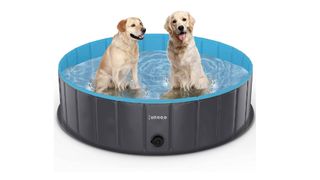 Best portable dog pool
Specifications
Sizes:
Small, Large, Extra Large
Additional accessories?:
No
Reasons to buy
+
3-year warranty
+
Portable
+
Non-slip base
Whether you're hitting the backyard or the beach, the Lunaoo Foldable Dog Pool is easy to pack up and go. The pool can easily be pulled inwards and folded so it takes up little room to store.
An additional bag to store the product would have been an added bonus; there are no extra accessories here, but you can always pop it into one you own at home.
To set up, you don't need to inflate, just open up and fold out; this handy pool for dogs comes with in-built drains which makes filling and draining a breeze.
The bottom of the pool is made out of thick non-slip material to prevent pets from slipping, but it's also the weakest point of the pool. Some pet owners have reported signs of wear and tear to the base.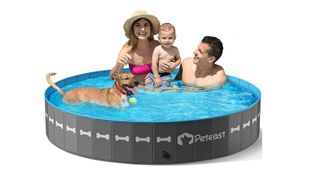 Peteast Foldable Dog Swimming Pool
Best large dog pool
Specifications
Material:
PVC and fibreboard
Additional accessories?:
No
Reasons to buy
+
Anti-slip
+
Foldable
+
Doesn't need to be inflated
For when a large dog pool isn't enough, opt for XXL. At 64 inches, the Peteast Foldable Dog Swimming Pool can fit the whole family in. Yet, it's not so big that it takes up the entire yard.
This handy pool can also be folded down and easily stored, while assembly is also reasonably simple, although it may take a few attempts to get a hang off.
There's no need to inflate here: the pool comes with a built-in drainage hole so you can drain or refresh water easily.
One of the biggest plus points of this product is how sturdy it is. Alongside the PVC, the product features thick fiberboard to improve durability.
Even for dogs that love to chew or use their claws, you might be pleasantly surprised here by how well this pool can hold up.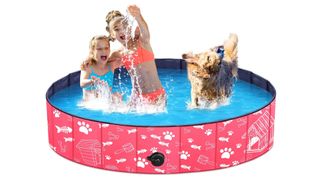 Best fashionable dog pool
Specifications
Material:
Polyvinyl Chloride
Additional accessories:
No
Reasons to buy
+
Stylish design
+
Eco friendly materials
+
Quick set up
If you want a bright and bold swimming pool that really makes a statement, then look no further than this little beauty from Unido. Available in blue and red with an adorable design that features paw prints, dog houses, dog bowls and fish bones, this is by far the cutest dog swimming pool we've seen!
Available in three sizes (32 x 8, 48 x 12 and 63 x 12) this pool will comfortably accommodate all breeds and the eco-friendly PVC and thicker and high density fibreboard material makes it super durable and long lasting.
The bottom of the pool is non-skid with well sealed corners and it's nice and easy to set up - there's no air pump required, just unfold and fill with water. It's also foldable, so nice and easy to transport and it's versatile - when you're not using it as a pool you can fill it with toys and create a little play area for your pooch.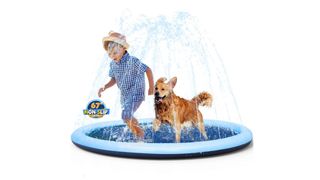 VISTOP Non-Slip Splash Pad for dogs
Best sprinkler pool for dogs
Specifications
Additional accessories?:
No
Reasons to buy
+
Great alternative to traditional dog pool
+
Easy to set up
+
Thick PVC
Reasons to avoid
-
Not suitable for destructive dogs
Whether your dog is a little shy when it comes to deeper water or you simply love the fun factor on offer here, opting for a sprinkler pad is a great option. This sprinkler pool comes in at a pretty roomy 67 inches, so there's plenty of room for kids and dogs to enjoy their time in the sun.
To set up, simply plug it to any garden hose or PVC tubing then adjust water pressure to control the height of water streams. When you're done, easily drain the water, wash the splash mat and hang it over to dry.
It's fairly sturdy too, with a non-slip surface and thick and durable PVC, plus a 5mm widened circular edge sealing that helps to bear water pressure and prevent cracking during use. It's eco-friendly, BPA-free and pretty darn hard to scratch, although we don't recommend it for super destructive dogs that are heavy chewers.
How to choose the best swimming pool for dogs
Durability
We all know our furry friends love nothing more than chewing or digging their way through their toy collection; so durability is a must. Look for a pool that is made from hard plastic or PVC. Of course, even the hardiest of pools will struggle with a dog's nails, so where possible give them a trim.
Portability
Can the pool be easily moved then stored away again? If you're looking to take it to the beach party, you'll want a pool that can fold down with ease, then reassembled.
Many pools for dogs don't need to be inflated, but simply pop up making it easier to start the party.
Size
How big or small is your pooch? Is it just for your dog or do you want the whole family to splash around? Most pools for dogs come in multiple sizes making it easy to select one that will work for even the largest of canines.
Style
If you're looking to bring your pool out for special events rather than everyday use then you may want to go all out in the style stakes. Many pools for dogs feature simple muted colors that aren't particularly exciting for a pool party, but fortunately there are a few out there that feature jazzy patterns.
Safety
Does the pool come with an anti-slip base? What about any additional accessories that would help you repair the pool in the event of overzealous chewing?
A long-lasting, durable pool is most ideal, but where pets are concerned, it's usually best to be prepared for absolutely everything!
Get the best advice, tips and top tech for your beloved Pets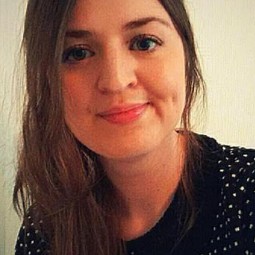 Ashleigh is Digital Editor on PetsRadar. With over 8 years of experience in print and digital media, she has acted as an editorial lead on a variety of projects, with animal themes a keen interest. As an avid animal lover, you can often find Ashleigh checking out the newest trends in animal care or looking at cute cat videos on TikTok.