Pet prosthetics: How two tech companies are transforming the lives of disabled animals
There's hope for pets who sustain damage to their legs or back – we're championing two companies helping to give disabled dogs (and the occasional goat, turtle and hedgehog) a new lease of life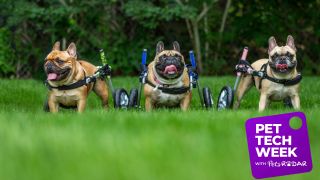 (Image credit: Walking Pets)
Ten years ago, a puppy born lame would often be put down, while the same fate awaited dogs, cats and other animals with broken or fractured limbs. Today, pet prosthetics have saved the lives of millions of animals, giving them a new lease of life and restoring their mobility. And it's not just dogs and cats which have benefited from some artificial assistance – the two companies we're profiling have designed prosthetics for goats, hedgehogs, turkeys, cows, ducks and horses. According to prosthetics experts, it's the recent developments relating to key design features which have allowed them to be used on such a wide range of creatures. "Innovations in both materials and design have helped prosthetics evolve dramatically in recent years," says Dr W Frye, Assistant Clinical Professor (Sports Medicine and Rehabilitation) at Cornell University Hospital for Animals. "There are now more ways in which they meet the needs of our pets - from waterproof and buoyant prosthetics (designed for situations where a pet might lose a device while swimming) to newer fabrication methods such as 3D printing, for a better fit and faster fabrication."
Two companies which have perfected the art of pet prosthetics design
New Hampshire-based Walkin' Pets was founded by Mark Robinson, a dog lover whose Keeshond was put to sleep after developing mild epilepsy. When a (human) friend who was diagnosed with the same condition was prescribed medication which allowed her to live a normal life, Mark was struck with a realisation: all too often, euthanasia is seen as the only option for dogs diagnosed with conditions which are treated with medication, therapy or mobility aids when the victim is a two-legged one, not a four-legged one.
Oof - completely blown away by Roger's beauty. He is ONE handsome good boy!!! #walkinwheels #walkinpets #tbt #australiansheperd pic.twitter.com/I34agS62uTOctober 8, 2020
His lightbulb moment occurred at a time when wheelchairs were occasionally used to help dogs with mobility issues, but were heavy, cumbersome contraptions which came with a high price tag and a big risk factor. Their designs were based on 13 measurements which needed to be taken by the pet's owner, and if these weren't accurate, the finished wheelchair would need to be sent back for additional, costly adjustments. Everything changed in 2005, when Mark joined forces with a team of engineers and pet rehabilitation experts to create the first adjustable wheelchair – an invention which has helped improve the lives of over one million pets. And Walkin' Pets' wide range of mobility aids, which includes back and hip supports, lifting harnesses and the first adjustable pet splint, aren't just designed for dogs – cats, goats, pigs, ducks, racoons and cows have all been fitted for mobility aids, too. Walkin' Pets' employee Jennifer Pratt adds that there's recently been a huge shift when it comes to the perception of animals with mobility issues. "It used to be very hard to find homes for paralysed animals, but people are actively searching for special needs animals," says Jennifer. "Wheelchair dogs are even showing up on children's cartoon shows as regular characters!"
Florida-based Petsthetics was founded by Peter DiPaolo, a doctor who specialised in prosthetics designed for children and adults with neuromuscular disabilities. In 2015 he designed and built a prosthetic leg for Rosie, a Great Dane puppy who had been brought to America after losing a limb in a bomb blast in Bosnia. The prosthetic limb was a success, and DiPaolo made the decision to dedicate his life to pet prosthetics instead. "Dogs have a humerus and a femur like humans do - it's just that their bodies are a different size and shape," points out the Fort Myers-based doctor.
Bella is a 2-year-old #Coonhound that was caught in a bear trap and abandoned. She was rescued & adopted, but she had to have her front paw amputated. We helped develop a #prosthesis for Bella that would allow her to play and walk again! #PetProsthetic #AdoptDontShop #Petsthetics pic.twitter.com/72PWtJCDrMNovember 27, 2018
DiPaolo doesn't just specialise in prosthetics, either – his company also designs custom-made braces for dogs for whom surgery isn't an option, whether it's due to age (elderly dogs are more likely to suffer complications under general anaesthetic) or the cost of the procedure. DiPaolo's wide range of braces allows them to be used for everything from post-surgery rehabilitation to the protection of joints which have been weakened in some way. Petsthetics is also one of the few animal prosthetics companies to specialise in farm animals, and their most popular products include custom wheelchairs for goats and horses.
Get the best advice, tips and top tech for your beloved Pets
Tamara Hinson is a freelance writer who grew up with huskies but unfortunately now has a husband who is allergic to dogs. Luckily she has a neighbour who lets her dog-sit her Maltese terrier and a nearby greyhound rescue centre where she can walk the residents.