Puppy plays with butterflies in heartwarming viral video
Forget man, this dog is now a butterfly's best friend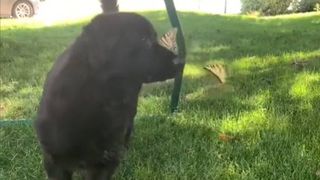 (Image credit: TikTok / @Spicymexicanbean)
Sometimes a perfect moment is caught on video; watch as this adorable puppy plays with butterflies and the world becomes enchanted.
When @Spicymexicanbean shared the moment her puppy Gordo encountered two butterflies in their garden earlier this month, she likely wasn't expecting such a huge reaction to a simple moment.
The puppy was playing with its ball when two yellow and black butterflies seemed to drop from the sky and tried to play with him. Intrigued, Gordo the puppy can be seen lifting his nose to the skies to follow the two beautiful intruders and seems transfixed by their fluttery movements. One butterfly even lands on his nose and they seem to make eye contact.
The quiet calm movements of the dog and the interest the butterflies show in him creates a tranquil moment that owner Gaby, who is from Boise, Idaho, was incredibly lucky to capture.
With an impressive 6.1 million views and over 79,000 positive comments, it seems the Internet agrees – and many viewers were moved by what they saw.
Comments from fans included: "Most precious thing I've seen all week" from Daliliah.
Mimi wrote: "Oh my gosh… the most beautiful majestic moment ever. Just pure angelic sweet love!"
Other comments such as Gigi's "I am going to cry over this" and ChuckDarwin's "I didn't know I needed this until I saw it" show just how much the simple beauty of the video has touched people. And we're not surprised.
And it seems Gordo isn't the only puppy building a bond with butterflies. Back in March this year a 4-month-old Pinscher puppy named Emy couldn't get a butterfly to leave them alone either:
Posted by Lúcia Kohl Dalmolin from Brazil, she told Portuguese animal website Amo Meu PET "We were having lunch, then my husband went out to wash and Emy was at the door playing with the butterfly, so we decided to film. It was the first time she played with a butterfly … Emy is a fuse, she doesn't stop, and she is very sweet. She loves to be with people all the time."
With such cuteness overload, we can only hope that the puppy butterfly friendships continue to flourish, and the Internet continues to rejoice in them!
Get the best advice, tips and top tech for your beloved Pets
Jamie Middleton is a freelance editor and writer who has been editing and creating content for magazines and websites for over 20 years. As well as writing about the pets he loves, he has helped create websites about tech and innovation like TechRadar.com, Innovate UK and TechSPARK, written programmes for music festivals, books on inventions and architecture, TV listings magazines, and edited publications about cars such as Lexus, Toyota and Jaguar. In his spare time he writes fiction books and poetry - or at least he does when he is permitted to by his cat Pirate, who enjoys the warmth of laptops too much to allow being creative to get in the way.