Chowder the skateboarding Bulldog is taking the Internet by storm
Meet Chowder the skateboarding Bulldog who oozes skill and cool confidence in his favorite sport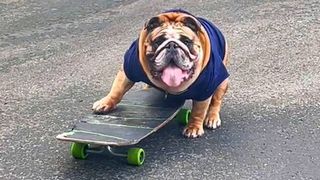 (Image credit: TikTok / @chowderthebulldog)
If you struggle to keep afoot a skateboard, prepare to be amazed by Chowder the skateboarding Bulldog who makes the exertive sport look like mere child's play. This skateboarding dog has captured the hearts of netizens everywhere with his cool attitude and impressive street skills.
While most of us are more likely to be shown up by a pre-schooler than win a major skateboarding tournament, Chowder proves it doesn't matter what you look like when it comes to sports skill, he's got the talent to take on the pros.
The gifted English Bulldog from Oregon isn't everyone's idea of a top athlete – like all his breed, he's stocky and solid. Once on his skateboard, though, he's got moves that would make Tony Hawk weep.
Owner Jani Delperdang discovered her pup's unusual talent on a trip to the coast a few years ago. He commandeered a skimboard thrown into the water by a young boy and refused to give it back for half an hour while he found his balance and got his sea legs.
Inspired, Jani decided to try him at home with a skateboard bought from a thrift shop. Within minutes, the proficient pooch had worked out how to jump on board and roll up and down the driveway.
More than three years later, Chowder has worked out how to turn, manage hills, jump down curbs and – vitally – stop! His antics have seen the whole Delperdang family welcomed into the skating community and have won him millions of fans on social media.
Jani is keen to stress that despite Chowder's fearlessness her first priority is his safety. He makes beautifully executed turns by shifting his body weight from side to side and quickly taught himself to stop from speed.
"He's known how to slow down and stop for a long time. He has improved quite a bit over the last year, though," says Jani.
He stops by either turning slightly uphill, or by dropping three legs off the board to use as brakes while holding on with the remaining paw. He's got it off to such a fine art that he can now stop just inches away from any obstacle.
"He's never ever been injured, and his pads have developed thick calluses over years of skating so his paws are not sensitive at all," explains Jani.
Fans can't get enough of the talented tyke, with some of his videos attracting over 9 million views on TikTok.
Jani reveals there is one small problem – he loves to skate so much that he's already gone through 12 boards! Maybe it's time for some corporate sponsorship for this dashing doggo?
Get the best advice, tips and top tech for your beloved Pets
Sara is a freelance journalist and copywriter of many years' experience with a lifelong love of animals. She's written for a range of magazines and websites on subjects varying from pet care to travel. A horse rider since the age of five, she's currently a full time pet slave to horse Blue and gorgeous, goofy English Springer Spaniel Olly. Adorable Olly has a huge sense of adventure and no sense of direction, keeping Sara on her toes.