Struggling to teach your puppy loose leash walking? Trainer shares her simple method for success
Loose leash walking is a great way to feel more in sync with your dog while walking together and a great skill to build on while your pup is still young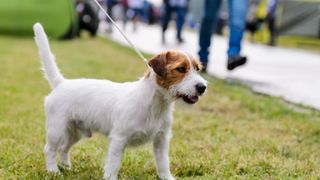 (Image credit: Getty)
Heard about loose leash walking but you're not too sure where to begin? You are told to teach new dogs so many different things that it's hard to keep up. But one lesson that's certainly worth teaching your canine is how to walk nicely alongside you.
A great way to improve stimulation is through playing with your dog, whether that's with a ball or some of the best puppy toys, time spent together is important. Building a connection with your dog is, of course, important and it all plays a part in teaching your pup to walk well on a leash without pulling your arm off.
To help you to teach the skill of loose leash walking to a puppy, Hillary Ratcliff Pini, trainer and owner of Good Wellesley Dogs, has put together a short explainer video demonstrating the steps you'll need to take to master this valuable skill.
It's worthwhile noting that this teaching session is not about going straight out for a walk, it's a time for you and your puppy to learn and work together on loose-leash walking so that you can reap the benefits of this training on walks in the future.
Pini advises anyone trying her training tips for loose leash walking to use a slip lead. This lead will, "Help teach the puppy pressure and release." You will also need a space where you can walk back and forth with your pup.
Next up Pini walks you through the steps, "We put on the slip lead high and snug but not tight. Now we're going to calmly start walking and allow the puppy to just bump into the end of the leash," she explains, "Encourage them with your voice to come on back in your direction."
Pini notes that bumping into the end of the leash does not harm the puppy, it's giving them useful information to learn from. You should continue to walk back and forth practicing this with your pooch. Once your puppy shows that they are getting the hang of things, you can now give the leash a little bump to turn in the direction when you move.
In this final step, you should start turning into them and turning away from them gently bumping the leash to get them to follow you. "With a little practice and patience, pressure, and release your puppy will soon be following you like a champ."
Young dogs will all learn at different paces so try not compare your puppy to others who may be picking up skills like loose lead training much faster than yours. You can always reach out to a trainer for some 1:1 support if you feel some in-person guidance would make things easier for you.
Want more puppy training advice? Why not read this helpful guide to dog walking etiquette next?
Get the best advice, tips and top tech for your beloved Pets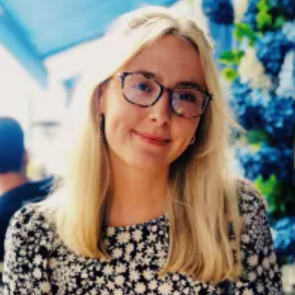 Jessica is Staff Writer at PetsRadar who joined the team after spending over a year writing for the brand's sister site, Fit&Well. She is an avid dog spotter whilst out for her weekly runs and brings to the team a passion for creating informative and helpful digital content, which she has been putting to practice since graduating with a degree in Magazine Journalism in 2021.