Student in Ukraine refuses to leave dog behind in war-ravaged country
"Nobody will take care of him if I leave him here."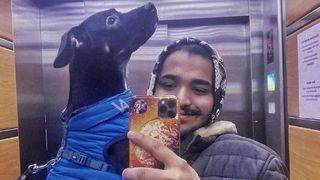 (Image credit: Facebook / @SJAAlumniDehradun)
Imagine being given the opportunity to leave a country where war has broken out but in doing so you had to leave your best friend behind. This is the impossible situation that Rishabh Kaushik, a 21-year-old Indian student studying in the Ukraine, faced when airlines would not give clearance for his beloved pooch Maliboo to join him on his flight home.

Rather than leave his canine companion behind, Kaushik chose to remain in the Ukraine. As he told The Times of India, "I decided then that if my dog can't leave, I won't either. I know that there is risk in staying on, but I can't just abandon him. Who will take care of him if I go?"


Kaushik had adopted the pet 12 months previously and was in the process of getting the necessary travel documents for Maliboo when war broke out making it nigh-on impossible for his dog to get the necessary clearance to travel.

As Kaushik explains in a video posted to the SJA Alumni Association, Dehradun Facebook page, "They [The Embassy] asked me for some documents to grant permission to my pet to fly with me.
"Despite the difficult situation, I provided them. But they asked for more documents a few days later, which were impossible for me to procure as the attack had already begun. I pleaded but to no avail."
This led to the student choosing to stay behind taking refuge in bunkers with his best friend. He explains, "I have my family members to take care of me. But for Maliboo, I am his whole family. Nobody will take care of him if I leave him here.

"Even if I leave him at a dog shelter, I am sure the shelter managers will run away to save themselves if attacks intensity. I have taken his responsibility, I will take care of him no matter what happens."

His father, Madhukant Kaushik, told The Times of India, "He is not ready to leave his dog behind at any cost. We just hope that the situation normalizes and both safely exit there country and come back home."
Get the best advice, tips and top tech for your beloved Pets
Jamie Middleton is a freelance editor and writer who has been editing and creating content for magazines and websites for over 20 years. As well as writing about the pets he loves, he has helped create websites about tech and innovation like TechRadar.com, Innovate UK and TechSPARK, written programmes for music festivals, books on inventions and architecture, TV listings magazines, and edited publications about cars such as Lexus, Toyota and Jaguar. In his spare time he writes fiction books and poetry - or at least he does when he is permitted to by his cat Pirate, who enjoys the warmth of laptops too much to allow being creative to get in the way.