Feline appy? New app lets you know how your cat is feeling
New Tably app lets you know whether your cat is feeling pain just by reading their face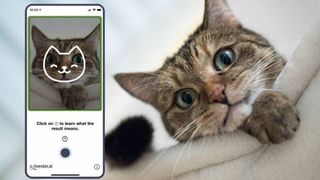 (Image credit: Syvestier.ai)
If you've ever wondered if your feline friend is feeling ok, Tably app may well tell you. A new app created for smartphones, the technology uses photographs of cats taken on a pet owner's device to assess your feline's wellbeing.
Developed by a Canadian animal health technology company, Syvestier.ai, the app was developed to detect whether your cat is feeling pain by looking at ear and head position, eye-narrowing, muscle tension and change of whiskers.
Once it's detected your kitty in view, the app displays a cat face-reading icon and a question mark you can click on to find out what the result means. The technology uses a measurement called the Feline Grimace Scale to do so, developed by a team of veterinarians at the University of Montreal that assesses acute pain in cats based on changes in facial expressions.
According to a 2019 study published in journal, Scientific Reports, the 'Feline Grimace Scale (FGS)' is a reliable and valid tool for acute pain assessment.
"It helps human cat owners know if their cat is in pain or not", said Miche Priest, Sylvester.ai's venture lead. "We were able to train a machine using machine learning and a series of images." This clever app can also be helpful to young veterinarians or students with little experience.
While the app is indicated to be useful for cat owners, some pet charities state that there are further signs pet owners should be on the look out for to assess their feline's mood.
Cat owners should also look at their feline's whole body, including the tail for cues, suggests Alice Potter from UK charity, RSPCA.
"Cats that are worried or scared will hold that tail really tight and tense to them," she says, "And then aside from that, there's also just thinking about their behavior in terms of are they eating, drinking, toileting, sleeping like they usually do?"
If you'd like to try the app out for yourself, you can download it via the Apple store or discover further information by visiting the Tably app official website.
Get the best advice, tips and top tech for your beloved Pets
Cynthia Lawrence is freelance lifestyle journalist. Starting off her career in national magazines, she moved to digital and e-commerce publications. When she's not reviewing exciting products, she is obsessed with home interiors and her neighbour's cat!