These Cyber Monday heated cat house deals are just what my cat needs to stay snug this winter
The Cyber Monday heated cat house deals are certainly hotting up — I've saved over 50%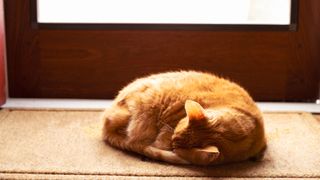 (Image credit: Getty)
It's not just us humans that feel the cold over winter, cats do too. Hence why you'll often see them stretching out in a sunspot over summer or why they'll seek warmer spots in your home over the colder months. I decided to keep my cozy blankets for myself this year and invest in a Cyber Monday heated cat house deal for my moggy.
Although he has one of the best cat beds, my outdoor cat still loves to chill on the porch even when it's absolutely freezing. So I found this great deal from Chewy, a heated cat shelter made by K&H Pet Products that can be used outside and has 54% off its usual price for Cyber Monday!
This wasn't the only enticing deal that I spied while looking for Cyber Monday cat house deals. Keep scrolling to see what other toasty and affordable options are out there for your kitties...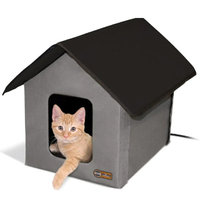 K&H Pet Products Outdoor Heated Cat Shelter| Was $150.99, now $69.99 at Chewy
This is an excellent shelter for wherever your cat spends most of its time, it is suitable for sitting on the porch, in a barn or indoors. It can fit two cats in and will ensure both are warm and protected from the elements. I got mine for 54% less and so can you before Cyber Monday ends!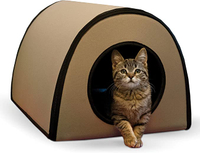 K&H Pet Products Thermo Waterproof Heated Cat House| Was $128.99, now $61.99 at Chewy
Whether you want to protect your own outdoor cat from the elements or look after your neighborhood cats with this weather-resistant heated cat shelter, this option from Amazon is on offer for better than half price!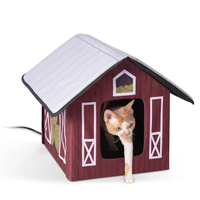 K&H Heated Outdoor Barn Design Cat Bed| Was $134.99, now $92.99 at Chewy
Winterproof your garden for your beloved outdoor kitty when you buy one of these barn-style heated cat houses from Chewy. This insulated number is hard to turn down with $40 knocked off its usual price.
Heated cat houses are a brilliant invention and will bring you peace of mind knowing that your cat is keeping toasty whether he's in the house or out in the garden. As they can be a pricey accessory to buy, you'd be silly not to make the most of these Cyber Monday discounts happening. But don't forget, these deals won't hang around for long.
You still have time to pick up a few more, like these impressive Cyber Monday cat tree deals or pick up some pet Christmas gifts on sale this Cyber Monday
Get the best advice, tips and top tech for your beloved Pets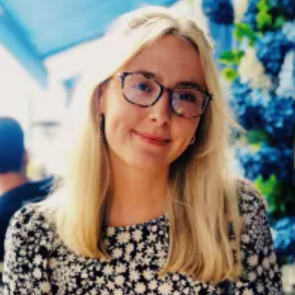 With over a year of writing for PetsRadar, Jessica is a seasoned pet writer. She joined the team after writing for the sister site, Fit&Well for a year. Growing up with a lively rescue lurcher kindled her love for animal behavior and care. Jessica holds a journalism degree from Cardiff University and has authored articles for renowned publications, including LiveScience, Runner's World, The Evening Express, and Tom's Guide. Throughout her career in journalism she has forged connections with experts in the field, like behaviorists, trainers, and vets. Through her writing, Jessica aims to empower pet owners with accurate information to enhance their furry companions' lives.