10 crazy Cyber Monday cat tree deals
These Cyber Monday cat tree deals will give your kitty a place to rest their head and provide their minds and bodies with plenty of mental and physical stimulation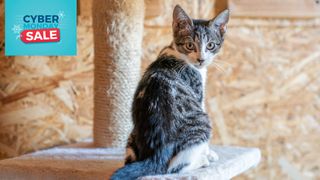 (Image credit: Getty Images)
We've found ten amazing Cyber Monday cat tree deals that will save you up to 40% on a range of large and compact activity centers that give your kitty a place to scratch, sleep, climb, claw and play.
From Amazon to Walmart and Chewy to Petco, we've rounded up the biggest and best cat tree deals and with prices this low, there's never been a better time to buy! Cat trees are a great way of replacing the best cat scratching posts and cat toys with one structure that gives your feline furkid everything they need in one place - great if you're tired of your cat's belongings cluttering up your living spaces!
So, without further ado, let's take a look our favorite Cyber Monday deals on cat trees with some great options for both single and multi-cat households.
PetsRadar's best Cyber Monday cat tree deals
Cyber Monday pet deals from around the web