Adorable TikTok cat video sees feline introducing her kitten to owner's baby
You don't need any more proof that our furkids are part of the family than this enchanting TikTok cat video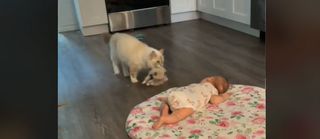 (Image credit: TikTok)
TikTok cat videos don't get much more heart-warming than this. Entitled 'Summer wanted to show off her baby to my baby' it shows the moment Summer the cat tries to introduce her kitten to her owner's baby while she slumbers on a mat. Carrying the cute fur baby by the scruff of its neck, Summer makes a beeline for Blossom the sleeping baby, as if to say, these newborns belong together.
When owner (and Blossom's mother) Pearl asks, "Why are you bringing your babies to Blossom?" the cat seems to be explaining the idea to her in a series of cute meows. To help the viewer Pearl has provided subtitles to explain what she thinks Summer was saying!
Even when the kitten goes to move away, Summer tries to bring her back to coax her to interact with Blossom, all the while talking to her owner in a series of perfectly timed meows about what a great idea this is.
The whole enchanting encounter provides such a cuteness overload that we're not at all surprised that it's garnered over 7. 5 million likes and 51,000 comments. Observations like @Michelle's "Omg she understands that little human is a baby and her kitten is also a baby, she wants them to be friends" and @Miahprade's 'This is the purest thing I have ever seen!!! Ohh my goodness!" are typical of the outpouring of love this video has created on social media.
@Kellie adds "She was taking it to where the babies are supposed to sleep. So sweet."
There's something to that comment too: In the wild cats often combine their litters so mothers can take turns raising them, freeing the other parents up to hunt. It's possible that this is what Summer had in mind – she may be thinking, as you're looking after this one, you may as well look after mine too. She certainly seemed confused that she had to explain this to her owner!
Sadly, Blossom slept through it all, but as she lives in a 10-cat household, it's likely these cute kittens and cats are going to be a big part of her life. You can see Blossom's mat already being claimed by another cat in the family called Casper in the video below:
Get the best advice, tips and top tech for your beloved Pets
Jamie Middleton is a freelance editor and writer who has been editing and creating content for magazines and websites for over 20 years. As well as writing about the pets he loves, he has helped create websites about tech and innovation like TechRadar.com, Innovate UK and TechSPARK, written programmes for music festivals, books on inventions and architecture, TV listings magazines, and edited publications about cars such as Lexus, Toyota and Jaguar. In his spare time he writes fiction books and poetry - or at least he does when he is permitted to by his cat Pirate, who enjoys the warmth of laptops too much to allow being creative to get in the way.