Hilarious video of cat spying on neighbor charms the Internet
Viral video of cat spying on neighbor has left the Internet in stitches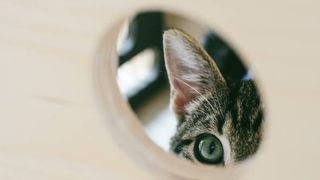 (Image credit: Getty Images)
If you thought you were nosey, prepare to laugh out loud as this adorable cat is caught spying on a neighbor.
In a viral video posted by TikTok user @betch the curious kitty can be seen leaning out of a high rise apartment window. After a large camera pan across the neighborhood that shows the lengths (or should we say heights?) that this kitty was willing to go to get a good view, the cat can be seen with a curious expression on their face.
After being spotted by the occupier of the next-door flat, Malwina Olszewska, you would expect that this bold feline would place their tail firmly beneath their legs and back away in shame, however, instead the cat does not even flinch.
Instead, the not-so-timid tabby lets out an adorable meow, with his eyes completely fixated on his unsuspecting neighbor. Leaning out from the next balcony, the nosey feline does not back away but instead seems to embrace his moment in the spotlight.
The video is perfectly captioned, "Do you mind?"
Fortunately, the Internet didn't. In fact, over 35,000 TikTokers have hit the love button in approval with many taking to the comments section to voice how much they enjoyed this snooping cat getting caught in the act.
"So funny way up high and a talker too," one user wrote.
"Oh. My. God! That is too funny!", user @sa_flowers commented.
Many people decided to angle their comments from the point of view of the cat.
"Excuse me. What did we agree about the noises??!" joked one amused TikToker.
"What's popping?" wrote another.
Most viewers hoped that Olszewska would simply say hello back.
"I swear the cat tried to say hello," commented @Hana_Snax.
If you were equally entertained by the feline's antics and are hoping that this brave moggy will pop his head back around the balcony again, be sure to follow TikToker @betch over on her channel.
Get the best advice, tips and top tech for your beloved Pets
Ashleigh is Digital Editor on PetsRadar. With over 8 years of experience in print and digital media, she has acted as an editorial lead on a variety of projects, with animal themes a keen interest. As an avid animal lover, you can often find Ashleigh checking out the newest trends in animal care or looking at cute cat videos on TikTok.