Best outdoor cat enclosures 2023 for exploring the world without danger
Look after your cat when they venture outdoors with our pick of the best outdoor cat enclosures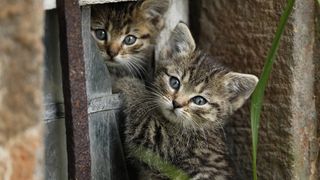 (Image credit: Getty Images)
Kitties can get into all kinds of scrapes but the best outdoor cat enclosures will help protect them from many dangers. They're perfect for house cats, allowing them to unleash their natural behaviors, but they're wonderful for outdoor moggies too. By creating a controlled safe space, cats can simply get out in the fresh air and play without fear of being harmed.
In this guide, we take a look at lots of different outdoor cat enclosures that allow cats to climb, explore and engage with the natural world – activities which are important for their mental and physical health. As you'll see, the enclosures are on a par with the best cat harnesses since they give felines freedom to explore. The big difference is that you don't always have to be with them and yet you can still rest assured they won't run away, become lost or fall prey to predators.
In that sense, outdoor cat enclosures are certainly worth thinking about. "Going outside provides cats with the sights, sounds and smells of the great outdoors which will provide them with additional mental and physical stimulation," says Dr Sarah Merrett, a veterinary officer who works for the charity Cats Protection.
Enclosures are also great if you have a fearful feline or one living with a condition. "Outdoor cat enclosures are useful for cats with disabilities, such as being blind, deaf or having a condition which affects mobility such as cerebellar hypoplasia, where being allowed to roam would be unsafe," Dr. Merrett affirms.
So let's take a look at what's on the market, from large ones with lots of levels and smaller ones that will suit the tiniest of yards. You can even find ones that can be built up and taken back down in next to no time.
Sarah Merrett graduated from the Royal Veterinary College in 2005 and has experience in both charity and private practice, most recently working only with cats in a feline-specific clinic. She is an RCVS Advanced Practitioner in Feline Medicine.
PetsRadar's pick of the best outdoor cat enclosures
Why you can trust PetsRadar Our expert reviewers spend hours testing and comparing products and services so you can choose the best for you. Find out more about how we test.
PawHut Large Wooden Outdoor Cat House
Best overall outdoor cat enclosure
Specifications
Measurements:
76.75" L x 37.25" W x 68.75" H
Materials:
Fir wood, asphalt, wire mesh
Reasons to buy
+
Escape-proof
+
Durable wood and wire design
+
Weatherproof
WHAT CAT OWNERS SAY
With an average of 3.9 out of five on Amazon, buyers praise this cat enclosure for its abundance of space. They also say it's super easy to put together, taking in the region of about an hour. Some buyers have also pointed to its ability to be modified and the item is also noted for its good looks. But there appears to be concern that it may not be entirely weather proof so bear that in mind.
Okay, so before we start raving on about how much we love this enclosure from PawHut, it's only fair that we come clean quickly and let you know that this is one of the more expensive enclosures out there. But, if you have the budget? Boy oh boy is it worth it!
This fully enclosed large playpen is ideal for multiple cats and the design is hands down one of the best we've seen. Multi-tiered, the main house includes a paned window, sliding door, a small hinged door, and a ramp to help for easy access into the house.
You'll also find plenty of room inside for a cat bed and litter box, and the doors and windows allow for plenty of air to flow through on hot days. There's a large run area for your kitty to stretch their legs in and the large front door with secure safety latches lets you gain easy access to your kitty.
Made from fir wood and wire mesh, this is a super durable enclosure and the flat roof is covered with asphalt for enhanced weather protection against both sun and rain. It's all held together by pet-friendly sealant and the assembly instructions are clear and easy to follow.
Overall, this large and roomy enclosure ticks all the boxes - except perhaps price, but if you're able to stretch to it, we're pretty sure you won't regret investing in this little beauty.
Outback Jack Outdoor Cat Enclosures For Indoor Cats
Best budget option
Specifications
Measurements (inches):
31 x 21.5 x 6.5
Materials:
Polyester, mesh
Reasons to buy
+
Simple to assemble
+
Portable
+
Fits a balcony/small garden
Reasons to avoid
-
Some reports of parts breaking
WHAT CAT OWNERS SAY
Amazon buyers have given this an average rating of 4.5 out of five – with more than 70% giving it full marks. Praise indeed and people who have indoor cats seem to love it in spades – some have even used it inside the house! Buyers report a sturdy product that goes up and down in seconds. And cats, it would seem, take to it very well!

As much as we'd all like loads of money and a huge garden, most of us don't have these luxuries. While this doesn't have the sheer scale of Omlet's offerings, it is undoubtedly a much more realistic prospect warranting closer examination.
It may not look the biggest from the pictures, but it offers a lot of room for your kitty, encompassing over 30 feet of space. The tunnel zips onto the end of the supplied tent – a masterstroke since cats love running down tunnels, and will have a lot of fun with this.
Totally surrounded by a polyester mesh material, the gaps are small enough that no bugs can get in. We suspected that it might be susceptible to getting torn by claw-happy cats, but we haven't seen any reports of this in reviews, so we'll give Outback Jack the benefit of the doubt.
Assembly couldn't be simpler. Once out of the packaging, simply undo the ties and the tunnel pops out. From there, it's simply a case of zipping it onto the tent, and everything's effectively done.
There were reports of the zip breaking in user reviews, but these were few and far between. For the relatively low price, we're not expecting anything especially sturdy, but it's comforting to know that there are so many happy customers.
While we wouldn't recommend leaving your cat in it for hours on end, it seems perfect for giving them a few hours in the sun. Coupled with its affordability and portability, and you have something that could be worth an investment.
Kitty City Claw Indoor and Outdoor Mega Kit Cat Furniture
Best indoor and outdoor cat enclosure
Specifications
Measurements:
33" x 47.25" x 46.75"
Reasons to buy
+
Works indoors and outdoors
+
Zip door for easy access
+
Rearrangeable cubby cubes
Reasons to avoid
-
Cubby cubes can be wobbly
WHAT CAT OWNERS SAY
This product has an average rating of 4.4 out of five on Amazon. Buyers say it's easy to assemble thanks to detailed instructions. It's also rather stable. The enclosure also comes for praise for having extra parts that can be put to one side for additions or repairs in the future. Some have said it's a little too small for their cats, though.
Fresh air fun is guaranteed when you purchase this mesh outdoor cat enclosure. Fully enclosed but with full 360-degree visibility, this breathable play set is durable enough to withstand energetic play and the occasional claw climb!
The rearrangeable cubby cubes provide plenty of places to hide and snooze, and because you can move them about, you can mix things up from time to time and provide your feline friend with some much needed variety.
Measuring 33 x 47.25 x 46.75 inches, this outdoor cat enclosure is ideal for multi-fur baby households and the zip door makes getting your cats in and out an absolute breeze. You can also expand the enclosure by zipping on other Kitty City products, such as tunnels, so there's lots of options for keeping this play set feeling fresh.
Kittywalk Outdoor Net Cat Enclosure
Best for balconies and patios
Specifications
Measurements:
72" x 18" x 24"
Materials:
Solid steel wickets & rip stop netting
Reasons to buy
+
Self standing
+
Maximum visibility and ventilation
+
Weather resistant
Reasons to avoid
-
The access in and out can be tricky
WHAT CAT OWNERS SAY
With a solid rating of 4.1 out of five, this enclosure comes very highly recommended – nearly 8 out of 10 cat owners love it, giving it a minimum of four stars. Reportedly easy to set up, buyers have said it's lightweight and portable, coming with a nice carry case, and some users have even bought more than one! There have been a small number of misgivings over the netting material.
If you don't have a backyard but still want to give your kitty some fresh air, never fear because this small outdoor netted cat enclosure from Kittywalk has got you covered! Perfect for use on decks and patios, it measures 72 x 18 x 24 and is self-standing with open-net construction for maximum visibility and ventilation.
Completely enclosed with two doors for entering and exiting, the enclosure requires no assembly and features rip-stop netting to ensure it can hold up to your kitty's claws. It's also weather-resistant, which makes it ideal for use all year round and it comes with a storage bag for handy travel.
AmazonBasics Large 3-Tier Cat Cage Playpen Box Crate Kennel
Best to keep on the balcony
Specifications
Measurements:
35.83" x 22.44" x 50.6"
Materials:
Metal wire, rust-resistant e-coat finish
Reasons to buy
+
Easily portable
+
Fits in small spaces
+
Requires minimal measurements
Reasons to avoid
-
Might be too small for some cats
WHAT CAT OWNERS SAY
Amazon's own-brand enclosure is a hit with thousands of buyers and it gains a whopping rating of 4.7 out of five. Users say they had it assembled in minutes and they love the large size – it's big enough for two or three cats, some report. Although a few owners say their cats managed to break out of the enclosure, others say it's a great enclosure to leave open because cats love to use it. Many praise its value for money.

If your needs are of a considerably lower scale than what you've seen previously in this guide, then this Amazon Basics offering might be more to your liking. Although it's much smaller in size, it has the advantage of being portable, relatively inexpensive, and ultimately perfect for placement on a balcony. The swing-open doors have secure latches too, meaning there's little risk of your cat performing a Houdini act.
Comprising three tiers – perfect for your cat to jump around on should they want some exercise, or simply a better view – it offers a safe and secure environment in which they can do so. Should they try to claw at or chew the cage, the durable metal wire – adorned with a black e-fish – is perfectly safe for cats. It requires no real maintenance, apart from the odd clean if it gets dusty.
If you want to move it, you can simply wheel it around or fold it up, ready for transportation elsewhere. Though few breakages of any kind have been reported, a year's warranty is offered, so either way, it's nothing to worry about.
It also provides a handy dual purpose: litterbox training. Some cats don't like being watched, so placing a tray at the bottom could provide a handy alternative.
While it might not be exactly what you'd think of when looking for cat enclosures, we can't deny that it is handy for those living in more confined spaces. If you're one of those people, it could serve as a handy middle ground against a full-sized enclosure.
ToysOpoly Premium Pet Playpen
Best portable cat enclosure
Specifications
Measurements:
26" x 19" x 1.9"
Reasons to buy
+
Lightweight and portable
+
Relatively affordable
+
No assembly required
WHAT CAT OWNERS SAY
There's little doubt this is a quality product based on hundreds of people reviewing and an overall score of 4.6 out of five. One buyer said the maker had thought of everything and it has lots of room for bed, food, litter and various toys. Users have taken it on their travels and say it opens up in a minute and can be folded flat. Just watch out for the zipper which a small number say isn't as robust as expected.

If you're the sort of person who likes to take their cat away with them, then this could be the solution you're looking for. Letting them roam around in an unfamiliar environment isn't ideal, so being able to take something with you that makes it easy to keep an eye on them while they experience the outdoors is not to be sniffed at.
This playpen from ToysOpoly – intended primarily for outdoor use – provides your cat with an open and risk-free environment (it is BPA-safe and lead-safe, third-party tested and certified non-toxic). It's durable and waterproof, and easy to assemble, popping up in seconds upon removal from its packaging.
Fill it up with some toys and it's perfect for a few hours in the garden or on the balcony on a nice sunny day. What's more, if you're confident that your cat won't attempt a leapfrog, you can unzip the roof, allowing them to bask in the sun.
Inevitably, considering the relatively low price, some parts are susceptible to breaking. The zips are particularly flimsy, with some customers reporting these breaking. Like the rest of the material on this product, it seems that more care and attention than usual is required when handling this.
While it might not necessarily have the longest lifespan, you definitely get what you pay for – a safe and open environment for your cat to play around in, allowing them to experience the outside world at a safe distance.
Aivituvin Cat House Outdoor Catio
Best catio style enclosure
Specifications
Measurements:
71" x 38" x 71"
Reasons to buy
+
Plenty of space for activities
+
Durable
+
Can be customized inside
Reasons to avoid
-
Expensive
-
Takes up space
WHAT CAT OWNERS SAY
There are only four reviews on Chewy but the product gets a solid four stars. One said it was the best money spent – it's attached to a sliding door and the buyer's cat loves to wander in and out. Another said it was easy to assemble with clear instructions but while a third was pleasantly surprised, another said it was poorly constructed. Three out of four ain't bad!

If you have the luxury of space or a big garden then certain other cat enclosures become available as options – this offering from Aivituvin is one of them.
Constructed from wood, this comes highly recommended by Amazon, and it's easy to see why. Containing a number of platforms on either side of the enclosure, it gives plenty of opportunities for cats to jump from balcony to balcony, as well as to climb.
If it all gets a bit too much from them then there are two enclosed bed areas, both to shelter from the elements and to escape the sun. The enclosure is completely weather-proof too – the waterproof asphalt roof will ensure your cats – and anything you choose to add to it – are safe from the elements.
Speaking of which, there is plenty of room inside for you to add pieces of cat furniture, should you decide to. A couple of scratching posts would be great, for instance.
Inevitably, this all comes with a price tag. It's not cheap, and what's more, you'll need to be sure that you have room for it. If you do though, then it could prove to be a great addition.
KUCDBUN Outdoor Cat Enclosure
Best outdoor cat enclosure with a tunnel
Specifications
Measurements:
27.55" x 27.55" x 27.55"
Materials:
Mesh and nylon
Reasons to buy
+
Multiple set up combinations
+
Small mesh fabric to protect your pet from bugs and predators
+
Deluxe and roomy
Reasons to avoid
-
Not as robust as other enclosures
WHAT CAT OWNERS SAY
With an average rating of 4.6 out of five, this enclosure is simple to set up but not as easy to fold back down. That appears to be a bit of a theme running through the reviews but it's a lovely product overall – perhaps not as sturdy as some would like – but one that cats love to use. It's said to be particularly great during the Summer.
If you're after an outdoor cat enclosure that offers endless fun and multiple combination options, then this great model from KUCDBUN is well worth considering.
Featuring three cat tents in different shapes and three cat tunnels with six zippered doors, there are so many ways that you can assemble this enclosure, and with a hanging feather toy also included, there's little chance of your feline friend becoming bored.
Ideal for both indoor and outdoor use, the enclosure is made from a very fine mesh that ensures your kitty will stay protected from bugs and predators. The pop up system and compact design also make it a breeze to fold down when not in use and the convenient carry bag mean you can easily transport it with you wherever you go.
Best outdoor cat enclosure: FAQs
How to choose the best outdoor cat enclosure
Given how many different outdoor cat enclosures there are, you can feel spoiled for choice but there are some things to bear in mind.
Dr Sarah Merrett, a veterinary officer who works for the charity Cats Protection, says keeping an enclosure close is ideal. "If owners are getting an enclosure, we advise them to get one which attaches to their property so the cat can come and go as they please (either through the door, the window, the cat flap and so on)," she says.
"A lot of cats find it quite jarring to be taken out and placed in a space in the middle of an outdoor area such as a garden. If there are lots of neighborhood cats around, then this may also be problematic."
If this isn't possible, don't worry. Just go for an enclosure you can afford and consider the space you have available. Go small for balconies, for example, and large for big yards, as obvious as that sounds.
It's also worth taking a peek at the accessories an enclosure comes with – this can save you money since you won't need to buy extras. And look at the return policies too. If your cat simply won't use an enclosure, you want to know if the company will allow you to send it back.
What type of enclosure is best for a cat?
There are a few things to look out for when considering buying an outdoor cat enclosure:
Escape proof: Quite simply, the best outdoor cat enclosures are the ones that moggies can't easily escape from! That is, in essence, the whole point of the enclosure: to offer protection from the dangers of the outside world while still allowing cats a sense of freedom.
According to veterinarian Dr Joanna Woodnutt, this can be easier said than done. "Cats are masters at escape and even the tallest fence doesn't guarantee your cat won't get out," she says. "Make sure you choose an enclosure designed for cats, as it's imperative the fence is safe. It's likely your cat will use the edges as a climbing frame so the fence needs to reduce the risk of accidents such as a paw getting stuck through."
Intruder proof: Likewise, you want an enclosure that, once a cat is inside, becomes difficult for other animals to get into and wreak havoc (or worse!). In that sense, it's also worth assessing the wider dangers of the space: are you going to be placing the enclosure in a fenced off area to offer greater protection?
Location, location, location: You can also consider placing an enclosure within a catio (and we have 13 charming catio ideas for your feline friend). Just be sure that there is shelter from the weather and enough for a cat to do. In general, you will need the best cat toys, a scratching post, and a litter tray.
"The outdoor cat enclosure should be your cat's 'home from home' and will need everything they usually enjoy indoors," says Dr Woodnutt. "If you think of your cat's outdoor space as a really good zoo enclosure you won't go too far wrong – things to climb, things to play with, places to hide food, and places to rest are all key parts of an excellent enclosure!"
Are cat enclosures worth it?
The debate between indoor vs outdoor cats will never truly be resolved. It's just important to remember that cats need to be kept safe when exploring. How you do that is up to you.
That said, an outdoor cat enclosure can certainly help. After all, outdoor cats are at greater risk of disease and parasites, injury or death due to traffic, becoming lost, predation and the consuming of toxins – issues raised in a study published in Animal Basel in 2020.
At the same time, the study says, cats can benefit from exercise and the performing of natural behaviors – the researchers cite exploring, hunting and climbing. In conclusion, the authors said: "Housing that encourages natural motivated behaviors is important for good welfare in cats because it encourages physical activity and prevents negative affective states, such as boredom and frustration."
It said this was preferable to uncontrolled outdoor access.
One thing's for sure, don't buy an enclosure simply because you think cats need to fill their lungs with fresh air. "Cats do not necessarily need to go outside to get fresh air," says Dr Sarah Merrett, a veterinary officer who works for the charity Cats Protection.
"We always advise that homes are well-ventilated with an ambient temperature of between 16 and 25 degrees centigrade so that it is not too cold or too hot. Fresh circulating air will also keep the home free from odours or airborne particles which can cause illness."
Even so, cats love the great outdoors and it's their natural habitat. By buying one of the best outdoor cat enclosures, you can ensure a feline's safety. You will also ensure that your cat doesn't easily hunt small animals too!
After graduating as a veterinarian from the University of Nottingham, Dr Joanna Woodnutt went on to practice companion animal medicine in the Midlands. She quickly developed a love of consulting and helping clients with medical problems such as dermatology, behavior and nutrition - anything that involved helping clients understand their pets better. Jo has written for countless online and print publications and is a regular contributor for Edition Dog Magazine.
Get the best advice, tips and top tech for your beloved Pets
David Crookes has been a journalist for more than 20 years and he has written for a host of magazines, newspapers, websites and books including World of Animals, BBC Earth, Dogs and Canines, Gadget and The Independent. Born in England, he lives in a household with two cats but he's also keenly interested in the differences between the huge number of dog breeds — in fact, you can read many of his breed guides here on PetsRadar. With a lifelong passion for technology, too, he's always on the lookout for useful devices that will allow people to spend more time with their pets.