13 charming catio ideas for your feline friend
These creative catio ideas are perfect for letting your kitty explore in safety and style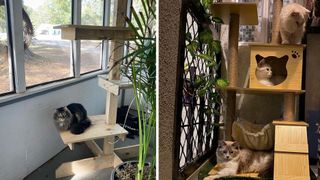 (Image credit: Instagram @lowwastealli/ @wikkidwizdumb )
If you're looking for stylish catio ideas for your feline friend, then consider these creative designs. Cat patios (catios) are becoming more on trend these days, and are a great way to liven up your furkid's daily routine, giving indoor cats the opportunity to explore the outdoors in safety and helping to stave off boredom.
The catio is typically a screened outdoor cat enclosure or a porch for cats that extend from the home. These offer a safe space for your kitty to play, hunt, climb and roam about in without the worry of predators. Alongside the best cat toys, catios provide all the exercise and stimulation cats need to keep healthy and thrive.
From large outdoor catios to window ones, catios come in all shapes, designs and sizes to suit your feline pal or multiple cats. What's more, you can add different levels or accessories inside to make it more fun and exciting. These can include steps/levels for climbing, hammocks, cat scratching posts or even luxury cat beds to lounge in after a long day.
If you're after any ideas for a creative catio to suit your furkid's needs, here are some different styles to make playtimes more adventurous.
1. Cat jungle gym
This outdoor catio is the perfect jungle gym to keep your playful furkids active all day. It has different levels and platforms for climbing and resting on. What's more, it even has lush plants to add a seasonal 'jungle' theme. Your feline friends will never get bored with this fun catio.
2. Catio bridge
This stunning catio bridge is an exciting way to get your furkids running around and keep them entertained. Not only is it a fun way to keep fit but can also offer a scenic overview of the garden, without getting wet in the rain.
3. Balcony patio
If you're lacking outdoor space or live in an apartment, this balcony catio is an ideal option. With its different levels and lounging areas, this balcony catio makes a cosy retreat for your cats.
4. Catio steps
If your kitty loves to perch after a tiring climb, she will certainly love this step-style catio. This design was handmade and each step is wide enough for your kitty to lounge. Plus, if you locate this inside a front porch, they will have a perfect view of outdoors. A lovely space to share with pet parents.
5. Catio funhouse
If you're after something to add character, this catio playhouse is a great option. Designed to be fun and comfortable, this catio playhouse will also shelter your kitty from the outside elements. A great-looking, catio playhouse with style appeal.
6. Catio tree
This catio tree is the perfect climbing essential, and also resting place for your tired furkid. This made from solid wood with jute wool wrapped around it for comfort.
7. Window catio
If you have a small apartment or home, this window catio is a great idea. Designed with four, cosy levels to relax on, this makes a great spot if your felines prefer to bask in the sunlight all day! Bear in mind, window catios are more suited to single-cat homes to avoid excess weight on the structure.
8. Catio tunnel
Add some variety and adventure with this fun, catio tunnel. Cat tunnels allow your feline pal to explore outdoors safely and get around in a stimulating environment. What's more, you could even create a catio tunnel leading to the inside of your home or to another outdoor enclosure.
9. Portable catio
If you lack space or always on the move, this portable catio is a great option. Designed with two, cosy levels and a peep hole at the bottom, this will keep your kitties occupied. In addition, portable catios are more suitable for indoors, and you can keep an eye on your kitty to ensure she is safe.
10. Cat wheel
For the ultimate, glam, addition for your catio, this cat wheel is perfect. Not only is it fun for your kitty to tread on, and keep entertained for hours, but it's also a safe way to provide daily exercise
11. Incorporate nature
We like the natural touches here – the tree stumps incorporated into the design, in addition to a number of shelves for the cats to jump across on. It blends in well with the garden, making use of what's already there.
12. Keep it colorful
When everything's made of wood, it's easy for it all to look a bit bland. Not so here – the scratchposts have been colored in rainbow style, making sure that among all the other catio ideas we've seen here, this one will stick in the memory.
13. Cat boxes
We love the design of the cat boxes here. Again making use of the garden while adding some unique touches not usually seen in most catio ideas, it's clear that a lot of thought has gone into this one.
What does a catio need?
If you're thinking of building your own, creative cat catio, it's important you get prepared. Ensure you have all the right materials at the ready including wood lumber for the frame structure, escape-proof wire, roof options such as wire mesh or polycarbonates. Cedar shelves are also useful to place inside the structure.
What are the benefits of a catio?
There are so many reasons why a catio is important for our kitty. First, it protects them from predators should they roam freely outdoors. Next up, catios keeps them fit and healthy, providing all the daily exercise they need. In addition, it reduces the risk of multiple cat fights or injuries that may occur when it comes to territory issues.
How much is a catio?
The cost of a pre-made catio can range anywhere between $300 to 2,500 (yes, you heard right!). However, if you choose to build a DIY catio, you could spend just under $,1000 for materials. The choice is really down to preference and what is suitable for your kitty.
Get the best advice, tips and top tech for your beloved Pets
Cynthia Lawrence is freelance lifestyle journalist. Starting off her career in national magazines, she moved to digital and e-commerce publications. When she's not reviewing exciting products, she is obsessed with home interiors and her neighbour's cat!