Best cat harnesses: Let your kitty explore in safety
The best cat harnesses will allow you to take your cat for stress-free strolls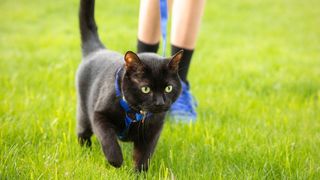 (Image credit: Getty)
The best cat harnesses are ideal if you have a cat who loves nothing more than venturing forth into the great outdoors. While cats aren't typically thought of as animals who love to hike, swim, and explore, some breeds are more like dogs when it comes to their love of nature, so making sure that they're securely fitted in a harness will help them stay safe while you're out and about.
In much the same way as when it comes to selecting the best cat bed, there are a number of things that you will want to keep in mind when you're picking out a harness. First, while dogs can be walked with a leash attached to their collar, you can't really do this with your cat. This is because it puts a lot of strain on their neck and can also cause their collar to slip over their head – do don't want to end up chasing them through the woods
You should opt for a full harness that hugs your cat in a way that's firm but comfortable. You will notice that there are two types to choose from: H-styles and vest-styles. The H-style makes the least amount of contact with your cat's body, and many cats prefer the less restrictive feel. But they're also not as secure, so unless your cat is very confident around dogs, other potential predators, cars, and other hazards you might encounter while adventuring together, we recommend choosing a vest.
The vest-style harness is the most secure choice. This is because it has close contact with much of your cat's body. This spreads the pressure points out, in the process stopping the harness from rubbing or digging into certain areas. Because it's a very fitted style, it may take your cat some time to get used to it, but it's worth it if they have a more cautious nature, or you want to ensure maximum safety when you're out together.
While letting your cat out of their harness when you're venturing beyond home isn't something that we would advise, if you do decide to let them out to roam solo in a quiet area then think about investing in one of the best pet trackers. These are well worth the money, and can help you quickly and easily locate your cat if they decide to make a run for it.
With so many options on the market, we have rounded up the best pet harnesses for your cat, from the purely functional to the super fashionable. Let's take a look...
PetsRadar's pick of the best cat harnesses
Why you can trust PetsRadar Our expert reviewers spend hours testing and comparing products and services so you can choose the best for you. Find out more about how we test.
Kitty Holster Cat Harness
Best overall cat harness
Specifications
Sizes available:
XS, S/M, M/L, XL
Reasons to buy
+
Secure, vest-style fit
+
Light fabric
+
Easy velcro harness
+
Available in multiple sizes and designs
Reasons to avoid
-
Lead not included
-
Longer fur may stick to fur
The award-winning Kitty Holster Cat Harness has won a lot of praise amongst owners and experts alike. Made from 100% cotton, it's both lightweight and breathable, great for cats who are just getting used to wearing a harness for the first time, and perfect for wearing all day long without any discomfort.
Fitted as a vest, it doesn't feature any fiddly straps or clips, it simply wraps around your cat and fastens at the chin and tummy with Velcro. The two Velcro fastenings even open in opposite directions, so you can do it up or take it off with one swift action.
The lack of adjustable straps does mean there is less leeway for tweaking the fit of the Kitty Holster, however users report a great fit if you take the time to follow the size guide and measure your cat. Almost 2,000 Amazon reviews and a rating of 4.3 reveal lots of very happy customers, who praise the harness as the best on the market, particularly impressed that their formerly harness-hating cats love to wear this one.
More nervous cats can take a little time to get used to the sound of the Velcro, and there are a few reports of cats managing to wiggle free, something to consider if you're undecided between a smaller or larger size. However, the majority of reviews love the security of the harness, with owners shocked that even the most determined escape artists couldn't worm their way out.
Another selling point for the Kitty Holster harness is the selection of sizes and designs available. Sizes run from XS to XL, and you can choose from a variety of fabrics including simple black, bandana, denim and snazzy tiger print.
Praised by both owners and experts for security, fit, design, comfort and ease-of use, the Kitty Holster product is our firm choice for best overall cat harness.
Coastal Pet Comfort Soft Mesh Cat Harness
Best budget cat harness
Specifications
Maximum weight for wearing:
12lbs
Reasons to buy
+
Adjustable
+
Affordable
+
A choice of four colors
+
Lightweight fabric
Reasons to avoid
-
Only one size available
-
Goes over head
If you're shopping on a budget but don't want to compromise on quality, the Coastal Pet Comfort Soft Mesh Cat Harness won't disappoint. As the name suggests, this harness is designed to be soft against your cat's skin, evenly distributing the pressure across the chest and shoulders, rather than their neck, which is much softer than a dog's.
Owners can choose between four classic colors but there is only one size available, meaning this particular harness is only suitable for cats up to 12lbs. There is, however, the option to adjust the harness, as the neck expands from 8 to 10 inches and the girth expands from 14 to 16 inches via the adjustable central strap.
As with many other harnesses on the market, some cats have been able to back out of the Comfort Soft model which can be a cause for concern. While most reviewers reported a snug and secure fit, owners of particularly determined feline Houdinis may wish to consider another harness with more size options.
Cats who aren't used to harnesses may take a while to get used to the over-head style of the Comfort Soft, but the flexible and lightweight nature of this harness does make it comfortable to wear, with plenty of owners happy that their cat will leave theirs on all day.
As a cheaper product, there are a few compromises, in particular, the lack of a size range, however the sturdy construction and durable mesh and nylon fabric means that the Comfort Soft Cat Harness is not only a great budget option but should last for years to come.
PetSafe Come With Me Kitty Harness and Bungee Leash
Best harness for adventurous cats
Reasons to buy
+
Lightweight
+
Adjustable
+
Comes with a lead
+
Bungee lead reduces pressure
Reasons to avoid
-
Easier to wriggle out of
The PetSafe Come With Me Kitty Harness and Bungee Leash is a great choice for adventurous cats. The 'H' style harness is lightweight and provides plenty of freedom, while the bungee lead allows your cat to wander ahead and find their own path, still safely attached and without any excess pressure on their neck.
Over 4,000 Amazon reviews point to the PetSafe harness being ideal for walking, hiking and exploring due its unrestrictive nature. The vast majority of reviews also highlight the fact that this harness lives up to its PetSafe name, however there are a few reports of cats wriggling free. As the H-style harness is generally a little less secure than jacket or vest styles, this one is best used with confident cats who are used to adventuring and aren't easily spooked by their surroundings.
There are multiple colour combinations to choose from and three size options: small, medium, and large. For extra security and comfort, each size features multiple adjustment points, allowing you to alter the size by up to four inches, so the harness sits snugly but never too tight.
A mid-priced product, it's not the cheapest option on the market despite its simple construction. But unlike most other harnesses on the market, this one comes complete with a lead, saving on the cost of buying one separately. In fact, for many users, the bungee lead is actually the main selling point, extending from four to six feet.
If you're the lucky owner of a confident cat who likes to lead the way when exploring the great outdoors, the PetSafe harness will certainly fit the bill.
BINGPET Cat Harness and Leash for Walking
Best escape-proof cat harness
Specifications
Fastenings:
Velcro and clip
Reasons to buy
+
Escape proof
+
Comes with a lead
+
Padded for comfort
+
Multiple designs to choose from
Reasons to avoid
-
Velcro may disturb more nervous cats
While no harness can be 100% escape-proof (accidents can happen) the BINGPET Escape Proof Cat Harness and Leash comes about as close as it gets. Much like the Kitty Holster harness, this vest-style harness secures with two Velcro fasteners, but the BINGPET provides an extra layer of security with a clip at the neck.
Available in a plethora of designs, from simple block colours to strawberry print and plaid, there are plenty of options to suit your cat's personality. There are also three sizes to choose from – small, medium, and large – so you can ensure a snug fit. While the Velcro strips provide a little adjustability with regards to fit, an adjustable strap at the neck is the key to an even safer finish, as a loose neck hole can allow a cat to simply back out of their harness.
An added layer of reassurance comes courtesy of the two heavyweight D-rings, so you can be safe in the knowledge that the lead is securely attached at all times. At 59 inches, the lead is long enough to allow some freedom but not so long as to made it difficult to catch up with your cat if they're getting into mischief.
Amongst over 1,600 Amazon reviews, there are a few reports of cats escaping BINGPET harness so, as with all harnesses, it's important to carefully measure your cat to choose the correct size and adjust once it's on. However, escape-proof isn't just in the name, this harness has been awarded the title on numerous cat websites. So, while all harnesses come with risks, this one is considered a very safe bet by owners and experts alike, earning it our stamp of approval.
Yizhi Miaow Escape-Proof Cat Harness
Best cat harness for sharp dressers
Specifications
Sizes available:
XS, S, M, L, XL
Reasons to buy
+
Padded for comfort
+
Two D rings
+
Comes with a lead
+
Multiple designs available
Another harness with escape-proof credentials, but we're especially interested in the fashion forward designs of the Yizhi Miaow harness. Padded for comfort, this is certainly the choice for cats who are used to a little luxury. Choose from camo and zig zag print clashes, polka dots, and checks. Make a statement with lace trims or go all-out with Yizhi Miaow's playful sailor design, complete with a flap collar and anchor embroidery.
While this is undoubtedly a harness for snappy dressers, it's as safe as it is stylish. Similar in shape to the Kitty Holster, this model fastens with Velcro and reviews point out the sturdy, comfortable and secure fit, and note that it's simple to get on and off.
Although the Velcro fastening is secure, it does mean that unlike other models with straps, this particular harness isn't adjustable, making it more important to measure your kitty to ensure the perfect fit. But with five sizes available, it shouldn't be too much of a task to find the right size for your furry friend.
The matching lead not only removes the added expense of buying your own, but it also completes the look to a tee, an important point for the style conscious. An added design feature of this stylish harness is the double D-ring design. Attached by strong nylon webbing, there is one at the top of the harness and one nearer the bottom, so you can attach the lead according to your cat's preference and comfort level.
If you take a no-frills approach to your pet's accessories, then this probably isn't the one for you, but owners who like to play dress-up will love this harness.
EXPAWLORER Reflective Cat Jacket Harness with Leash Set
Best high-vis cat harness:
Reasons to buy
+
Comes with lead
+
Very easy to clean
+
Reflective strip makes your cat easy to spot
Reasons to avoid
-
Only two sizes available
Whether you're taking your cat hiking in tree cover or long grass, or you're heading out for a night-time stroll, the EXPAWLORER Reflective Cat Jacket Harness with Leash Set will ensure your cat is easy to spot at all times. The fluorescent yellow fabric will stand out in tall grass or amongst thick tree cover, while the reflective strip will catch the light at night, especially important if you're walking next to busy roads.
This bright harness comes complete with an equally bright lead, so visibility is a priority in every aspect of the design. The jacket design of this harness offers more surface area for the reflective fabric than a H-style harness would, while the two-part Velcro fastening makes it easy to pop on and off.
The need for a hi vis harness suggests a particularly adventurous cat, so luckily the EXPAWLORER model is made from waterproof fabric. Whether your cat is the rare type that likes to splash around in puddles, or you get caught in a downpour, the harness will keep your cat dry. Plus, it's easy to clean, another mark in the bonus column.
The small size range limits the suitability of this harness for different cats, and some reviews note that it's large around the neck. Other comments point to the stiff quality of the fabric. However, the majority of user reviews report happy, comfortable cats, meaning that this harness is winner for most.
The D-ring for the lead sits at the bottom of the harness, which is an unusual design choice, however, there seem to be no complaints. If you're searching for a sturdy, well-made harness that helps your cat stand out, opt for the EXPAWLORER Reflective Cat Jacket.
CatRomance Cat Harness and Leash
Best cat harness for kittens
Specifications
Chest size:
10.5" - 11.5"
Reasons to buy
+
Designed specifically with kittens and small cats in mind
+
Easy to use
Reasons to avoid
-
Cat might quickly grow out of it
If you want to take your cat out and about with you then it makes sense to get them used to them at a young age. This cat harness from PetRomance fits the bill, being specially designed with kittens and small cats in mind.
Moreover, ease of use is clearly at the forefront of the manufacturer's mind. Coming with a leash and harness, the magic tapes and back buckles help stop your cat from slipping free. Putting it on is simple too - they simply step into it, and you fasten the tapes and buckles. Then, it's just a case of adjusting it according to their size.
You don't need to worry about their comfort either – it is made form 100% lightweight Air-Mesh fabric, giving them room to breathe, and ensuring that after a while they'll simply get used to it.
While larger sizes are available, ultimately this harness has been designed with kittens and small cats in mind. Consider that when buying, as it might become obsolete pretty quickly if your cat is a fast grower.
This aside, however, this fits the bill perfectly if you're looking for a harness for your kitten or small cat.
How to choose the best cat harness
Choosing the best cat harness comes down to a combination of you and your cat's needs. Owners of confident cats who have some experience with harnesses and aren't prone to being spooked will often find that an H-style harness will fit the bill. However, if you're training a cat for the first time or shopping for a more timid kitty, a more secure jacket or vest style will offer some extra safety.
If your cat is an expert of wriggling free, an escape-proof option is the way to go, but do be mindful that escape-proof isn't a guarantee and always test the harness indoors first.
Measuring your cat carefully and referring to the size guide is an important step, and take a little time to consider the materials too. Is your cat bothered by rustling fabric? Try cotton or mesh. Are they more sensitive? Padding could be the most comforting choice. Do they love to roll around? Check if your harness is waterproof and wipe-clean.
Finally, consider your lifestyle. If you're going on hikes, a sturdy, outdoorsy style is a must, but if you plan to potter in the garden, a simpler harness may do the trick. With these tips and our handy guide, you can't go wrong when choosing a cat harness.
Get the best advice, tips and top tech for your beloved Pets