How to measure a cat for a harness
Decided to walk your cat? You'll need to know how to measure a cat for a harness…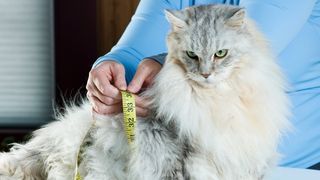 (Image credit: Getty Images)
So, you want to know how to measure your cat for a harness? Perhaps you have decided to try training your cat to walk on a leash for fun, or maybe you want to use a cat harness to stop your cat from over-exercising during recovery.
Either way, the first step is to find yourself the best cat harness, and the next is to determine what size cat harness you need. However, measuring your cat is harder than it sounds, so we'll go through which measurements you need, and how best to get your cat to co-operate while you measure them.
Types of cat harness
There are a couple of different types of harness you may want to consider. If you are just walking your cat, a simple strap harness with a D-ring for the lead (sometimes called an H-harness) is usually fine, although you may opt for softer 'vest' options.
There are even cat 'jackets' that cover much of your cat's body and are well suited to wriggly cats who seem to escape from normal harnesses, although some cats will find them too restrictive and panic.
If you want to use a harness in the car, you'll need a padded car harness that distributes the pressure properly in a crash. However, I usually advise that your cat is secured inside a cat carrier when traveling in a car and that the cat box is strapped in properly, as this is safer.
How do you measure a cat for a harness?
When you come to buy a cat harness, you will likely be met with a couple of size options. Luckily, there isn't quite so much variation as with dogs, but there's still plenty to consider.
1. Measure your cat's neck
The first thing you need to measure is the circumference of your cat's neck. This is probably easier said than done.
If you have a flexible measuring tape, also known as a tailor's tape, slip it gently around your cat's neck when they are relaxed. Be careful not to surprise your cat – let them know you're there and give them lots of fuss before gently looping it around their neck. It needs to be at the lowest point of their neck, where a collar would sit. It also needs to be pulled snugly, until you can fit two fingers under it, but not three. Read off the results and note them down.
If you don't have a tailor's tape, you can also measure your cat for a harness using a length of string and a normal ruler or non-flexible builder's tape. Loop this around your cat's neck in the same manner. Then, use a felt tip or a thumbnail to mark the point where the free end meets the string when it's in the right position and snug enough. Once you've removed the string, measure it against the ruler or builder's tape to get the circumference of your cat's neck. Note this down.
2. Measure around your cat's tummy
Next, you need to repeat the same action, but measuring around your cat's chest. This is a little trickier, as where you measure will make a big difference to how well the harness fits. It's best to get your cat to stand for this – see if a friend or family member can hold or distract them with treats whilst you get what you need.
As before, slip your string or tailor's tape around your cat, this time aiming for the gap between their front legs and back legs. Measure around their chest 1-2 inches behind their front legs, which should be the widest part of the chest. If you aren't sure, see whether your chosen cat harness comes with a photo of a cat wearing it to show you where the band will sit. Again, pull the tape or string snugly, allowing room for two fingers to slide beneath. Write down your result.
3. Check against the size ranges
Now, you need to check your two measurements against the listed size ranges for your chosen harness. Most harnesses are adjustable to allow you to get the perfect fit, which means they'll have a range of suitable measurements (example: 36-54cm).
Try to aim for the middle of the range, if you can – if you're right at the lower or upper end of the suitable circumference, small differences in your measuring (or your cat putting on or losing weight) will mean the harness won't fit. If your cat is at the outer limits of the size range, try a different size (there may be some overlap) or even a different brand.
How to fit a cat harness
Once your cat harness arrives, the next job is to check it fits. This might have to wait until your cat is used to the harness though – see our section about this below.
When your cat is happy to let you put the harness on, you can adjust the straps to get it to fit. If you know your cat was at the lower end of the size range, you may choose to shorten the straps before you put it on your cat. Otherwise, put the harness onto your cat and gently pull on the straps to tighten them.
Again, you'll want to get two fingers between the strap and your cat's body, but no more. For vest-type harnesses, the adjustment is usually made by wrapping the Velcro more tightly. Simply do the Velcro up so that it's snug but not too tight, running a couple of fingers around the neck section and body section to check both are safe.
How big should a cat harness be?
Your cat's harness should be big enough that you can fit two fingers under it, but no more. A harness that's too large is dangerous, potentially allowing your cat to escape when you're out and about. To get your cat's harness to fit properly, make sure you have taken your cat's measurements carefully. If it arrives and it's too big, you may have to return the harness and get the next size down.
How long does it take for a cat to get used to a harness?
Different cats will respond differently to harnesses. While a young, confident, and outward-going cat might take two to four weeks to get used to the harness, other cats might take longer. And, unfortunately, some cats will never get used to their harness, especially if they're prone to nervousness or anxiety. Getting your cat used to their harness should be done at your cat's speed, so as not to upset them.
Final thoughts
Once you have decided to try walking, you need to know how to measure your cat for a harness. It's essential that the harness is not too tight as this can cut off circulation or cause sores on your cat's skin. However, being too loose is also a problem, as cats may slip the harness off and escape, especially if something frightens them and they panic.
Use the harness indoors at first until you're happy that you have the fit right and your cat is comfortable with it, and only then start to venture outdoors.
Get the best advice, tips and top tech for your beloved Pets
After graduating as a veterinarian from the University of Nottingham, Dr Joanna Woodnutt went on to practice companion animal medicine in the Midlands. She quickly developed a love of consulting and helping clients with medical problems such as dermatology, behaviour and nutrition - anything that involved helping clients understand their pets better. Jo started writing about pet health in 2017, realising that it meant she could help even more pet parents. Since then, she has written for countless online and print publications and is a regular contributor for Edition Dog Magazine. Jo now lives in the Channel Islands with her husband Ian and terrier Pixie, and they are expecting their first child very soon.