Best outdoor wireless cameras for pets: Watch what's going on in your garden, wherever you are
By Alex Cox published
The best outdoor wireless cameras for pets give you security, peace of mind, and a look at what they're up to when you're not around
Included in this guide:
1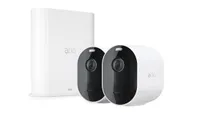 Arlo
Pro 3
2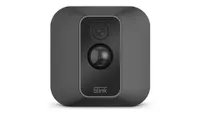 Blink
XT2
3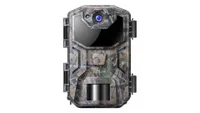 Victure
HC300 Wildlife Trap Camera
4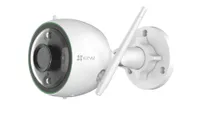 Ezviz
C3N
5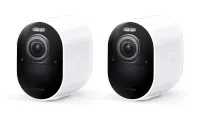 Arlo
Ultra 4K
6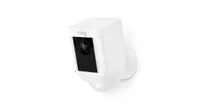 Ring
Spotlight Cam Battery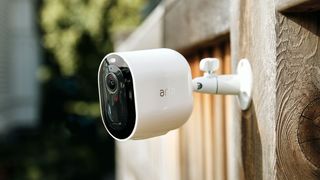 (Image credit: Amazon)
The best outdoor wireless cameras for pets won't just help you to keep an eye on your precious pooch or much-loved moggy, they'll also babysit your home for you, ensuring your property stays safe and secure whenever you're away.
Unlike the best pet cameras that are designed to be used indoors and often come with treat dispensers or lasers to amuse your furkid, outdoor wireless cameras focus on doing one job and doing it well - protecting your pet and your home.
When it comes to what to look for when choosing the best outdoor wireless camera, durability is top of the list. You want a device that's waterproof and weather-resistant and that's strong enough to hold up under hot summer rays and freezing winter snow.
A decent length of battery life is also key, the minimum you want is three months, but most cameras these days exceed that, offering up to six months. Removable battery packs are useful as these save you having to take the camera down to charge it and if you don't want to worry about that at all, look for a camera with a compatible solar panel that you can purchase.
Wireless outdoor cameras with a wide field of view and decent night vision allow you to keep track of what's going on in your backyard and alongside the best pet trackers, they can be a great way of monitoring what your furkid is getting up to. They also have a tidier and more attractive design than their wired counterparts and most can be easily assembled in under 15 minutes.
Below you'll find our roundup of the best outdoor wireless cameras for pets, including budget options and those with subscription plans that offer generous storage. Let's zoom in and take a closer look so that you can find the best cam for you and your fam...
PetsRadar's pick of the best outdoor wireless cameras for pets
Best overall outdoor camera for pets: Arlo Pro 3
Best budget outdoor camera for pets: Blink XT2
Best hidden outdoor camera for pets: Victure HC300 Wildlife Trap Camera
Best wired outdoor camera for pets: Ezviz C3N
Best premium outdoor camera for pets: Arlo Ultra 4K
Best outdoor wireless camera for Alexa: Ring Spotlight Cam Battery
Best overall outdoor camera for pets
Specifications
Maximum resolution:
2K (2560 x 1440)
Field of view:
160 degrees
Requires base station:
Yes
Animal detection:
Yes, with subscription
Reasons to buy
+
High resolution
+
Animal-tracking functions
+
Great design
Whether you're pet watching or not, the Arlo Pro 3 is just about the best outdoor security camera on the market today. It's well designed, with an attractive shell and a removable battery. It has an excellent app that is easy to use and gives quick access to all of its key features. There's a long list of those, including plenty of options to suit pet owners and garden watchers.
The Arlo Pro 3 is wireless, meaning that you can screw it to any fence post, tree or your shed, as long as the camera is within communication range of the Arlo base station. There's no need to run any cables and no need for a cabled power source. Going wireless also means you can move the camera later on, if there's a new favorite digging spot you wish to monitor. You'll likely only have to charge the batteries every couple of months (depending on use).
An Arlo Pro 3 set-up generally consists of two or more cameras and the base station and is at the more expensive end of outdoor cameras. However, each camera unit sports a sensor with impressive 2K resolution and color night vision, spotlights and sirens built in to scare off intruders, two-way talk, and (as long as you pay for a monthly subscription) advanced motion detection that can detect the difference between humans, vehicles and animals.
Alerts sent to your phone will tell you broadly what the camera has seen, so you'll know at a glance whether you're going to see some cute animal antics or a rogue scoping out your premises. It's all highly professional and slick.
Best budget outdoor camera for pets
Specifications
Maximum resolution:
Full HD (1920 x 1080)
Field of view:
110 degrees
Requires base station:
Yes
Reasons to buy
+
Great battery life
+
Affordable
+
Free cloud storage
The Blink XT2 shares many features with the Arlo Pro 3. It's totally wireless, sending its pictures back to a base station inside your home. It's waterproof, so you'll be able to install it anywhere, even where it will be exposed to the elements. It has night vision and motion detection, so it'll capture everything that's going on.
However, the Blink XT2 is cheaper than the Arlo Pro 3. For the cost of a simple two-camera Arlo arrangement, you could pick up five individual Blink XT2 cameras and completely cover your perimeter. There's no subscription involved; all of your footage is stored in the cloud for a limited time.
You will have to make a few concessions in the process of bagging yourself a bargain outdoor camera. The sensor here is a more pedestrian 1080p, though in practice, it is pretty solid. The viewing angle is greatly reduced, too, so you'll capture less in the frame and may need to invest in additional cameras.
There's also no local storage, so you'll need to rely on Blink's parent company Amazon for cloud storage services, and the motion detection is far more limited, unable to specifically pick animals out of the scene.
But the XT2 has one last trick up its sleeve. It's powered by AA batteries, rather than proprietary battery packs, which makes recharging the camera a simple case of switching to a new set of cells. Blink also claims it can last up to two years on a single pair of batteries. While you might not get quite that in practice, that's a serious amount of time without maintenance – perfect if you're planning to mount it somewhere high up.
Blink has recently released a new camera model, the Blink Outdoor, but the XT2 remains our budget choice as the Outdoor is more expensive for the extra benefit of local storage.
Victure HC300 Wildlife Trap Camera
Best hidden outdoor camera for pets
Specifications
Maximum resolution:
Full HD (1920 x 1080)
Field of view:
Not stated
Requires base station:
No
Reasons to buy
+
Can be put anywhere
+
Simple to operate
Reasons to avoid
-
No networking
-
Simple motion detection
If you're not concerned about the connectivity and smart features of commercial security cameras, here's an alternative option. The Victure Wildlife Trap Camera is a trail camera meant for tracking wild animals. There's no reason you can't employ the same tech in your garden to capture footage of your own pets or scope out visiting wildlife, and given its low price, this may well tick a few boxes that the others on this list do not.
You won't be able to bring up a live view on your smartphone or receive motion alerts as there's basically no smart functionality. Instead, you'll need to pull the Trap Camera open to view your footage or remove its SD card, where you'll find either high-resolution photographs of your garden goings-on, 1080p video footage or time-lapse video giving you a long-term overview of today's outdoor action.
There is motion detection, although it's on the more simplistic end, so may be easily triggered if you point this towards an area where there's likely to be unwanted movement. You can adjust the sensitivity, at least, though it may take a while to find the sweet spot.
There's also infrared night vision, with an array of 38 LEDs giving a bright view of what's happening, and waterproofing that is claimed to withstand the humid damp of a rainforest.
Best wired outdoor camera for pets
Specifications
Maximum resolution:
Full HD (1920x1080)
Field of view:
125 degrees
Requires base station:
No
Reasons to buy
+
Decent image quality
+
Wireless option
+
Affordable
Ezviz's wired security camera is a tough old cookie. It's heavy, solidly built, and obviously made to withstand the weather. It also claims to feature colour night vision, although it's more 'spotlight night vision' in which the camera shines its impressively bright pair of LEDs onto the scene.
Those hoping for a full-colour look at midnight garden invaders may be better served by the likes of the Arlo Pro 3. Credit where it's due, though: the monochrome infra-red night vision is superb, and manages a crisp 1080p picture day or night.
Being a wired camera, you have to be more careful with positioning. Waterproof adapters for its cables are included, and you'll need to supply a right-sized PVC pipe to run those cables along. The benefit, of course, is that this doesn't rely on potentially shaky wireless connectivity (though you can choose to run it on Wi-fi if you wish) and it doesn't require batteries. Once installed, it should work with no maintenance required.
The Ezviz C3N is a little rough and ready, and the app reflects that, but it's still a better experience than you might expect at this price. It's not quite our favourite budget camera, as the Blink XT2's presentation and convenience are better, but if you want to hike up the ladder once and once only, the C3N could be the option that suits you best.
Best premium outdoor camera for pets
Specifications
Maximum resolution:
4K (3840x2160)
Field of view:
180 degrees
Requires base station:
Yes
Reasons to buy
+
Wide-angle image
+
Animal detection built in
+
Incredible picture
If you really want to push the boat out on a pet camera, the Arlo Ultra 4K is the way to go. It has all the key features of the Arlo Pro 3 – the weatherproofing, colour night vision, integrated spotlight – and a similar compact design. While the Arlo Pro 3 will do just fine for most tasks, such as security or dog-watching, the Ultra 4K brings a few upgrades to the table.
The 2K sensor of the Pro 3 has been increased to 4K here, meaning that it captures almost four times as many pixels. It also claims a 180-degree field-of-view and covers a wider area than its cheaper sibling.
The Ultra 4K has twin motion sensors on each camera unit for greater precision and a wider range of animal detection. Its extra resolution can be used to automatically zoom in on a target and track it through the frame – great if you're looking to watch back footage of far-off antics. This feature is also included on the Arlo Pro 3, but it really shines with the resolution of the Ultra 4K. Two-way talk gets an upgrade, with a twin microphone array able to cancel out wind noise.
The only issue with the Arlo Ultra 4K is its price. This is more the sort of installation you'd find in a professional environment than something used to spy on a cat. But if you have the money to spend, it's the best home and pet security product around.
Ring Spotlight Cam Battery
Best outdoor wireless pet camera for Alexa
Specifications
Maximum resolution:
1080HD Video
Field of view:
140 degrees
Requires base station:
No
Storage:
Cloud with subscription
Reasons to buy
+
Quality images
+
Motion-activated spotlight
+
Quick-release battery pack
Reasons to avoid
-
Subscription required to access cloud storage
We're loving the stylish battery-powered 1080HD camera from Ring with a motion-activated spotlight and infrared night vision that clearly captures what's going on outside your home.
You can easily connect your Ring camera with Alexa and the two-way audio system lets you easily hear your pet or visitors and converse with them from your phone, tablet, or PC. There's also a siren that can be activated remotely, so if you're away from home and see something suspicious, it's easy to raise the alarm.
With customizable motion sensors and instant motion-activated alerts, you'll never miss a thing, and the adjustable mount means you can easily install and move the camera to wherever you want it to be.
It also comes with a quick-release battery pack, meaning you can charge the battery without having to take the camera down, and the recharge time is super speedy, with a USB cable getting the job done in around three hours. There's also the option of adding on an additional battery pack for backup power or a solar panel for a continuous charge.
Standard features, such as two-way talk, instant notifications, and live view are available straight out of the box, but you'll need to purchase a Ring Protect subscription for $3/month to be able to store unlimited footage in the cloud for 30 days.
Compatible with iOS, Android, Mac, and Windows 10, the camera comes with a one-year limited warranty and includes lifetime theft protection.
How to choose the best outdoor pet cams
If you're installing a wireless outdoor camera, you'll need to consider battery life first and foremost. The actual battery life may vary from the manufacturer's stated claims depending on how often the camera is activated; it's safe to presume, in most cases, the life will be a little lower than suggested.
Every time a wireless camera runs out of juice you'll either have to bring it inside to charge it, putting that camera out of action for some time, or switch out a fresh battery. If you've mounted the camera somewhere high up, that means getting the ladder out – so a longer lifespan is, clearly, preferable.
Motion detection is particularly important if you're aiming to use a camera to watch your pets. You'll need to mount your camera, wired or not, somewhere it won't pick up too many false positives. Even if your camera is smart enough to tell the difference between people, animals, and cars, ensure you angle it in such a way as to avoid busy roads or frequent public thoroughfares.
Finally, of course, there are the specs: a higher resolution sensor gets you higher quality footage and the various storage options allow you to access that footage in different ways. Night vision is probably essential, but if you spend a little more you'll likely end up with a sensor which can handle low light (and glare) with much more aplomb, raising the threshold for having to switch to a night vision mode and letting you see further into your garden when things are dark outside.
Alex is a freelance writer, editor and sub editor specialising in entertainment and technology; he is a father of two, and owned by three increasingly grumpy cats. Somehow he has been doing this for 24 years, and it's still fun. He specialises in technology-related subjects, with a focus on smart home and gadgets and is a regular contributor to T3.com, TechRadar, PC Gamer, and more.
Get the best advice, tips and top tech for your beloved Pets
Thank you for signing up to Petsradar. You will receive a verification email shortly.
There was a problem. Please refresh the page and try again.