Best outdoor cat houses 2023: Five perfect picks for your feline friends
Keep cats safe and dry with our guide to the best outdoor cat houses money can buy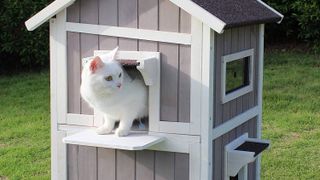 (Image credit: ROCKEVER)
Investing in an outdoor cat house is well worth it if you have a feline friend who spends the bulk of their time in nature's backyard or if you're looking to provide a safe and secure shelter for any strays you might have in your neighborhood.
Just like the best outdoor cat enclosures, outdoor cat houses can provide a covered space that will protect your cat from the elements.
Caring for outdoor cats is quite different than looking after a feline who spends most of their time indoors. Unlike our furry friends who don't like to venture too far, adventurous outdoor cats are more at risk of illness and injury, so providing them with a cat house can help give you as a pet parent peace of mind that your kitty has a warm place to retreat to if they need it.
They're also great during the summer too if your bundle of fur is looking for a shady place to hang out in to help them beat the heat.
But with so many outdoor cat houses on the market, how do you know which one is right for your kitty? Well, it really depends on what features you're looking for. If you live in a colder climate, we recommend looking for a design that has insulated walls and a heating pad that will help your cat stay warm and cozy. It's also preferable to set the cat house up in your garage, barn or porch as this will provide additional warmth.
For those of you that reside in more temperate areas where the mercury doesn't plunge too low in the winter months, you may decide that extra heating isn't required and that simply popping a blanket in will be more than enough to add a touch of coziness. In that case, a simple wooden design that's been weather-proofed to withstand rain, is a great option. You might also like to select one with multiple doors to allow for ventilation and also a quick getaway, should it be needed!
To help you find the right outdoor cat house for your feline friend, we've rounded up our favorite picks for 2022, with various designs to suit every budget. Let's take a look...
PetsRadar's pick of the best outdoor cat houses
Why you can trust PetsRadar Our expert reviewers spend hours testing and comparing products and services so you can choose the best for you. Find out more about how we test.
K&H Pet Products Outdoor Heated Cat House
Best overall outdoor cat house
Specifications
Size:
22 x 18 x 17 inches
Reasons to buy
+
Multiple designs
+
Water resistant
+
Heated cat house
Reasons to avoid
-
No raised design
-
Cord is not very long
If you're looking to offers kitties a cosy retreat from the elements, look no further than the K&H Pet Products Outdoor Heated Kitty House.
This handy hideout is super plush and features insulated walls and a heating pad inside with a removable fleece cover that ensures a warm and comfortable place for cats to sleep through cold nights.
Made from 600 denier polyester, it's tough enough to withstand most weather conditions and is relatively water-resistant. It's most ideal when used inside a barn, garage, or porch. The product does not feature raised feet to take it off wet ground, while the heating pad features a plug that's not ideal for being fully exposed outdoors.
The cord provided is fairly short, so many buyers opt to use an extension cord, however initial set up is easy enough. Once you've found your spot to place the kitty house, simply use the hook and loop system to fasten the walls, while the roof can be zippered.
Once set up, there's some great features. The K&H Pet Products Outdoor Heated Kitty House features two exits with removable plastic flaps, so pets cannot be trapped by predators, and you've got to love the additional stylish designs on offer here, including a barn or log cabin design.
Petsfit Large Outdoor Cat House
Best waterproof outdoor cat house
Specifications
Size:
29.5 L X 19 W X 29 H
Ideal for:
2-3 adult cats & 4-5 kittens
Reasons to buy
+
Stylish
+
Good size
+
Easy to clean
+
Multiple colors
+
Raised design
Reasons to avoid
-
No heating
-
Can require tweaks to achieve full waterproofing
Come rain or snow, keeping your furry friend dry is an essential requirement when it comes to outdoor cat houses. This stylish cat condo offers furkids a roof over their head – quite literally.
Additionally, there's also enclosure walls that are made up by boards milled with angles to precisely fit, ideal for keeping kitties inside dry.
In fact, this house has everything you'd expect from a cat home, including two doorways: a traditional entranceway and extra escape door at the back in case of predators, which is essentially a stylish catflap!
What the manufacturers don't offer their cat guests, however, is heating. Pet owners can add bedding or heating pads inside to act as insulation, which can work well in winter months.
There's some great touches here that show how much thought had gone into weather-proofing. The house is covered by wood shingles, coated with non-toxic water-based paint, to hold up against the elements, while the raised floor with plastic feet protects against decay from rain.
All in all it's a pretty decent weatherproof option, although some pet owners may look to reinforce the wood trim of the roof in the event of blizzards or heavy rain showers.
If you're looking to use mainly in winter months, adding extra insulation and covering vent holes will give it the extra protection from rainwater.
ROCKEVER Outdoor Cat Shelter
Best large outdoor cat house
Specifications
Size:
24.4 x 36.2 x 20.8 inches
Material:
Weatherproof wood
Reasons to buy
+
Multiple colors
+
Multiple sizes
+
Relatively rainproof
+
Good protection against predators
Reasons to avoid
-
Expensive
-
Can be prone to structural damage
If you've got a whole crowd of stray cats to accommodate, then ROCKEVER Outdoor Cat Shelter is ideal. There's two sizes on offer here: you can choose a single storey, which works for 2-3 cats, or add a floor with the 2-storey offering that'll bring that number up to 3-4.
It's roomy enough for multiple felines to enjoy together, with a few openings for them to pop in and out of, which also offers a quick getaway in face of any potential predators.
With its two-storey apartment design, ROCKEVER Outdoor Cat Shelter is an ideal fort against coyotes.
It's also a fantastic choice for those looking for a rainproof option. No outdoor cat house is typically able to stay completely dry due to multiple openings, but ROCKEVER Outdoor Cat Shelter's design means very little rain comes through.
We love the multiple color choices and the inclusion of two warm mats is a nice bonus.
On the downside, it can be an expensive buy to treat the neighborhood stray cats and some buyers experience quality issues with the cat house.
New Age Pet ecoFLEX Outdoor Cat House
Best eco-friendly outdoor cat house
Specifications
Size:
21.8 x 19.1 x 20.2 inches
Reasons to buy
+
Made from recycled wood
+
Two stylish designs
+
Can be customized
Reasons to avoid
-
No heating
-
Could have better predator protection
New Age Pet specialize in creating homes for pets made from ecoFLEX, which is a type of non-toxic, recycled wood and plastic polymer composite. It's not completely plastic-free, with the addition of the frame, but it's a great step in the eco direction.
Fortunately, it happens to be a rather good outdoor cat house too. Sturdy enough to take on the elements, while being cool in heat and warm in cold damp weather.
This stylish house doesn't feature insulation or heating, so you may opt to pop in a heated mat yourself. For cooler months, the house features an elevated floor that helps with ventilation.
This cat house is 1.5 inches off the ground, handy once the rain starts to accumulate on the ground. If you live somewhere with feral animals, such as deer or coyotes, note that the cat house is not so far off the ground that it would prevent curious wildlife from poking their heads in.
The product looks to help this by providing two doors to give your cat the freedom to come and go as she pleases, but it's worth considering where you place this cat house.
If you're finding that buying the stylish Mossy Oak design costs too much money, a great alternative is to buy the Tan instead and paint it with non-toxic paint.
Love's Cabin Outdoor Cat House
Best budget outdoor cat house
Specifications
Size:
13 x 17 x 16.25 inches
Material:
Oxford material
Reasons to buy
+
Inexpensive
+
Durable
+
Relatively waterproof
+
Can be used inside the home too
Reasons to avoid
-
No raised design
-
No predator protection
-
Not suitable for feral cats
If you're looking for an inexpensive addition to your garage or porch, then Love's Cabin Outdoor Cat House could do the job.
It's an indoor/outdoor cat house so much like the more expensive K&H Pet Products Outdoor Heated Cat House it's best placed somewhere that's not directly exposed to the elements.
The cat house is made from a waterproof Oxford material, so it will stand up to light rain, but its design does not feature raised feet or solid exterior walls to handle water from the ground nor a double door feature to protect from common predators.
You'll likely find, however, that Love's Cabin Outdoor Cat House is much more durable than you expect at first sight. Its stylish grey design looks like an indoor kitty cabin, but its tough material gives it dual use. You can use it inside the home, then move it outside for your pet to sleep in.
Just keep it sheltered away from high winds as the cat house may need a spot of extra weight to keep it locked to the ground.
All in all, it's a good choice for your own pets to retreat to in the event of light rain, but if you're looking to buy for feral cats, that lack of escape door could be the deal breaker.
How to choose the best outdoor cat house
Predator protection
Are you looking to buy the outdoor cat house for feral felines or pets? If it's the latter, then consider how the house will hold up against potential predators.
A good outdoor cat house for feral cats will have an escape door at the back, while houses that are taller, off the ground and structurally solid can prevent curious animals from snooping in.
Weatherproofing
How does the cat house perform against the elements? Considering where to place your outdoor cat house is a key consideration that informs this.
For instance, if you're looking to place it inside a barn or garage, then an outdoor cat house that sits on the ground and is made from Oxford material or polyester is a good choice. However, if it will be fully exposed to the wind and rain, opt for sturdy wooden structure instead.
Insulation
Consider if you're looking to keep the cat inside extra cozy. If you live somewhere that's particularly cold or are buying during winter seasons, then you may opt for a heated cat house.
If your outdoor cat house of choice does not have this, you could look to buy a heated pad or extra bedding instead.
Size
Are you looking to house several stray cats in the neighborhood? Some outdoor cat houses are best suited for one cat, such as a pet, and are not the roomiest for multiple felines.
Consider outdoor cat houses that have multiple storeys if your looking to buy for feral cats.
Get the best advice, tips and top tech for your beloved Pets
Ashleigh is Digital Editor on PetsRadar. With over 8 years of experience in print and digital media, she has acted as an editorial lead on a variety of projects, with animal themes a keen interest. As an avid animal lover, you can often find Ashleigh checking out the newest trends in animal care or looking at cute cat videos on TikTok.
Thank you for signing up to Petsradar. You will receive a verification email shortly.
There was a problem. Please refresh the page and try again.