Toro, the rescue dog who hugs everyone he sees, is still looking for an owner
This previously shy shelter dog now deals out loving embraces to all his friends at his temporary home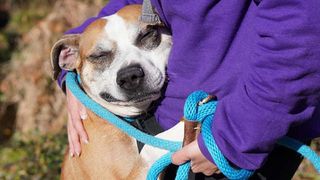 (Image credit: Instagram: @Adopt_toro_who_hugs)
Meet Toro, a 6-year-old terrier/pit bull mix, who has had a lot to deal with after living in almost total isolation from humans in his 6-year-old life. However, after his rescue, despite initially being nervous and shut down, Toro started to become more comfortable with the adults in the shelter and then started coming up to them to give them hugs. And now it's hard to stop him!
Toro has a lot to be thankful for to his rescuers at the Town of Hempstead Animal Shelter. He was liberated from an abandoned home with two other dogs where he had been chained to a fence with a 15.7lb collar around his neck. It seems likely he was kept outside his entire life, so it's great he is now getting the opportunity to share his big hugs and loving affection with his rescuers and his friends.
Speaking to The Dodo, Melissa Fogarty, kennel and placement supervisor at the shelter explains: "Every time he comes out of the kennel, his first reaction is to hug the person walking him, and anyone, really, he comes in contact with."
She adds, "I was probably one of the first people to take him out for an actual socialized walk when he came in. The hugging happened probably within 15 minutes of having him out loose in our side play yard. He just kind of crawled up to me, climbed on my lap, and pressed himself against my chest… from there it grew and now he hugs all his friends here."
Despite the media attention this loving dog has been getting, Toro is still looking for someone to adopt him. As his animal shelter bio explains, he's looking for an adult-only home with someone who will give him structure, love, and patience. In the meantime, though, Toro is happy at his temporary shelter home dealing out cuddles and affection to both staff and visitors, and it can't be long before he gets to share that love with a permanent family.
Get the best advice, tips and top tech for your beloved Pets
Jamie Middleton is a freelance editor and writer who has been editing and creating content for magazines and websites for over 20 years. As well as writing about the pets he loves, he has helped create websites about tech and innovation like TechRadar.com, Innovate UK and TechSPARK, written programmes for music festivals, books on inventions and architecture, TV listings magazines, and edited publications about cars such as Lexus, Toyota and Jaguar. In his spare time he writes fiction books and poetry - or at least he does when he is permitted to by his cat Pirate, who enjoys the warmth of laptops too much to allow being creative to get in the way.