Bandit the bandog is a 130lb protection dog who's a big softie at heart
The huge Mastiff/Great Dane cross, or bandog, still likes a cuddle at the end of a day's training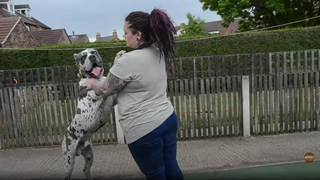 (Image credit: Barcroft)
There's no doubt about it, this 130lb bandog is an impressive beast. Measuring 30-inches high to the shoulder and weighing the same as a new-born baby giraffe, Bandit is the perfect breed to be trained to protect his adopted family and home.
Bandogs like Bandit are crosses between Mastiffs and other fiercely loyal and combatively strong dog breeds – in Bandit's case, a Great Dane – which are primarily bred for hunting, fighting and guarding properties.
Unsurprisingly, because of his size, Bandit divides opinion as he's walked by his owners Martin and Lisa Lewis on the streets of the UK. As Martin explains: "When we're out and about people's reactions to Bandit is a 50/50 split because people will see his looks, his colour and be like, 'Oh my god, he's so cute, he looks like a teddy bear.' Other people will go 'Oh my God, look how big he is; I'm off the opposite way'."
That split is true in his home life too, as Bandit divides his life between being a caring loving family dog to Martin, Lisa and their two young sons, and his regular training as a protection dog. A protection dog is similar to a guard dog, but with one major difference – while a guard dog is trained to alert their owners to any incoming intruders and attack anyone who enters their territory, a protection dog is trained to an incredible level of obedience and loyalty, and will only act upon their master's command. As Martin says, "A Bandog's characteristics are basically a strong-willed dog that can protect its family fiercely but at the same time be cuddled up and act like a family pet."
Martin and Lisa run dog handling company Berserker Bandogs and got Bandit when he was a one-year-old puppy from a friend of theirs who is also a dog handler. They have plans to breed him and enter him into dog trials with which they have had great successes in the past with their previous protection dogs. Martin explains that the key to success when training a protection dog is choosing the dog carefully: "You need a dog that's going to do his job properly and not just run away on the first sight of danger.
Martin adds, "Bandit is our ultimate Bandog because he can do everything we ask him to do – he'd protect the family, to his last breath. He will cuddle up and play with you. He's just a general great all-round dog."
Get the best advice, tips and top tech for your beloved Pets
Jamie Middleton is a freelance editor and writer who has been editing and creating content for magazines and websites for over 20 years. As well as writing about the pets he loves, he has helped create websites about tech and innovation like TechRadar.com, Innovate UK and TechSPARK, written programmes for music festivals, books on inventions and architecture, TV listings magazines, and edited publications about cars such as Lexus, Toyota and Jaguar. In his spare time he writes fiction books and poetry - or at least he does when he is permitted to by his cat Pirate, who enjoys the warmth of laptops too much to allow being creative to get in the way.