Trainer reveals one tell-tale sign your dog feels nervous on walks
Are you missing one subtle sign that your dog is nervous? Here's how to spot it – and what to do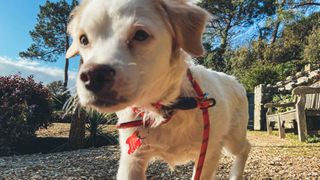 (Image credit: Getty)
Just like humans, dogs can suffer from social anxiety. They might be fine in their comfort zone – their home, their yard – but start to show nerves as soon as you take them out the gate. As dogs fundamentally want to please us, they can be very good at hiding their fears. Anxiety in dogs may be fairly common, but no one wants to think they're stressing their furry friend out every time they go for a walk.
One problem is that dogs can exhibit a wide range of signals when they're nervous, and they can range from obvious to subtle. For example, if your pooch sees something he's not sure about he might do anything from standing completely still with a tucked in tail to growling and throwing himself towards the trigger, depending on his personality. If you're used to the latter, learning 'how to calm a reactive a dog' is possible, it just takes work and routine.
While some signs of nervousness on walks are unmissable, others are very subtle indeed. New Jersey-based certified trainer Lindsay Christinzie of Pawsative Dog Training recently shared some advice on TikTok, pointing out one sign that's so subtle you might well have missed it. Watch below to find out what this sign is...
It's all in the tail...
"I'm working with this dog named Chai," explains Christinzie in the video. "Chai can be nervous about a lot of different things and I'm going to show you how subtle it can be." She goes on to explain that although Chai is wagging her tail, the wags are asymmetric and to the left side only. This indicates nervousness about what's ahead – in this case a car. "Even though she may look eager, there's still some hint of concern there," says Christinzie.
Once you've identified that there might be a problem, what can you do to turn that frown upside down – or rather, that fail into a happy tail?
1. Use positive reinforcement. Enjoy walks with your nervous dog more by using treats to turn scary experiences with your dog into positive ones. Keep a keen eye on your pooch and reward any non-reactive behavior with some of their favorite dog treats.
2. Be a leader. Another way of reducing your dog's anxiety on walks is to take up a strong leadership position. Many anxious dogs struggle because they feel under pressure to 'lead' the walk by moving ahead of you and they don't feel comfortable. Practice boundary setting at home before you venture out.
3. Limit interactions. If you'd like to help a reactive dog feel calmer and more relaxed, try limiting contact with other dogs to help encourage neutral encounters.
If you've been working with your dog regularly and consistently and still not getting the results you're looking for, we'd recommend calling in a certified trainer for some one on one time with your pooch. Our top tips on how to spot dog trainer red flags are worthwhile reading before booking someone in.
Get the best advice, tips and top tech for your beloved Pets
Sara is a freelance journalist and copywriter of many years' experience with a lifelong love of animals. She's written for a range of magazines and websites on subjects varying from pet care to travel. A horse rider since the age of five, she's currently a full time pet slave to horse Blue and gorgeous, goofy English Springer Spaniel Olly. Adorable Olly has a huge sense of adventure and no sense of direction, keeping Sara on her toes.