The 7 ugliest dogs in the world: Meet the winners of World's Ugliest Dog Contest
From a Neapolitan Mastiff with cheeks that almost touch the floor to a Chinese Crested with milky eyes, the ugliest dogs in the world are a sight to behold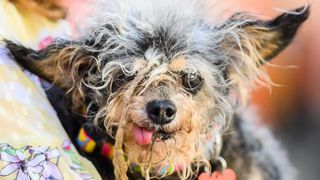 (Image credit: todayshow/Instagram)
From squashed faces and hairless bodies to crossed-eyes and mismatched ears, the ugliest dogs in the world might not be the prettiest pups to look at but these homely hounds are a reminder of the importance of celebrating the imperfections that make us special and unique. And for the past 50 years, the World's Ugliest Dog Contest has helped us do just that.
Advocating for the adoration of all of our canine companions, not just the ones that look perfect on the outside, the World's Ugliest Dog Contest seeks to raise awareness for all the dogs rescued from puppy mills and living in shelters who are waiting for their forever family to come and take them home.
Held at the Sonoma Marin Fairgrounds & Event Center, this bumper event draws crowds from far and wide who understand that you don't have to be a pedigree to be a human's best friend. And the pet parents who have entered their pups are equally keen to show that no matter their physical imperfections, these canines are loving companions.
From an English Bulldog whose tongue almost touches the ground to a one-eyed Chinese crested with three legs, we introduce you to some of the homely hounds who have joined the illustrious ranks of the ugliest dogs in the world and taken home a cool $1,500 prize with their crown in the process.
1. Scamp the Tramp (2019)
The contest's most recent winner (they took a two-year break during the pandemic), Scamp the Tramp showed a ton of grit, competing for four years before his perseverance paid off and he was finally awarded the title of World's Ugliest Dog.
A pup of unknown breeding, people around the globe fell in love with Scamp the Tramp thanks to his Yoda-like ears and his wild hair that naturally grows into dreadlocks.
The bug-eyed pup brought with him an impressive resume to the 2019 contest that included being a social therapy dog and a reading dog for a first-grade class near where he lives. After being a runner-up the year before, we're pretty sure it was all his good deeds that finally turned Scamp from Tramp to Champ.
2. Zsa Zsa (2018)
Having spent the first five years of her life living in a puppy mill before being put up for auction and bought by a rescue group, Zsa Zsa finally got her happy ending after she was adopted into a loving home. Her family drove 30 hours to enter her into the World's Ugliest Dog Contest and it turned out she was impossible to beat.
With a severe underbite, crooked teeth that almost touched her nose, a tongue that hung down to the ground and a whole lot of drool pouring out of her mouth, the Slim Jim and steak burrito-loving canine beat out 13 other pups to take the crown.
Following the competition, Zsa Zsa became an overnight hit, with her family reporting that people wore t-shirts with her face on it and screamed her name whenever they saw her. Sadly, her time in the limelight was short lived with the much-loved mutt dying peacefully in her sleep a few weeks after the event at the age of nine.
3. Martha (2017)
To say that Martha is a very cheeky girl would be somewhat of an understatement when it comes to this jowly Neapolitan mastiff who has some of the lowest hanging cheeks we've ever seen. Rescued when she was almost blind from neglect, Martha found a loving home and after several surgeries was finally able to see again.
Lumbering onto the stage, the judges couldn't help but be won over when rather than seeking to impress them, Martha flopped onto the stage spreading her droopy face across the floor before promptly falling asleep, leaving her owner (and everyone else) in stitches.
4. Sweepee Rambo (2016)
With her milky right eye, big ears, and a tongue that was always sticking out, Sweepee Rambo may not have been what you'd call a beauty but the tiny Chinese Crested Chihuahua took out the top prize beating a field that contained a whopping 17 contestants.
Described by her owner as a "ride or die chick" who was utterly devoted to him, Sweepee Rambo took second place in the contest in 2015 and nabbed the crown a year later just a few months before she died at the ripe old age of 17.
5. Quasi Modo (2015)
https://t.co/lx7TYVUGh1Paparazzi following me out side @jimmykimmel pic.twitter.com/W21osy8qgAAugust 11, 2015
Quasi Modo the mutt was the one who impressed the judges the most in the 2015 round of this popular competition, besting an impressive 25 other contestants to walk away with the crown and prize money. The Pit Bull-Dutch Shepherd mix was born with spinal defects that left her hunchbacked and was then abandoned at an animal shelter. Thankfully, it wasn't long before she found a forever home.
Quasi Modo enjoyed a meteoric rise to fame after her win, appearing on numerous talk shows, including Jimmy Kimmel Live, where she received a makeover from designer Carson Kressley. She died peacefully at home in 2019 at the age of 14.
6. Peanut (2014)
Just two-years-old when he took out the title in 2016, Peanut is a rescue dog of unknown origins with a heartbreaking start to life that thankfully later turned heartwarming. A victim of animal abuse, Peanut was injured in a fire and lost his lips and eyelids.
His owners were delighted with his win, saying they wished to use Peanut as a poster child for what can happen to dogs that are abused. While he may be a burns survivor with bulging eyes and protruding teeth, it was Peanut's sweet and energetic personality that really won over the judges.
7. Wallie (2013)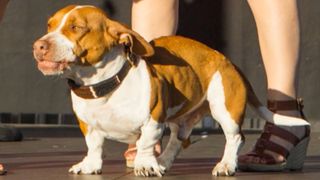 Beating 29 other canines to win the 25th annual World's Ugliest Dog Contest, Wallie is far from ugly in our books, but the judges clearly thought otherwise, indicating that Wallie had a mug that only a mother could love.
The Beagle-Basset-Boxer mix has a duck-like waddle, big head, a small hunchbacked body, and crooked legs that certainly give him a unique appearance. Wallie appeared on the Today show soon after his win where he won over the hosts with his lovable personality.
Get the best advice, tips and top tech for your beloved Pets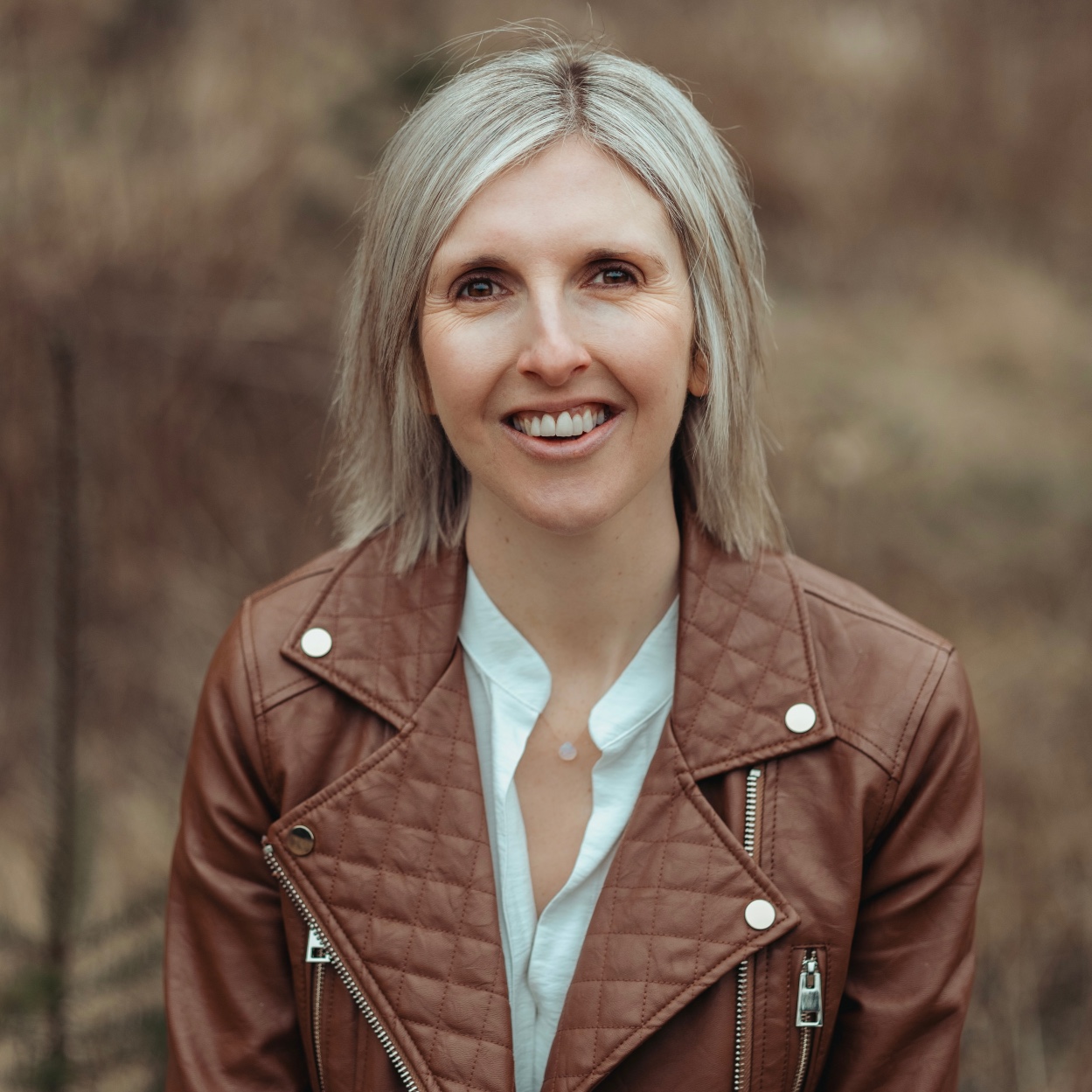 Kathryn is a freelance writer who has been a member of the PetsRadar family since it launched in 2020. Highly experienced in her field, she's driven by a desire to provide pet parents with accurate, timely, and informative content that enables them to provide their fur friends with everything they need to thrive. Kathryn works closely with vets and trainers to ensure all articles offer the most up-to-date information across a range of pet-related fields, from insights into health and behavior issues to tips on products and training. When she's not busy crafting the perfect sentence for her features, buying guides and news pieces, she can be found hanging out with her family (which includes one super sassy cat), drinking copious amounts of Jasmine tea and reading all the books.