Unflattering Dog Photo Challenge takes social media by storm
Brighten your day with these uncomfortable canine camera captures, which are both adorable and hilarious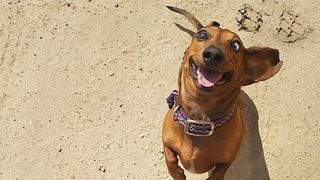 (Image credit: Twitter: @embernotfound)
The latest trend to go viral on social media is both as funny and as pleasing as it sounds: it's the Unflattering Dog Photo Challenge.
We've all got those photos where your dog was doing something cute, so you rush to capture it on your phone, but when you review the image you've taken it doesn't quite capture the subject in the right light. In fact, they look downright goofy, gormless or gaga – or even like a different species!

If you fancy polishing your pet-photography technique then take a look at our guide on how to take great pet photos.

But now you don't need to delete them: instead you can celebrate your unphotogenic pooches by using the #unflatteringdogphotochallenge hashtag that's going viral across Instagram, Facebook and Twitter, and use them to help bring joy to a jaded world.
#unflatteringdogphotochallenge my boy Ernie pic.twitter.com/PV3enx6MRkOctober 14, 2020
These collections of awkward, bizarre and often hilarious unfiltered photos are a source of glee, and you may lose many hours browsing through them – but you'll be glad you did. In a world that seems to only celebrate photoshopped pictures of perfect, pampered pooches, this is a truly wonderful breath of fresh air – and a great way to celebrate the madness of our furry four-legged friends.
The reaction online has been meteoric, with many pictures going viral, and viewers commenting that this is just the silly celebration of canine madness we need to help lift everyone's spirits.
do i win? #unflatteringdogphotochallenge pic.twitter.com/YOtXHD4S8QOctober 14, 2020
This challenge is open to anyone, so if you've got a picture of your pup or pooch that you thought you'd never show anyone, make someone's day and share it with the world now!
Get the best advice, tips and top tech for your beloved Pets
Jamie Middleton is a freelance editor and writer who has been editing and creating content for magazines and websites for over 20 years. As well as writing about the pets he loves, he has helped create websites about tech and innovation like TechRadar.com, Innovate UK and TechSPARK, written programmes for music festivals, books on inventions and architecture, TV listings magazines, and edited publications about cars such as Lexus, Toyota and Jaguar. In his spare time he writes fiction books and poetry - or at least he does when he is permitted to by his cat Pirate, who enjoys the warmth of laptops too much to allow being creative to get in the way.