Viral video of dog on waterslide makes a big splash!
Couple share a hilarious clip of their dog on waterslide rented for daughter's birthday party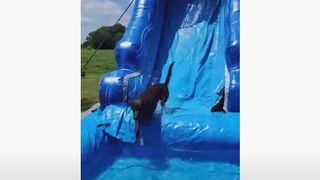 (Image credit: Viralhog)
A dog on a waterslide? Well, you know how it is... You look to make a splash at a child's birthday party by renting a giant waterslide, wait patiently for it to be set up and get ready to have a go yourself – only to find your dog is determined to have all the fun.
This is exactly what happened to a couple in Schertz, Texas, when they decided to give their young girl a treat.
"We rented a water slide for my boyfriend's daughter's birthday," they wrote beneath an hilarious video posted on YouTube. "Turns out my chocolate Labrador had more fun playing in it."
As the smartphone camera zooms in during the 35-second clip – filmed on a gorgeous sunny day – you can see the dog suddenly emerge down the slide.
He then spins around, darts back up the steps to the right with all the enthusiasm anyone would have with such an impressive inflatable sitting in the garden, before waiting while a child takes her turn and following her back down again.
The dog's owner is clearly delighted that everyone in the family is enjoying themselves because she films again, this time from a different angle, chuckling as the Lab plunges into the pool at the bottom and shakes the water from his fur.
Get the best advice, tips and top tech for your beloved Pets
David Crookes has been a journalist for more than 20 years and he has written for a host of magazines, newspapers, websites and books including World of Animals, BBC Earth, Dogs and Canines, Gadget and The Independent. Born in England, he lives in a household with two cats but he's also keenly interested in the differences between the huge number of dog breeds — in fact, you can read many of his breed guides here on PetsRadar. With a lifelong passion for technology, too, he's always on the lookout for useful devices that will allow people to spend more time with their pets.