Walkies help prevent dog dementia, new study finds
New study shows that inactive dogs are 6.47 times more likely to develop canine dementia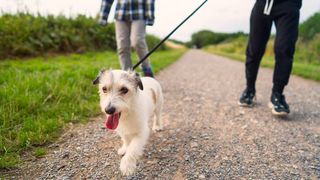 (Image credit: Getty Images)
A new study has revealed that walkies help prevent dog dementia, reducing the chances of your canine companion developing the disease in later life.
A new study from the University of Washington confirms that as dogs age, their chances of developing canine cognitive dysfunction (CCD) increases, but, interestingly, that more active dogs have a reduced chance of getting it. CCD is very similar to Alzheimer's disease in humans and symptoms include learning and memory problems, mood swings, loss of spatial awareness, and disrupted sleep patterns.
By analysing the responses of over 15,000 companion dog owners to questions about the behavior of older dogs as part of the Dog Aging Project, Sarah was able to see a link between dog activity and CCD development. In dogs of the same breed, age, health and spay status, the probability of CCD was 6.47 times higher in dogs that were inactive, compared to dogs that led a more active lifestyle.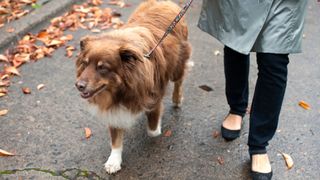 It seems that this is down to the effect exercise has on your pooch's brain. Activity increases blood flow to their brain which helps to reduce build-ups of potentially damaging molecules. A similar effect has been seen in previous studies on rats as Sarah Yarborough, the researcher from the University of Washington who wrote the study, explains:
"These observations may reflect a variety of biologic mechanisms, including a reduction of pro-inflammatory cytokines in the brain that otherwise contribute to neural damage and death, and an increase in neural plasticity [the ease with which the brain can change and adapt]."
"The reduced odds of CCD among more active dogs in our cohort may be a result of these same mechanisms."
Although the paper is yet to be peer-reviewed, if the research is approved it will be another step closer to helping control these kinds of aging issues in our four-legged friends. As Sarah says: 'CCD is a major health problem for dog owners and veterinarians. A better understanding of CCD may help advance the treatment of cognitive diseases in dogs."
Get the best advice, tips and top tech for your beloved Pets
Jamie Middleton is a freelance editor and writer who has been editing and creating content for magazines and websites for over 20 years. As well as writing about the pets he loves, he has helped create websites about tech and innovation like TechRadar.com, Innovate UK and TechSPARK, written programmes for music festivals, books on inventions and architecture, TV listings magazines, and edited publications about cars such as Lexus, Toyota and Jaguar. In his spare time he writes fiction books and poetry - or at least he does when he is permitted to by his cat Pirate, who enjoys the warmth of laptops too much to allow being creative to get in the way.