Warning to pet owners as Pedigree and Chappie dry dog food is recalled
A popular dry dog food range has been recalled over its vitamin D content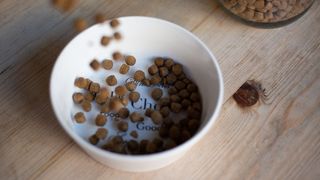 (Image credit: Getty)
The company behind Chappie and Pedigree dog food, Mars UK, is recalling several ranges of its dry dog food through fears that they may contain high levels of vitamin D, which exceed the maximum recommended dose for our beloved canines.
Best dog food: Make sure your faithful friend gets the best diet possible
It's believed that consuming excessively high levels of vitamin D over a short period of time shouldn't cause dogs to suffer any adverse effects. However, taking on so much of the vitamin over a long period of time can be quite harmful to pooches.
The list of products Mars UK are currently recalling include:
Chappie Complete Chicken & Wholegrain Dry Dog Food 3kg (Batch code: 045F9MIN05 | Best before: 11 May 2022)
Pedigree Mixer Adult Dry Dog Original 3kg (Batch code: 046E9MIN05, 046F9MIN05, 048A9MIN05 | Best before: 12 February 2022, 20 February 2022, 22 February 2022) and 10kg (Batch code: 046E9MIN08, 047C9MIN08 | Best before: 12 February 2022, 17 February 2022)
Pedigree Adult Complete Dry Dog Food with Chicken & Vegetables 2.6kg (Batch code: 045F9MIN05, 047A9MIN05 | Best before: 6 February 2022, 15 February 2022) and 12kg (Batch code: 046C9MIN08, 046D9MIN08 046E9MIN08 | Best before: 10 February 2022, 11 February 2022, 12 February 2022)
The Food Standards Agency (FSA) has reassured dog owners by stating that there is no reason to be overly concerned if your dog has been eating high levels of vitamin D over a short period, such as weeks or months.
However, if your pooch has been consuming high levels of vitamin D for a prolonged period, you should seek medical advice from your vet, especially if you notice any of these symptoms:
Lethargy
Stiffness
Drooling
Vomiting and/or diarrhoea
Loss of appetite and/or weight loss
Increased thirst and/or increased urination (polyuria)
If you have purchased any of the above dog products matching the batch codes mentioned (the batch code should be visible of the product's packaging), stop giving it to your dog immediately and contact Mars Petcare Customer Service on 0800 013 3131 or by visiting https://uk.pedigree.com/about-us/contact
Get the best advice, tips and top tech for your beloved Pets
Chloe is a freelance writer, editor, and proofreader, who has more than ten years' experience in creating animal-focussed content. From National Geographic to Animal Planet, Chloe's passion for creating fact-filled features all about wildlife and the environment is evident. But it's not just wild animals that Chloe's fascinated by. Having written more than 75 articles for PetsRadar - and having her very own four-legged friend by her side - it's no wonder that her love of dogs (and, of course, cats) has grown exponentially.
Her website, www.chloemaywrites.com, and social media pages - @ChloeMayWrites on Instagram, Facebook, and Twitter - showcase her knowledge through daily facts and trivia tidbits. For example, did you know that snails have teeth?!