Watch: Dog thinks homecoming parade is for her in adorable video
This dog watches a homecoming parade and gets the wrong idea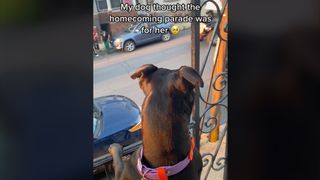 (Image credit: @akirablackpit, TikTok)
Many of us view ourselves as the center of our own universes, and it would appear that dogs are not immune from this belief.
As you will see from this video – uploaded to TikTok by user @akirablackpit, and bearing the headline, 'My dog thought this homecoming parade was for her' – the eponymously named Akira displayed such an outlook when she witnessed a homecoming parade from her balcony.
Unable to contain her excitement, the video shows Akira jumping up and down, clearly delighted at this parade that has been thrown in her honor. Of course, this wasn't the case, but look at her – would you tell her otherwise?
Judging by the comments on the video – which has received over 180,000 views at the time of writing – she was not alone in this belief: "I don't know what you're talking about, it WAS for her!" said one user.
Another poster weighed in by saying, "Of course she did. She's the star of the show". This was further affirmed by someone else: "Excuse me, the parade is for Akira."
Other comments were less wordy, but expressed similar sentiments nonetheless: "Akira was def the star"; "It 100% was"; "She's so beautiful"; "It is it all hers"; "Yes baby that's absolutely for you", and many more of the same variety. If that doesn't reinforce the video then we don't know what will.
So there you have it: despite all appearances pointing to the contrary, the parade was more than likely held in Akira's honor. We look forward to seeing the next one.
Looking through Akira's TikTok channel, it appears that she is a social media star in the making. While the aforementioned video is the most popular one, there are all manner of posts showing her living her best life. Why not give them a view?
Get the best advice, tips and top tech for your beloved Pets
Steve writes and proofreads buying guides, news stories and advice for Pets Radar, drawing on his lifelong experience as a pet owner. Currently sharing his house with two cats and a dog, he draws on the many highs and occasional lows of pet ownership he has borne witness to in his writing. He has worked in publishing for 15 years as an editor, sub editor and writer on a range of titles, such as SciFiNow, How It Works, All About History, Real Crime and Horrorville. You can follow him on Twitter @stevewright22