What is a Pop-up Pug Cafe, and what happened when we visited one?
Pug cafes - and other dog cafes featuring Dachshunds, French Bulldogs and more - are popping up all over the world. Here's what they're about, and what happened when we went to one for coffee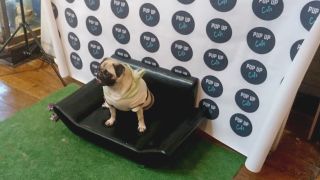 (Image credit: Ian Stokes)
Pug cafes are unusual. Everyone knows about cat cafes - they're everywhere these days and offer feline fans the perfect chance to chill out, have a coffee, and play with an avalanche of kitties. But what about fans of man's best friend?
Dog cafes are a lot rarer and tend to be pop-up affairs rather than permanent fixtures, as properly looking after a pack of dogs is a lot more work than cats, and they need a lot more space to be happy and healthy. Permanent dog cafes do exist though, and these rare gems include places like the Edinburgh Chihuahua Cafe in Edinburgh, Scotland, and the Dog and Scone in Newcastle, England.
Pop-up dog cafes are all the rage though. These tour the country and use existing venues, such as bars and coffee shops. They tend to focus on a particular breed of dog, with pug cafes being one of the most common. Here, it's the local pet owners that supply the goods, so to speak, bringing their pugs along in exchange for cheaper entry.
It's a great way to introduce your pet to others like them, so they can bond, socialise, and play. You can still join the fun if you don't have a canine companion to bring along, but you pay full price and pet owners get priority on tickets.
How to find a pug cafe near you?
Since they're usually one-offs, you'll need to keep an eye out for events in your area. There are several companies that run these events including Pug Cafe in the US and Pup Up Cafe in the UK. We first heard about a nearby pug cafe through social media, so it's a good idea to follow the Pug Cafe Facebook account to keep updated on where it's running events.
Once you find a nearby pug cafe (or any other breed of dog you fancy), you simply need to book a ticket. If you're bringing your doggo along for the ride, you'll need to go through a vetting process where you submit their application, including photos. Tickets tend to be cheaper if you're bringing your little buddy along to the event though (as you're essentially providing the entertainment).
Our day in a pug cafe
Myself and my partner spent a morning in a pug cafe recently thanks to Pup Up Cafe, who ran several pug events back in early March 2020. We don't actually own a pet ourselves due to renting restrictions, so we took this as the perfect opportunity to play with some puppies and scratch that pet ownership itch… if only for a few hours.
We arrived at the cafe around 15 minutes before it opened, as instructed, and were greeted with the most glorious sight we've ever seen: around 40 pugs and their owners, all queued up outside the venue. It's rare to see more than a couple of pugs together at once, so try to imagine seeing a room full of them - it's a pug lovers dream come true.
Once inside, we ordered a drink at the bar (you could order a puppuccino for your pooch), took a seat, and watched the madness unfold as 40 something pugs were let off their leashes and ran wild. Pugs of all shapes and sizes, some even wearing adorable costumes, scampered around the room getting to know each other.
The room was decked out with decorations and toys for the pugs to play with, and jars of dog treats lined the bar, should you need a little help in enticing a pug over to play with you. There was a pug ball pit (we asked, we weren't allowed in it) and even a little puggy photobooth with a professional photographer - god bless the patience of this man as keeping hyperactive pugs sat still and facing the camera isn't easy.
There were also stalls from local businesses selling everything your little furry friend could ever want - toys, coats, treats, grooming services, and more.
Etiquette while you're there is pretty simple: you can stroke and play with the pugs if they come over to you, and you can walk around and say hi (to owners and pugs), but don't go chasing dogs around or picking them up without the express permission of their owners. It's also polite to ask before stroking a pug or taking its picture if it's sat with its owner.
Over the next few hours we met all manner of glorious pugs. There was Padmé, a little fawn darling owned by two big Star Wars fans (Padmé was confusingly dressed up as Yoda… they obviously couldn't choose a favorite character). Then there was the little metalhead pug with his tiny biker jacket. If we have one top tip from our time at the pug cafe, it would be don't wear clothes or shoes that you're too precious about as they're going to get covered in dog hair and drool (and potentially worse, dogs have been known to piddle on the floor).
It was such a wonderful experience and we'd highly recommend it. Pug owners get to meet with like-minded fans of the breed, while prospective dog owners can come along and learn all about them in a friendly environment. And the pugs get to run around, play with their doggy friends and get pampered. What's not to love?
Get the best advice, tips and top tech for your beloved Pets
Ian is a freelance writer and potentially a dog trapped in human form. He loves animals of all shapes and sizes, and has lived with dogs, cats, chinchillas, guinea pigs, birds, fish, and even a tarantula throughout his life. He currently lives in a flat that doesn't allow pets, so he's living vicariously through everyone else's adorable pets. When he's not rolling around in mud, he can be found over at Space.com and LiveScience where he serves as the Tech & Entertainment Editor.