Terminally ill woman seeks new owner for her Pit Bull as her dying wish
A cancer patient is seeking a new owner for her beloved Pit Bull Rosie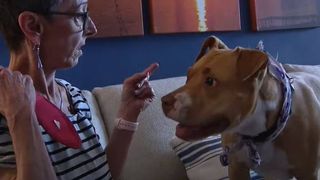 (Image credit: YouTube / FOX 29 Philadelphia)
Valerie Alexander has reached out to her community via Fox 29 Philadelphia in the hope she can fulfil her dying wish.
Valerie has terminal brain cancer and has been given only weeks to live, so she is desperately seeking a new home for her beloved Pit Bull. She needs someone to adopt Rosie, her cute canine companion who has been by her side for 5 years through both good times and bad.
Valerie clearly loves her dog and is confident the cheerful and caring Rosie would make a great addition to any home. As she explains, "She is loving, loyal – she would die for me in a heartbeat".
Understandably Valerie is keen to meet any new prospective owners to ensure "she gets as much love after I'm gone as she gives. I don't want her to be sad, or locked in a cage, or treated badly. I want someone who loves her."
This means any prospective pet parents will have to hurry for Valerie to get her wish. As Valerie explains, "All I know is I am alive today, and anything beyond that is a gift, which is true for everyone."
Valerie's friend and dog walker Charles Bowles knows Rosie very well, and advises that any new owner should be "someone young and energetic that needs a running buddy, or someone who has a big yard that allows Rosie to run around all day."
He also thinks Rosie would be best suited for a home with no other pets and where there are lots of tennis balls!
If you are interested in adopting Rosie, you can email CBowles111@yahoo.com.
Get the best advice, tips and top tech for your beloved Pets
Jamie Middleton is a freelance editor and writer who has been editing and creating content for magazines and websites for over 20 years. As well as writing about the pets he loves, he has helped create websites about tech and innovation like TechRadar.com, Innovate UK and TechSPARK, written programmes for music festivals, books on inventions and architecture, TV listings magazines, and edited publications about cars such as Lexus, Toyota and Jaguar. In his spare time he writes fiction books and poetry - or at least he does when he is permitted to by his cat Pirate, who enjoys the warmth of laptops too much to allow being creative to get in the way.