Could Samm, 26, be the world's oldest living cat?
A gorgeous ginger fluffball called Samm is in line for 'world's oldest living cat' as of 2022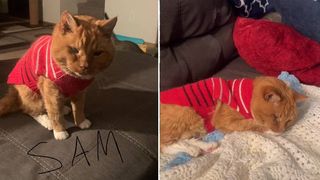 (Image credit: Instagram / @oldestcatsammy26 )
If you thought TobyKeith, the world's oldest living dog was impressive, here's something for cat lovers. Samm, a gorgeous ginger fluffball from Turner, Oregon, has his sights set on another Guinness World Record. At 26, the senior feline is in line for 'world's oldest living cat' as of 2022.
Samm's owner, Charly Briggs, rescued him from the streets of Memphis, Tennessee in 2002. Samm's veterinarian has confirmed his age as 26 and said that he's in good health for his age, despite signs of aging such as loss of sight in one eye and mild kidney disease.
The 'oldest cat living' record is a rolling one, and in the past has been held by cats aged 24, 26 and 31. To quality, the record breaker has to be a fully grown, adult domestic cat and the record is measured in years and days.
The oldest cat in history was Creme Puff from Austin, Texas who died in 2005 at the extraordinary age of 38. That's equivalent to around 168 in human years!
Samm's claim to fame is currently being investigated by the Guinness Team. If successful, he'll take his place in the record books alongside previous record holders such as Tiffany Two, 27, Corduroy, 26, and Scooter, 31. At 26, Samm is still living life to the max.
A recent TikTok video shows him enjoying mac 'n' cheese with the caption 'The vet said at 26 he gets whatever he wants!' Photos from his Instagram feed oldestcatsammy26 show him happily pottering around at home with Charly's other cats.
While cats may not really have nine lives, they do have six life stages ranging from kitten to geriatric. Learning to recognize and understand those stages can help you spot an abnormal behaviors patterns and symptoms of ill health.
The normal lifespan for domestic cats is around 14 to 18. This varies a good deal, though, with crossbred cats generally having longer lifespans than purebreds.
While there are many factors beyond our control, there are several things we can do as pet owners to help our beloved cats live a long and happy life. These include regular check ups by a veterinarian, a good quality diet, providing lots of mental and physical stimulation, regular grooming, good dental care and microchipping.
We'd like to give Samm a big 'paws up' in his record attempt – we'd love to see him in the hall of feline fame!
Get the best advice, tips and top tech for your beloved Pets
Sara is a freelance journalist and copywriter of many years' experience with a lifelong love of animals. She's written for a range of magazines and websites on subjects varying from pet care to travel. A horse rider since the age of five, she's currently a full time pet slave to horse Blue and gorgeous, goofy English Springer Spaniel Olly. Adorable Olly has a huge sense of adventure and no sense of direction, keeping Sara on her toes.