Three delicious diabetic dog treat recipes
These diabetic dog treat recipes will have your pooch salivating in anticipation, and not only do they taste great, but they're super healthy too!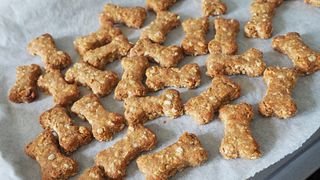 (Image credit: Getty Images)
Whip up a batch of any of these diabetic dog treat recipes and we have a feeling you're going to have one happy and healthy hound on your hands.
If you have a pooch who's recently been diagnosed with diabetes and you're wondering what the difference between doggy diabetes and human diabetes is, they're pretty much the same thing.
Both dogs and humans aren't able to properly use the energy they get from food because of a lack of insulin or an inability to respond to it. They also have the same excessive need to pee, are constantly thirsty, and may have a voracious appetite.
While it can be tempting to respond to that hunger by giving them more of the best dog treats in between meals, diabetic dogs require the same caution as diabetic humans when it comes to what they're being fed.
The good news is, pet food manufacturers and retailers are beginning to cotton on to the fact that around 1 in 300 dogs have diabetes and we're starting to see some of the best diabetic dog treats coming onto the market.
But sometimes you just can't beat a bit of homemade goodness, so we've found three easy and delicious dog treat recipes that you can make at home. Get ready to tie up that apron and hit the kitchen because it's baking time!
Three lip-smacking diabetic dog treat recipes
1) Beef liver treats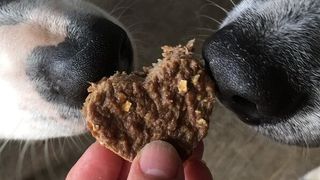 What you'll need:
½ cup whole wheat flour
2 eggs
1 ½ pounds beef liver, cut into pieces
Parchment paper
Jellyroll pan
Food processor
Mixing bowl
Wooden spoon
Pizza cutter
Storage container
Method:
1. Preheat your oven to 350 degrees F (175 degrees C).
2. Line a 10x15 inch jellyroll pan with parchment paper.
3. Place the liver into a food processor. Pulse until finely chopped. If you have room, add the flour and eggs, and process until smooth. Otherwise, transfer to a bowl, and stir in the flour and eggs using a wooden spoon. Spread evenly in the prepared pan.
4, Bake for 15 minutes in the preheated oven, or until the center is firm. Cool, and cut into squares using a pizza cutter. The treats will have a consistency similar to a sponge. Store in a sealed container in the refrigerator.
2) Apple Peanut Butter Dog Treats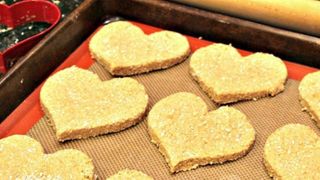 What you'll need:
4 cups oat flour (more if needed)
⅔ cup unsweetened apple sauce
½ cup natural peanut butter
2 large eggs
Large bowl
Cookie cutter
Baking sheet
Parchment paper
Wire rack
Storage container
Method:
1. Preheat the oven to 350°F.
2. Combine the oat flour, peanut butter, applesauce and eggs in a large bowl. Mix thoroughly. If the dough is sticky, add a little oat flour until you can handle the dough without it sticking to your hands.
3. Transfer dough to a flat surface and roll out to about 1/4 inch thickness. Using a cookie cutter, cut out your shapes. I use a large heart-shaped cookie cutter and get about 12 large cookies from this recipe.
4. Transfer onto a baking sheet lined with a baking mat or parchment paper.
5. Bake 20-25 minutes until the cookies are dry and starting to darken at the edges.
6. Cool completely on a wire rack and store in an airtight container in the refrigerator for up to 2 weeks, or freeze in a freezer-safe container for up to 3 months.
Note: Make sure your Peanut Butter does not contain a sweetener called Xylitol, it can be poison to dogs!
3) Pumpkin dog treats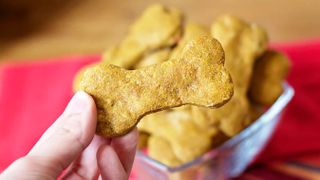 What you'll need:
½ cup pureed pumpkin (canned or fresh)
2 Tbsps coconut oil, softened
4 Tbsps water, plus more if needed
2 cups wholewheat flour
1 tsp cinnamon
¼ tsp baking soda
¼ tsp baking powder
1 egg
Large bowl
Baking sheet
Storage container
Method:
1. Preheat the oven to 350°F.
2. Mix the pumpkin, softened coconut oil, and water together in a large bowl.
3. Then mix in the flour, cinnamon, baking soda, and baking powder until combined.
4. Stir in the egg.
5. Continue to stir until everything is well combined. Add more water if needed until you have a mixture that will come together as one slightly sticky ball.
6. Roll the dough out onto a floured surface to about ¼ in thickness.
7. Using a cookie cutter, cut out the treats – these can be as small or as large as you want them depending on the size of your dog.
8. Place the prepared dog treats on a lined or greased baking sheet and bake for 30 minutes (depending on the size) or until the treats have hardened.
9. Leave to cool.
10. Store in the refrigerator.
Get the best advice, tips and top tech for your beloved Pets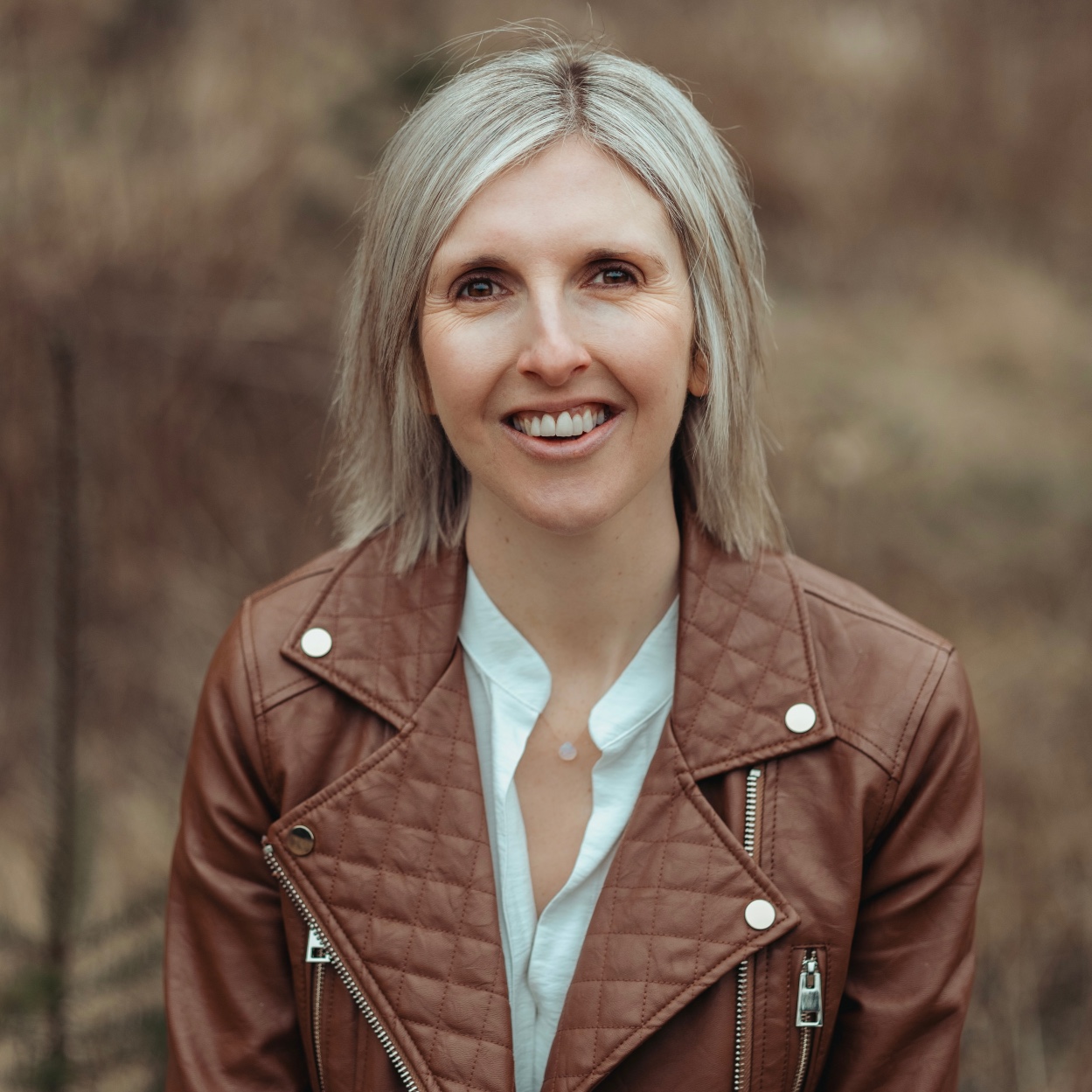 Kathryn is a freelance writer who has been a member of the PetsRadar family since it launched in 2020. Highly experienced in her field, she's driven by a desire to provide pet parents with accurate, timely, and informative content that enables them to provide their fur friends with everything they need to thrive. Kathryn works closely with vets and trainers to ensure all articles offer the most up-to-date information across a range of pet-related fields, from insights into health and behavior issues to tips on products and training. When she's not busy crafting the perfect sentence for her features, buying guides and news pieces, she can be found hanging out with her family (which includes one super sassy cat), drinking copious amounts of Jasmine tea and reading all the books.