Supported
6 reasons to do an autumn deep clean – and the key jobs you should be tackling
Pets can be messy but if you take on this to-do list, you'll not only have a cleaner home, you'll protect it from potential problems through the winter too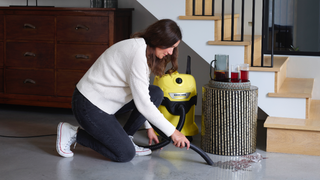 (Image credit: Future / Rachael Smith)
Many of us will give our homes a spring clean towards the start of the year but, if you live with pets, once every 12 months won't be enough. It's a good idea, then, to have an autumn deep clean. As well as tackling the inevitable build-up of dust and dirt that regular vacuum cleaning won't shift, you will also ensure you remove all of the fur and dead skin that accumulates during daily pet life.
Giving your home a good clean at this time of year has other benefits too. You will be able to stop allergies from playing up and even lower your energy bills. You can also prevent damage to walls and furniture and protect against fires. Cleaning will also leave your home feeling and smelling fresh too, removing any pet-related odors.
So let's tackle those tasks and get down to business with an autumn deep clean. Once you've ticked them all from your list, you will be able to cosy up with your pets and relax, knowing you've done everything you can to give you and your furry friends a safe and comfortable home.
Your autumn deep-clean checklist... and why these jobs are essential
1. Deep clean your carpets, rugs and floors
Pets will shed hair – and some will leave more fur around than others. While a regular vacuum cleaner will ensure that most of the hairs are sucked clean away, lots will end up being walked into the carpet or rug. It's also difficult to remove hair from hardwood floors, especially in the corners. Go at the fur with a broom and you'll only end up flicking the hairs into the air.
It's better, then, to use a vacuum cleaner that has strong suction power such as the Kärcher Wet & Dry vacuum cleaner. Capable of powerful cleaning, it also has a 20-litre plastic container so you will be able to clean large areas of your home in one go. Suitable for most types of floors from carpet to laminate and wood, it also comes with a crevice nozzle for those hard-to-tackle corners.
Simply run the vacuum cleaner over the floor on a dry setting and then head for the sides of the room (around the skirting and the under the curtains) before finishing off in the corners. Don't forget to move furniture out of the way because you'll find lots of hair and dust will have accumulated underneath. It won't be long before your floor begins to look and feel like new.
2. Remove hair and mites from your furniture
Sofas are also troublesome areas if you have pets, especially if you allow them to jump up and snuggle next to you. Once hair gets on to the fabric, it's often difficult to remove thanks to the terror of static electricity. So while you could try a lint roller to shift a lot of the excess or use a dampened cloth along with a vacuum cleaner to suck most of the fur away, you may need to leap to the next stage and use something stronger.
Again, a Kärcher Wet & Dry vacuum cleaner is sure to do the trick since it's suitable for upholstery. Since it has a strong suction, there's a good chance you will also be able to remove dust mites and pet parasites such as fleas which have found their way into the fibres. Vacuum cleaning can remove up to 50 percent of flea eggs. Combine this with the best flea treatment for dogs or the best flea treatments for cats, for example, for a happier home.
3. Deep-clean curtains and blinds to improve air quality
Pets – especially cats – seem to love blinds and curtains. They may try to work their way through the slats or attempt to climb towards the ceiling. You'll find that this leaves pet hair behind and can also contribute to room-filling odors.
Yet, in a 2021 survey of 2000 UK adults by laundry experts Surcare, 34% of those asked had never cleaned their curtains. And only 18% factored them into their annual clean.
"The swathes of fabric can create the perfect conditions for capturing dust and the growth of mould and mildew," says Surcare's Claire Lancaster. "They can also absorb odours and become discoloured if left for too long."
Dust, fur, mould and mildew build-up can trigger allergies and respiratory issues, including asthma. It's therefore vital to keep your curtains clean so your family can breathe easy.
'You should vacuum curtains with a soft brush attachment once a week to keep on top of dust,' says Claire. "Then once a year, take them down to wash them properly – either in your machine or professionally. Always read the care label and follow the instructions carefully to keep them looking their best."
4. Clean paths to make them safer
As well as concentrating on your home's interior, you should also consider what's going out outside. In Autumn, footpaths and driveways can become a health hazard. As well as any mess your pets may have made to your back yard or patio, or any gravel they may have kicked up, you will have piles of dropped leaves. If nothing is done before the winter comes, you could be quite literally setting yourself up for a fall.
Rain and moisture, under a cosy blanket of leaves, creates a perfect breeding ground for algae and moss, as well as pollen, germs and dust. But a Kärcher Wet & Dry vacuum cleaner – such as the Kärcher WD 3 – will tackle them with ease. It'll reach the tricky corners and suck up any dirt and water. You may even want to try a Kärcher Wet & Dry vacuum cleaner that comes with a blower function for even speedier autumn cleans.
And, while you're cleaning, inspect for any cracks or loose bricks that might cause someone to trip. Get them repaired before winter, when a covering of snow might make them invisible and therefore dangerous.
5. Clean out the garage or shed
Now is also a good time to tackle the garage. Even if your pets aren't making a mess there, if a furry friend follows you in, they're sure to go back out looking dirty. What's more, you may want to put a few items away for winter such as any cooling mats, bicycle bags, paddling pools and travel bowls that you bought for your pets over the summer. If so, you will want to ensure the garage is clean.
An indoor vac isn't going to cut it. It'll struggle with a garage floor and you'll risk causing damage. A Kärcher Wet & Dry vacuum cleaner, however, will relish the task! These models are practically made for garages (and cars come to that). As well as removing accumulated grime, you will get rid of dirt, dust, hair, any accidental mess and all of those cobwebs too!
While you've got the vacuum cleaner out, you may as well see if you can also clean any low-lying gutters. After all, if water is allowed to build up, it can wreak havoc on interior and exterior walls, and even your roof. So don't wait until there's a problem.
6. Put outdoor furniture to bed
And finally, it's time for a tidy, putting those aforementioned items such as garden furniture and pools into dry storage. Synthetic rattan furniture – many on-trend egg chairs and outdoor sofas are made of this – can be cleaned with soapy water. Or you could use one of Kärcher's range of Wet & Dry vacuum cleaners to clean off stubborn dirt, spider webs and pet-related problems from muck to hair.
Sure, it's okay to leave these pieces outside if you don't have space to store them, but we'd recommend using covers to protect them from discolouration. You will then be able to get them out once the worst of Spring's showers have subsided and enjoy a glorious Summer once again.
Get the best advice, tips and top tech for your beloved Pets
David Crookes has been a journalist for more than 20 years and he has written for a host of magazines, newspapers, websites and books including World of Animals, BBC Earth, Dogs and Canines, Gadget and The Independent. Born in England, he lives in a household with two cats but he's also keenly interested in the differences between the huge number of dog breeds — in fact, you can read many of his breed guides here on PetsRadar. With a lifelong passion for technology, too, he's always on the lookout for useful devices that will allow people to spend more time with their pets.