Supported
Clear up any pet-related disasters in your home and garden with help from Kärcher
Discover how Kärcher's Wet and Dry vacuum cleaner range will make light work of those mucky jobs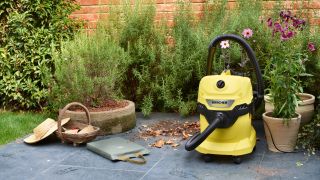 (Image credit: Future / Rachael Smith)
Pets are adorable family members, but they can certainly make a mess of your home or garden at times. Aside from dropping food out of their mouths and leaving mucky paw prints on a freshly cleaned floor, they also have a habit of leaving pet hair all over the house.
So if your pets have made a mess of your garage floor or back yard, or brought dirt onto your patio, then you may need some assistance to ensure your surroundings look as new again. Read on to discover how a Kärcher Wet and Dry vacuum cleaner can help…
Not all vacuum cleaners are created equal. While your everyday indoor vac can easily handle the carpet and stairs, it might well struggle when faced with trickier tasks. This is where a wet and dry vacuum from Kärcher comes to the rescue. It offers the versatility of being able to tackle the toughest of jobs both inside and outside the home.
Start by choosing a Kärcher WD model that suits you. There are five in the range – all with generous power and a range of handy attachments, you'd be surprised at what having one around can help with.
Check out Heather Young in the video to see how she got on using the Kärcher WD 3 for a host of cleaning tasks. As you will see, the wet and dry vacuum cleaner made light work of spilled seeds from a bird feeder, which is going to deter any unwanted visitors.
Tackle tough tasks with a Kärcher
Cleaning isn't much fun – less so when you end up being faced with a task that you know is going to be messy and time-consuming.
Your dog may have begun digging in the gravel around your paths and left many pieces in the most awkward of corners. Or has a pet shed lots of hair or left food stains on the floor? Maybe a fox has dug up plants and flower beds, causing soil to spill onto your patio. You may even find a bird bath has become slimy and that's before we even address that dog crate. You may be surprised by how much muck and hair is under there!
And that's why you need a wet and dry vacuum cleaner from Kärcher to help tackle such a range of tough tasks. What's more, you can also use it to tackle blocked drains, clear up leaves and reach those tricky corners in the garden. In fact, Kärcher's range of Wet & Dry vacuum cleaners are powerful and heavy duty and some even come with a blower function.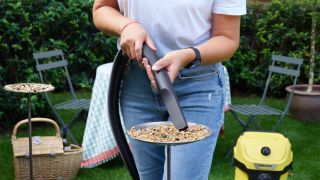 The WD 3 – a great-value design
But does this mean the Kärcher WD 3 is going to be bulkier than your average vacuum? Not at all! And yet it can suck up 17 litres of dirt and water, as well as house all the accessories on board.
In fact, it's the same sort of footprint as a standard cylinder vacuum cleaner. What's more, with a great-value price it's pretty affordable too.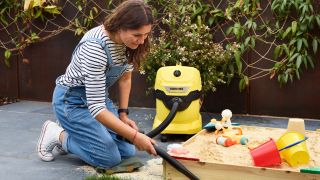 Discover the range
So if you're looking for a helping hand to tackle the problems your pets will inadvertently cause around your home and garden this autumn and beyond, you can't go wrong with a new Kärcher Wet & Dry vacuum cleaner.
Find out more about the Kärcher WD 3 and the whole WD range, available to buy direct from Kärcher or from DIY retailers nationwide.
Get the best advice, tips and top tech for your beloved Pets
David Crookes has been a journalist for more than 20 years and he has written for a host of magazines, newspapers, websites and books including World of Animals, BBC Earth, Dogs and Canines, Gadget and The Independent. Born in England, he lives in a household with two cats but he's also keenly interested in the differences between the huge number of dog breeds — in fact, you can read many of his breed guides here on PetsRadar. With a lifelong passion for technology, too, he's always on the lookout for useful devices that will allow people to spend more time with their pets.