32 adorable pics of celebrities and their pets
Discover famous faces and their four-pawed friends with our guide to the most adorable pics of celebrities and their pets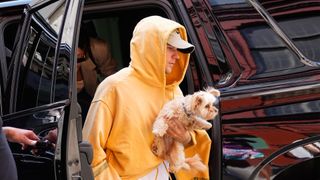 (Image credit: Getty Images)
Our society has an insatiable appetite for the lives of the rich and famous. But do you know what we often find more interesting than celebrities? Their pets.
Whether it's a cat, dog, or any other fluffy animal, there's nothing more fascinating than looking at celebs' cute and cuddly companions.
From a dog fit for a rock legend to A-list actors' sidekicks. We've dug deep into the archives to find pictures you've probably never seen before of all the famous faces and their adorable counterparts out and about in action.
So do keep reading to discover some adorable pics of celebrities and their four-pawed friends.
Adorable pics of celebrities and their pets
Piggy-Lou and Oscar Bieber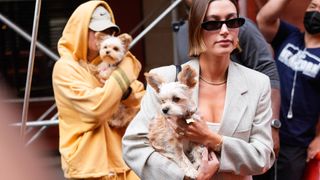 The couple of the decade and with awesome pets to match. Justin and Hailey Bieber were spotted out with their Maltese Yorkie side-kicks, Piggy-Lou and Oscar. The Maltese breed is notorious for its larger-than-life-than-life personality. Their sweet faces, made just that by their disproportionate dish-like ears, comically larger than their small frame, making this paw-fect four-legged pup all the more endearing. The Morkie is a marriage made in heaven, no breed better suited to this Vogue-cover couple.
Lotus Parker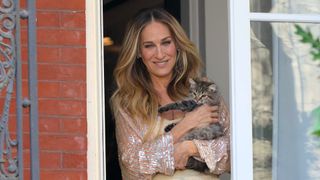 Known best as Shoe, Carrie Bradshaw's cat in the hit Max series, 'And Just Like That' stole Sarah Jessica Parker's heart on, and off the screen. When filming concluded, Sarah couldn't part ways with her furry co-star, later adopting the photogenic tabby known behind the scenes as Lotus. Tabby cats are known for their easygoing nature and ability to adapt, finding happiness in all environments — perfect for the jam-packed movie-star schedule. Seen cradled in Parker's arms, there is nothing more adorable than this happy ending.
Kuma Theroux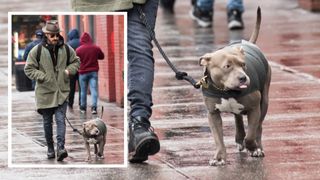 American actor and filmmaker Justin Theroux was spotted walking Kuma, his pup which, if you ask us, is in a league of his own. Taking social media by storm with an impressive following, Kuma uses his platform to encourage people to adopt, not shop — and we're here for it. This sweet Pit Bull has been Theroux's female friend and side-kick, inseparable from the star since she was rescued from the devastation of Hurricane Harvey. Their indisputable bond makes every picture of this pair perfect.
Scout Blair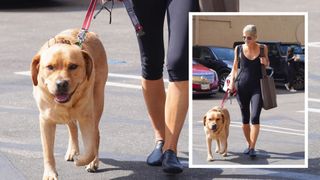 Selma Blair's story, following her diagnosis of multiple sclerosis and the struggles she faced on her road to acceptance, is known to most. The journey traveled makes this photo, captured of Blair and her service dog Scout all the sweeter. The English Labrador breed are high-spirited companion dogs — their smart and trainable nature makes them a prime pick among service dogs. Selma beams down at her serving savior and Scout shares in a similar on-duty joy — we can't get enough of this pawfect pair.
Finn Seyfried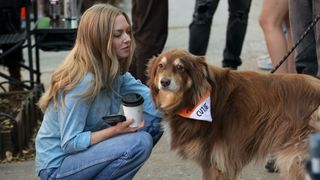 Every day should be a 'bring your pup to work' day. Amanda Seyfried is seen joined by her Australian Shepherd, Finn on the set of "The Crowded Room". Rescued by Seyfried as a puppy, Finn has won the hearts of many with his 'managed by mom' Instagram account capturing his star-studded four-legged life in the Seyfried family. From days on set, to photoshoot days and good old trips to the beach, Finn is truly living his best life and we love to see it.
Elvis and Ethel Hale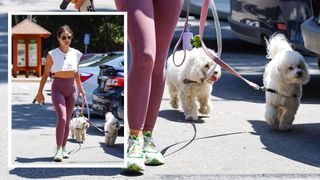 Seen walking beside the American actress Lucy Hale who is best known for her role in television series 'Pretty Little Liars', dogs Elvis and Ethel showcase all there is to love about the Maltipoo breed. Their fun-loving personalities, curly coats, and water-fountain tails make it nearly impossible not to break into a smile when you see them. With a pep in their step, a trope known to the breed, and a smile on their faces the pair soak up their ground-level surroundings.
Pebbles Teigen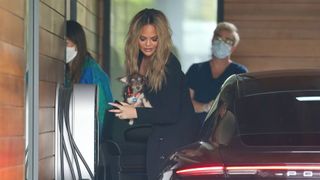 Crowned as the 'best cuddler' in their house, Pebbles the mixed breed is a pocket-pet come fierce protector, in the Teigen-Legend household. Just when you thought this picture of Teigen and Pebbles the pup couldn't get any cuter, you learn that this furry friend assumed the role of defender, helping Chrissy Teigen's daughter Luna overcome fears of monsters under her bed and the things that go bump in the night! A dog's ability to provide emotional support to its owners is nothing new —however it is all the more heartwarming when you know that in the eyes of Luna, her tiny pup, Pebbles stands 6 feet tall. So cute!
Diana Chopra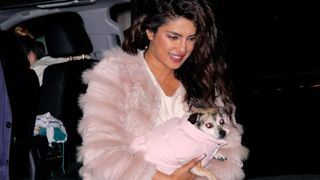 Diana Chopra is a Chihuahua-terrier mix packed full of personality. This small but mighty breed is known for being high maintenance and knowing their worth and this is certainly the case for Diana. Seen lovingly wrapped in a princess pink blanket, safe within the arms of Priyanka, dressed in the jacket to match her pup only confirms, as their Instagram bio suggests, that this 'apple doesn't fall far from the tree'. This naturally curious and intelligent breed loves nothing more than to be pampered and is popular among owners who love to dress up their pups! Something Priyanka Chopra's dog Diana, is no stranger to.
Hendrix Hadid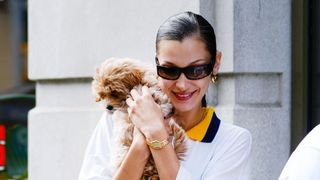 Hendrix, the Teacup Yorkie continues to be too cute. First introduced to the world wide web at the center of owner Bella Hadid's tell-all selfie, his curly cuteness keeps us coming back for more. Despite their size, Teacup Yorkies are a high-energy breed, with boundless affection, love, and (in some cases) all the barking to go around. Whilst Hendrix looks tiny in the hands of owner Hadid, this breed can be quite the handful. As pictured, curled up over Bella Hadid's shoulder, nose pointed at the floor and face turned away from the cameras leaves us wanting more from this tiny bundle of fur.
Piggy Hill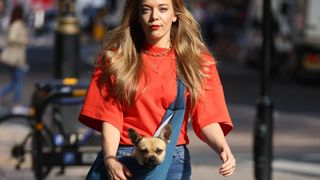 Piggy is a proud Frenchie Pomeranian mix with an even prouder pet mum. Becky Hill, is seen here leaving Capital Breakfast, carrying her fur baby kangaroo-style; tucked safely away from harm. This adorable snap brings their bond into focus and highlights the very best of the Frenchie-Pom breed, their quiet, bark-free and observant nature lends itself perfectly to a work-day ride along! If you are on the hunt for a happy-go-lucky dog, content with simply being by your side, a Frenchie is a great option.
Dali & Allegra Jackman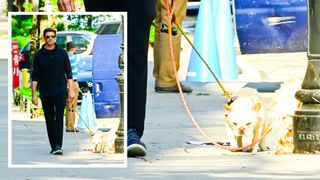 Hugh Jackman walks the streets of SoHo New York, head held high, alongside his devoted dog Dali. This cream-coated Frenchie, never straying far from Jackman, creates the perfect photo opportunity to capture the pair in their prime. French bulldogs are a notoriously loyal, social, and bright breed with lively personalities. They are a popular choice, as we see more and more of them becoming companions to familiar famous faces. Beside Dali, walks Allegra, the furriest Jackman family member. The Poodle-Terrier mix is renowned for being intuitive and calm, qualities evident here as Allegra subtly leads her pack.
Tarzan Mendes Cabello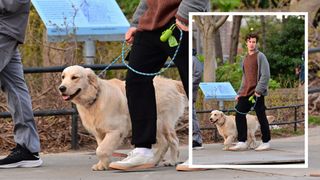 Tarzan, in all of his Golden Retriever glory, is the fur child of Shawn Mendes and Camila Cabello. Seen here, on a walk with Mendes in Brooklyn. As the couple share custody of their four-legged friend, Tarzan gets the best of both worlds. This picture captures Shawn walking his faithful friend around Brooklyn, as Tarzan, mouth and eyes wide takes in the world around him. Golden Retrievers are highly regarded as emotionally intelligent and intuitive, making them a popular choice for emotional support animals. With the collapse of his parent's relationship with emotions running high, Tarzan's breed makes him the perfect pup for the job.
Winnie Gomez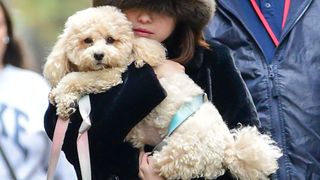 'Quiet, Please. Paws on set!' Selena Gomez is pictured here with pawsome pal Winnie the Maltipoo on the set of 'Only Murders in the Building'. The coat of a Maltese mix is well known for being groomed to serve the perfect 'pom pom' appearance, proudly sported by Winnie as she stands out from the crowd, Selena just behind peaking around her pup's infamous profile. Cradled in the arms of Gomez, Winnie is seen staring out at the cameras, as she cuddles into Selena as they navigate the frenzy together.
4oe Thee Frenchie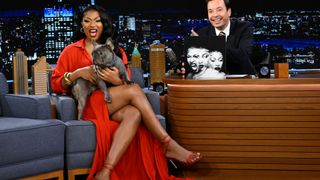 Yet another famous Frenchie graces our screens, this time it's Megan Thee Stallions Frenchie, 4oe, winning our hearts. Sat on Jimmy Fallon's couch on The Tonight Show, 4oe is photographed draped across Stallion's lap, the French bulldog's muscular build, broad frame, and hilarious personality pouring through this image at every angle. 4oe is known as a 'blue' Frenchie, identified by the color of his coat which, like his fellow 'blue' Frenchie pals is undeniably fifty shades of grey. Despite its misleading label, this particular coat often calls for waiting lists and higher prices; only the best for the Stallions!
Colombo Ratajkowski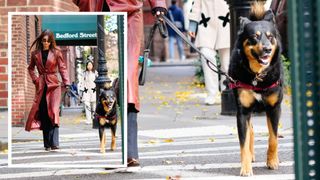 Emily Ratajkowski rules the sidewalk runway. The American model never takes a day off. Photographed on a regular basis, Ratajkowski keeps up appearances as she gives dog-walking attire a whole new meaning. As pictured here, Ratajkowski is once more, gracing the streets of New York with an outstanding outfit to compliment her stoic, four-legged friend. Colombo, the German-shepherd mix walks confidently beside her. The breed's pretty large size, yet nimble feet making light work of the pavement makes quite the statement as the pair set off on another adventure.
Donut Vanderpump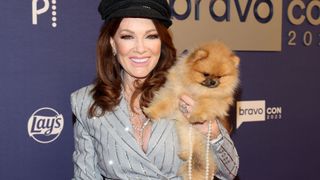 Lisa Vanderpump, a TV personality, best known for her role in 'The Real Housewives of Beverly Hills' is photographed with her dog and costar, Donut from the television series 'Vanderpump Rules'. This Pomeranian is known for its extroverted nature, The diva ingrained in this dog's genes is clear as Donut is pictured, her eyes drawn to the floor as she pays little attention to the chaos of the carpet that surrounds her. The Pomeranian is known for its extroverted, and what some may consider highly strung nature made worthwhile with cuteness that could kill — the perfect pup for Vanderpump.
River and Skunk Quinto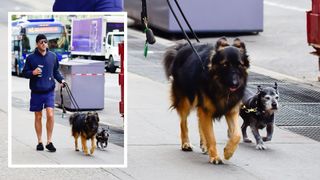 American actor and film producer Zachary Quinto is seen accompanied by dogs River and Skunk on a scenic walk around Soho, New York. This photo is the epitome of the beloved Commodores lyric, 'easy like a Sunday morning'. With a coffee in one hand, and two well-behaved dogs in another, this band of brothers take the streets of New York by storm. Skunk, is a little terrier mix with a greying beard — the only sign of his years. This breed's high energy ensures he can keep up with brother River, the German Shepherd.
Digby Dallas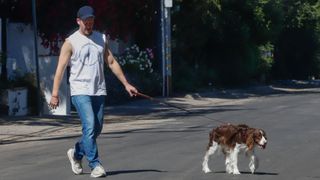 American actor, Josh Dallas, best known for his roles in 'Once Upon a Time' and 'Manifest' shares another side of himself as he is captured on a walk with Digby, his English Springer Spaniel. As Digby leads the way, we are awarded a few moments to admire Dallas' chilled dog-walking attire — only the very best for 'Sir Digby'. The Actor, best known for playing Snow White's Prince Charming has clearly had his heart stolen by this pup. The Springer in Digby leads the way, appearing to take Dallas for a walk as opposed to the other way around. Once a working dog, always a working dog.
Sandy Robinson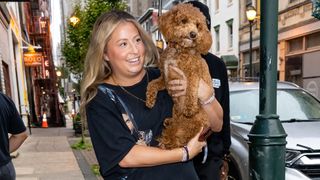 This photo was featured on Becky Robinsons' Instagram as she celebrated her curly companion and it's fair to say that Sandy is definitely the star of this show. Mixed poodle breeds are best known for their charismatic and affectionate nature. It is clear to see that being the companion of a comedian has nurtured this pup's social side, successfully stealing our hearts! Pictured here, comfortably viewing the world around her from the safety of her mum's arms, the relaxed and low-energy nature of a doodle breed lends itself to Robinsons' busy schedule.
Ruby Farber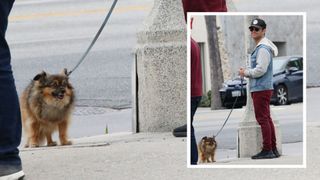 Sasha Farber, a dancer known best for appearances on Dancing with the Stars, found his perfect partner in dog Ruby. This spritely pup takes the cake in every cuteness competition. Standing side-by-side, both Farber and Ruby wearing the same expression as they take their daily walk makes this a strong contender among our list of adorable pictures of celebs and their pets. There is something undeniably cute about a dog appearing like their owners. Unbeknown to many, our pets are skilled imitators and often recreate our expressions and behaviors resulting in ace snaps, just like this one.
Zooka and Scout Underwood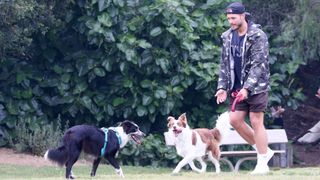 TV personality Colton Underwood fades into the background of this photo, as his sweet German Shepherds take center stage. Seen in the midst of a game of fetch, both Zooka and Scout wear an expression of pure bliss and excitement as they play. The energetic breed, with a tendency for separation anxiety, strives when surrounded by both human and fellow canine companions. With Colton just behind, both dogs unwind in the company of their owner, burning off some steam in the very best pup-approved way!
Filbert Liniker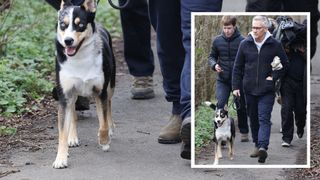 Filbert, the Siberian Husky Cross, was introduced to the Liniker family following his rescue from the streets of Los Angeles. Owner, Gary Lineker, is seen accompanying Filbert on a walk and despite his star-studded dad, we are fixated on Filbert. As pictured, the Husky is the very definition of alert, agile, and outgoing attributes best paired with a lively and adventurous lifestyle. The Siberian genes are astounding; as the camera captures those piercing eyes and bright smile, known best to the Siberian breed.
Lucia Cho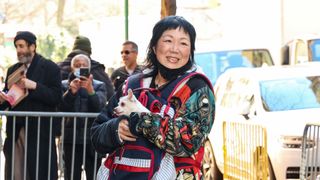 It doesn't take very long to understand just how large a place Chihuahua Lucia holds in owner Margeret Cho's life when you catch sight of this phenomenal photo. Captured as the American actress and comedian arrived at set of television show, 'The View' with Lucia in pride of place, safely cocooned in her arms as she pauses for photos. Chihuahua's are best known for being comical, expressive and high maintenance pups but it seems Margaret Cho has effortlessly mastered the art of keeping her hound happy.
Lillo Leotta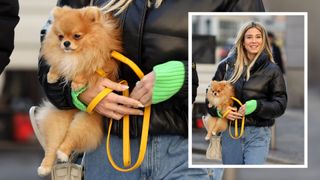 If Diletta Leotta didn't already have enough going on, the Italian television presenter, model and public figure is also a glamorous mum to one baby and two fur-babies. Featured in this photo is Lillo, one of Leotta's two pomeranian pups. This breed's distinctive coat, slightly static and wildly untamed in nature makes it a show-stopping sidekick, evident within this snap of the two together. For someone permanently placed in the public eye, a Pomeranian is a match made in heaven. Despite the volumes of fur, with this breed you can guarantee a good hair day every day, ideal for a lifestyle with cameras at every turn.
Pepper Witherspoon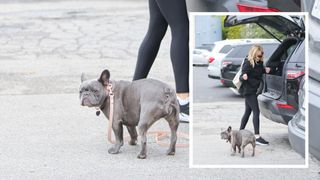 If you ask us, there is nothing sweeter than the smirk of a French Bulldog. Their strong build, softened by furry rolls, lines, and creases make this breed who they are and boy — are they popular. Pepper the Frenchie is pictured here standing in front of owner Reese Witherspoon. As her attention is caught by the clicking cameras, the bond between the two is evident with an untethered lead; this dog's loyalty is undeniable. French Bulldogs are, in most cases, low maintenance and find peace in sharing your space, wherever that may be. This may be why they are so popular among celebrities; those with intense schedules and travel demands.
Lucky the Pizza Dog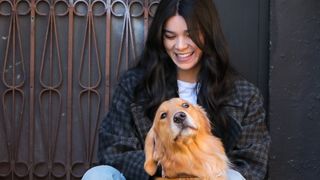 This adorable picture was too cute to miss. Golden retriever Lucky, pictured here with Hailee Steinfeld, comes straight from the set of the American television miniseries Hawkeye. Despite not being a personal member of Steinfeld's pack, if these pictures are anything to go by, he may as well be! Retrievers are a beloved, trusted and intelligent breed. Popular among families and those seeking a little extra support from their canine companion but also evidently double as impeccable actors too!
Pilaf Moore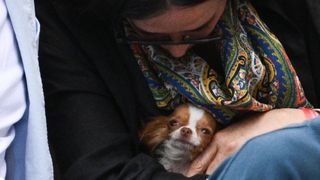 We challenge you to find something more adorable, than a secret pup peering just above their owners arm to catch a glimpse of the action at the French Open. Demi Moore's cute and cuddly dog is also known as Pilaf, the Chihuahua. The tiny pup appears even smaller as Demi bows her head to comfort her cute companion. Known to accompany the star to numerous business trips and events it was not a shock to see the two together but it was the sweetest surprise.
George Simmons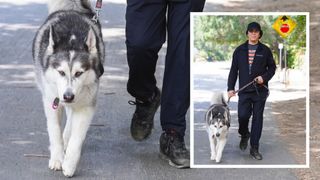 What more could this rock star need other than a legendary pup to match? Siberian Husky, George has found his paradise within the KISS star's home. Squirrel, Darby, and Baby, fellow rescues, also live alongside George however it is the unmistakably strong stature of the Siberian Husky that we are used to seeing beside the star time and time again. This Husky's recognizable black and white coat casts our minds back to the singers on-stage persona — it seems once more an owner has found something of themselves within their four-legged friend.
Winston Prehn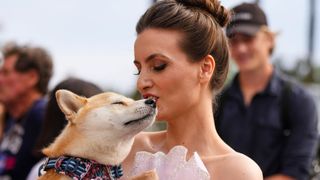 Kelly Prehn won the award for the best Red Carpet plus-one by a mile — especially when she was accompanied by her adopted dog, Winston. The British model dressed in a stunning tulle gown at the 75th Annual Cannes Film Festival drew the most attention, not for her attire but for the sweet pup in her arms. The Shiba Inu is commonly compared to a fox due to the detail in their coat and their eyes — often overwhelmed by the surrounding fur making them appear sly. As Winston and Kelly were captured, nose-to-nose on the carpet their bond and Winston's besotted expression stole hearts.
Minnie Hamilton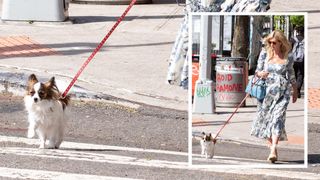 Nicky Hilton, American socialite and fashion designer and sister of Paris, is seen peering down at her pint-sized pup, Minnie on a walk in New York. Minnie is a small purebred Papillon. The Papillon takes its name from the French word for Butterfly, the silhouette of which is beautiful and captured in the shape of this breed's ears. Despite their small stature it is clear to see that they are more than capable of handling themselves, even in the busiest of cities.
Gina Linetti Philipps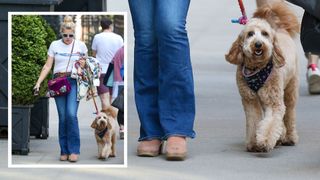 Say cheese! Gina Linetti, the Goldendoodle named after the infamous Brooklyn Nine-Nine character is sporting her very best toothy grin on a walk with mum, American actress, Busy Philipps. Gina was bought into the Philipps family just before Lockdown, and like many families who added four-paws to their pack during this time, brought them boundless amounts of joy. It seems the feeling was mutual, as this pup parades around with a smile that makes you smile too.
Alfie Delavigne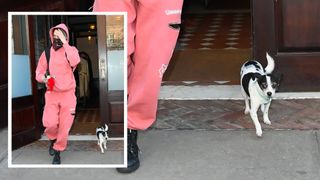 Cara Delavigne leads the way in a leashless photo alongside her pup, Chihuahua-Terrier Mix, Alfie. Whilst this photo may not be conventionally cute, the loyalty, training, and bond behind it, are exceptionally sweet. As the star leaves a venue in Soho, New York, her trusty four-pawed pal follows only a few paces behind not faltering at the vibrant street life and camera clicks encountered along the way. Not only is this exemplary of the breed but also of the beautiful bond formed between pet and owner.
Wondering what are the pet poses for social media? Or the best outdoor dog breeds? Look this way.
Get the best advice, tips and top tech for your beloved Pets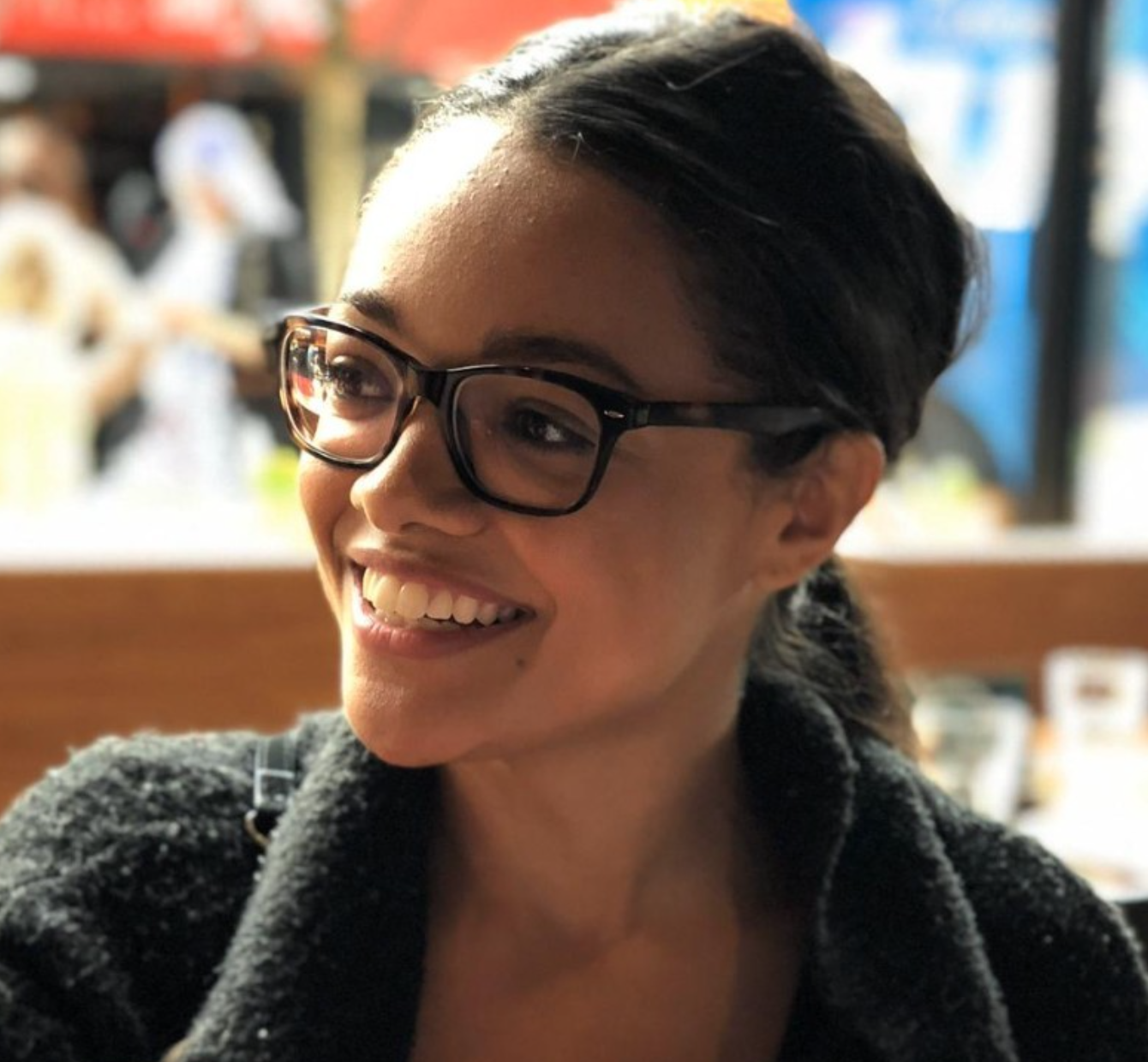 Becks is a freelance lifestyle journalist who has more than 9 years of experience in the world of digital and print journalism. She covers health, wellness and family interests for a range of titles. When she's not putting pen-to-paper (or finger-to-keyboard) she's reading, in the gym, or taking her Dog Aunt title very seriously looking after the handful of four-legged creatures in her life.