Blood in dog stool: what you need to know
Finding blood in dog stool can be alarming. What should you do if you encounter this situation?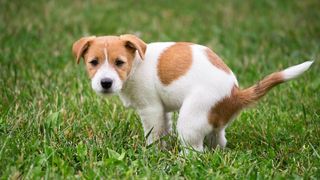 (Image credit: Getty Images)
When you notice blood in dog stool, it's only natural to worry. Fortunately, this problem isn't always as concerning as it seems. While some cases may be attributable to a serious problem, many cases have a benign cause and can be treated with medication and/or a simple diet change. Having the best pet insurance for your dog can ensure that you are prepared to seek prompt diagnosis and treatment if your dog develops blood in their stool.
Why is my dog pooping blood?
There are many reasons that your dog could have blood in their stool. These causes can vary significantly in terms of severity, required diagnostic tests, and treatment.
In most cases, determining the cause of the blood in your dog's stool will require the attention of a veterinarian. Your observations at home, combined with the results of a physical exam and necessary laboratory testing, will help your veterinarian determine the cause of the blood in your dog's stool. Once your veterinarian arrives at a diagnosis, they can determine the best treatment for your dog.
Causes of blood in a dog's stool
Blood in a dog's stool can take on two appearances: frank, bright red blood, or black, tarry blood. The appearance of your dog's stool is often the first step in narrowing down possible causes of your dog's condition.
Red blood in the stool suggests bleeding in the lower levels of the intestine, such as the colon and rectum. Your dog's stool may be formed or loose, and may be accompanied by large amounts of mucus. You may also notice that your dog is straining or acting uncomfortable when having bowel movements.
Conditions associated with red blood in the stool include:
Diet change
Stress colitis (associated with a change in routine or environment)
Inflammatory bowel disease
Bacterial infection
Viral infection
Anal sac abscess
Constipation
Mechanical irritation (caused by eating non-food items)
Clotting disorders
Tumors of the colon or rectum
While frank, red blood is relatively easy to spot, dark and tarry stools can also be associated with intestinal bleeding. As blood moves through the digestive tract, digestive enzymes cause blood to lose its characteristic red color. Instead, this stool often takes on a black color, similar to coffee grounds.
Possible causes of dark, tarry stools include:
Inflammatory bowel disease
Food allergies
Intestinal parasites
Bacterial infection
Viral infection
Gastroenteritis
Mechanical irritation (after eating non-food items)
Clotting disorders
Tumors of the esophagus, stomach, or small intestine
Ulcers affecting the esophagus, stomach, or small intestine
In general, the presence of dark, tarry blood is associated with more serious conditions than the presence of red, frank blood. However, either type of blood in the stool can potentially be serious, and neither should be ignored.
What to do when your dog is pooping blood?
If you notice a very small amount of blood in a single bowel movement, you don't necessarily need to panic. Monitor your dog carefully, to determine whether this is an isolated incident or an ongoing issue. However, if your dog's feces contains large amounts of blood, or your dog has recurrent bloody bowel movements, you'll need to work with your veterinarian to diagnose your dog's condition and start treatment.
Your veterinarian will first perform a thorough physical exam, looking for signs of dehydration, weight loss, and excessive blood loss. Your veterinarian will also feel your dog's abdomen, searching for abnormalities that could potentially cause blood loss. Next, your veterinarian will likely recommend a variety of tests, including fecal parasite testing and blood tests. These tests will help your veterinarian arrive at a diagnosis and make appropriate treatment recommendations.
Is blood in dog stool an emergency?
The urgency of this condition can vary significantly, depending on how much blood is present and your dog's overall condition.
If your dog is acting healthy, with a normal appetite and attitude, a tiny amount of blood in a single loose bowel movement is not an emergency. In that case, you can monitor your dog closely to see whether the issue persists or worsens. If the blood in the stool resolves within a few hours, and no other signs of illness are noted, you may not need to see a veterinarian.
In contrast, large amounts of blood in the stool suggests an emergency. If your dog has a bowel movement containing a large amount of blood, contact your veterinarian or an emergency veterinary hospital immediately. If your dog's bloody stool is accompanied by vomiting, lethargy, weakness, or signs of abdominal pain, this also warrants immediate veterinary attention.
When in doubt, contact your veterinarian or your local veterinary emergency hospital. They can help you determine if and when your dog needs to be seen by a veterinarian.
How do you treat blood in a dog's stool?
The treatment of bloody stool depends on its underlying cause. If your dog has intestinal parasites, for example, your veterinarian may prescribe a broad-spectrum dewormer. Bacterial infections are often treated with oral antibiotics. Tumors may require more involved treatment, including surgery and/or chemotherapy.
In many cases, frank blood is caused by a condition known as colitis. This condition can occur with any change in diet or environment. Potential treatments for colitis include a bland diet, metronidazole (an antibiotic that alleviates inflammation in the colon), probiotics (to restore normal intestinal bacteria), and/or subcutaneous fluids. Your veterinarian will make specific treatment recommendations for your dog.
If your dog is severely ill, hospitalization may be needed. This will allow your veterinarian to administer intravenous (IV) fluids and injectable medications, while carefully monitoring your dog's response to treatment.
Home remedies for blood in dog stool
In most cases, blood in the stool requires veterinary care. Home care is rarely adequate or appropriate, especially in cases involving large amounts of blood or repeated episodes of bloody stool.
If your dog has a single episode of loose stool containing a tiny bit of blood, however, home care may be reasonable. Withhold your dog's normal food and treats, and feed a bland, easily-digestible diet of chicken and rice. Use boneless, skinless chicken breast that has been boiled in water with no seasoning, and mix this with cooked white rice. Feeding this diet for two to three days may head off a mild case of colitis. If your dog continues to have bloody stool for more than a day, however, your dog must see a veterinarian for a diagnosis and treatment.
Summary
Blood in dog stool is a concerning condition for many dog owners. Fortunately, many cases are associated with a condition called colitis, which is easily treated with prescription medication and a bland diet. However, if your dog has large amounts of blood in their stool or if their bloody stool is accompanied by other signs of illness, emergency treatment is recommended to rule out more serious conditions.
Get the best advice, tips and top tech for your beloved Pets
Dr. Barnette is a graduate of the University of Florida, where she received both her B.S. in Zoology and her Doctor of Veterinary Medicine (DVM). She has 15 years of clinical experience as a small animal veterinarian, treating dogs, cats, and occasional exotic patients. She now works as a freelance veterinary writer, creating educational content for veterinarians, veterinary team members, and dedicated pet owners. Dr. Barnette lives in southwest Florida with her husband and daughter (plus two cats, a dog, and a rescued dove!) and enjoys kayaking, biking, and hiking. Learn more about Dr. Barnette at www.linkedin.com/in/catherinebarnette.