Can dogs eat bananas? Find out if this fruit's for them
Can dogs eat bananas? We peel back the layers of this tasty nutritional question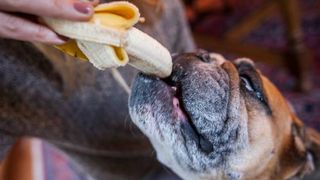 (Image credit: Getty Images)
For humans, fruit is both delicious and nutritious, but can dogs eat bananas?
If you've been pondering what human food can dogs eat, as well as considering the nutritional value of that food, you're not alone.
All-natural pet foods has become a rising trend, with many doting pet parents looking to feed their pooch tasty grub from their own kitchen, including many common fruits and vegetables.
If you've been tucking into everybody's favorite yellow snack and want to give your canine chum a taste, the good news is that bananas for dogs are a go!
Dogs can eat bananas but, like any consideration in your dog's diet, it's important to understand what benefits any homemade dog food can bring, as well as any potential risks.
From occasional snack giving to cooking for your pet, we delve deeper into the kitchen cupboard, rounding up some of favorite DIY banana treats and answering the question of 'can dogs eat bananas', and whether bananas are a beneficial snack for your pooch.
Can dogs eat bananas? 3 frequently asked questions
1. Are bananas good for dogs?
Yes! Not only can dogs eat bananas, they're also a natural source of vitamins, potassium, and fiber. These clever tropical fruits can provide some of the same health benefits are they do for humans.
Potassium helps lower blood pressure and increase bone strength, while vitamin B6 can help keep your dog's mind sharp.
Of course, we all know about vitamin C and, much like with human consumption, bananas can also boost canines' resistance to sickness.
However, it's not all good news. On the flip side, bananas also contain large amounts of sugar and starch, which can be bad for a dog.
2. Can I feed my dog banana every day?
If you're wondering, 'can dogs eat bananas?' on a daily basis, the best way to think of it is the banana is a treat.
If you wouldn't feed your pup solely everyday from the treat bag, a banana is no different, as it's not providing a balanced diet. Too much of a good thing can be detrimental, so opt to feed banana to your canine chum in small quantities.
If you have a medium to large dog then you should be able to feed them half of banana without too much issue, while small dogs should only have two or three small pieces.
3. Do bananas cause diarrhea in dogs?
So, can dog eat bananas? In small amounts, bananas are generally safe for consumption, but give them too much and it could cause an upset stomach.
You should never feed your dog the peel of the banana, for instance, as this can be difficult for them to digest.
However, it's useful to note that banana has long been considered a remedy for diarrhea thanks to its soft texture and bland flavor.
If your canine chum is feeling under the weather, bananas can help settle a dog's stomach and even provide them with an energy boost.
DIY banana dog treats
If your dog is getting bored of these best dog treats from the pet store then DIY banana dog treats can make a good substitute.
There are plenty of recipes for homemade dog treats – here's a few quick suggestions that you can use.
1. Dog-friendly cheesecake
Ingredients
• A large tbsp of peanut butter
• 2 ripe bananas
• 2 medium eggs
• 2 cups of oatmeal
• ½ tub of cream cheese
• 4 sweet potatoes
• 4 tbsp of water
Method
• Using a fork, mash the bananas in a large bowl.
• Fold in the eggs, oatmeal, and water to the banana.
• Use coconut oil to grease a baking tin.
• Press the mixture into the tin and leave in the oven for 25 mins at 180 degrees. This mixture will form your base.
• To create the icing, cook the sweet potatoes, then blend to create a purée. Mix together with cream cheese.
• Once you have made the icing, remove your base from the oven and allow to cool.
• Spread the icing evenly over your base and leave to cool in the fridge overnight.
• Cut into small slices and serve.
Recipe via schniffn/Instagram
2. Frozen banana dog cake
Ingredients
• 1 banana
• 2 tbsp peanut butter
• 1 1/2 tbsp plain yoghurt
Method
• Mash the banana in a mixing bowl, and add the peanut butter butter and yoghurt.
• Mix well with a hand whisk.
• Pour the mixture into a mould and freeze for 2 hours.
Recipe via lashesbyla / TikTok
3. Pupcakes
@katlinmayy_

Easy to make recipe for your furry friends 🐶🧁 ps. Ignore my hands sunbeds are shut ##pupcakes ##cakesfordogs ##dog ##baking ##cooking ##cupcakes ##recipe

♬ Lets Link - WhoHeem
Ingredients
• 2 eggs
• 2 bananas
• 75g honey
• 75g oats
• 100g plain flour
• 1 tsp baking powder (optional)
• 150g dog peanut butter
• 125ml water
• Dog treats
Method
• Preheat over to 180 degrees.
• Mash bananas in a large bowl and add the peanut butter, honey and eggs. Mix well.
• Add the flour, oats and baking powder and mix together.
• Add water to thin.
• Divide the mixture between 12 cake cases.
• Bake for 25 mins.
• Decorate with treats.
Recipe via Katlin Elise/ TikTok
Get the best advice, tips and top tech for your beloved Pets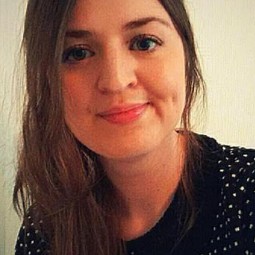 Ashleigh is Digital Editor on PetsRadar. With over 8 years of experience in print and digital media, she has acted as an editorial lead on a variety of projects, with animal themes a keen interest. As an avid animal lover, you can often find Ashleigh checking out the newest trends in animal care or looking at cute cat videos on TikTok.