Top tips for flying with a cat
Flying with a cat can be stressful for all parties involved, let's help ease that stress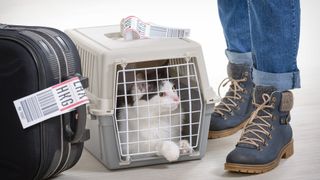 (Image credit: Getty Images)
Flying with a cat is far more common than you'd think, and there's ways to ensure it's a relatively stress-free experience.
There are a few reasons why you may need to fly with a cat. Maybe you're moving and need to fly to relocate, or you're on an extended trip and would rather bring your cat along than live them with a cat sitter. Perhaps you're helping a rescue organization transport a cat, which often happens when rescue orgs reach out and ask people who are already taking a certain trip to bring a cat along to a new home.
Whatever the reason for flying with a cat, you'll want to make sure you have the best cat carrier, paperwork, and other supplies to ensure you don't run into any issues while boarding or during the trip. This is usually a rather stressful experience for a cat, so you'll want to ensure it's as stress-free as possible. Here are the top tips, tricks, and answers to FAQs for flying with a cat.
Can you take a cat on a plane?
Cats are allowed on planes either in the cabin or as cargo. Typically, airlines require pets over a certain weight to be in cargo, but it may differ based on the airline. The Humane Society of the United States recommends against putting your cat in cargo, as it can be dangerous and extremely stressful. Avoid putting your cat in cargo at all costs. Research the airline requirements before planning to travel with your cat, as you'll also need certain documentation to ensure your cat can fly.
Often, airlines will require you to put your cat in its carrier under the seat in front of you, and you can't buy an extra seat for your cat.
Best carriers for flying with a cat
You'll want to ensure that you put your cat in a comfortable and safe carrier that is airline-approved. Soft-sided carriers are best for in-cabin travel, while hard-sided is required for cargo as it is much safer. When shopping for carriers, look for wording that says "airline-approved" as it will help make sure you don't have any issues when you arrive at the airport.
Carriers that have interior clips to connect to a collar or harness will make sure your cat doesn't escape in case the carrier is opened or breaks open. Padded shoulder straps and removable and machine washable interior padding are important, as well.
How much does it cost to fly with a cat?
The cost of travelling with a cat differs depending on the airline, but Travel and Leisure estimates it's been $75 and $125 for domestic flights. International flights will be considerably higher.
Is flying with cats stressful?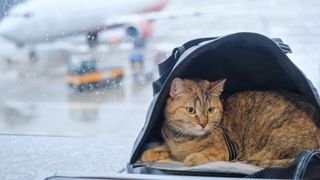 Flying with cats may be stressful for owners and felines alike - but it's often never as stressful as you'd expect. As owners, preparation is the key to ensuring you and your furbaby don't have a stressful experience. If you head to a flight unprepared you'll likely be scrambling at the last minute to get the necessary paperwork, and your cat will likely not be as comfortable as they could be. However, a prepared owner makes for a happy cat, so let's get into how to ensure your trip is as smooth as possible.
How to prepare for flying with a cat
There are tons of ways to prepare for flying with a cat, starting with a trip to the vet. You'll want to ask if they need medication to travel, as some cats experience tremendous stress during the process. If your cat is anxiety-prone, you and your vet may indeed decide to medicate. Buprenorphine and alprazolam are medications commonly prescribed by vets to help with travel anxiety in cats. You'll want to test out the medication at home before your trip to see how your cat reacts. Aside from medication there's tons of ways to prepare to ensure your flight is a smooth one. Here's a few:
1. Get a Thundershirt
A Thundershirt swaddles your cat just like you'd swaddle a baby and is proven to help reduce anxiety in many cases.
2. Pheromones
Pheromone calming collars and sprays will help set a soothing tone. Spray the mixture in the carrier and on any bedding.
3. Empty stomach (for the cat)
Travelling with an empty stomach helps reduce the risk of vomiting, nausea, and bathroom breaks on the plane, so don't give your cat breakfast the day of travel. Just in case, however, make sure to line the carrier with absorbent pee pads in case they have to go, and bring back-up pads, poo bags, paper towels, and gloves to help cleanup the mess.
4. Don't forget your cat's food/meds/water
5. Remember their paperwork
We'll get into detail below, but you'll need paperwork to fly with your cat - especially if you're flying internationally. Don't forget it!
6. Know how to get through security
This part can be stressful if you are unprepared. When nearing security, take everything off of your person and your bags that you would normally have to. Remove your cat from the carrier and put that through the X-ray machine - in some cases you can keep your cat's harness/collar on to ensure their safety in case they get out of your arms. After you get through screening with the cat, you can put them back in the carrier before getting any of your other stuff.
What vaccinations do cats need to fly?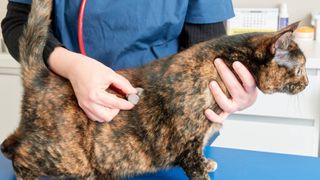 Once you've booked your trip, make an appointment with the vet for a date close to your travel date. The majority of airlines require a valid health certificate for your cat, completed by your vet. All vaccinations must be up to date, and the most commonly required vaccines/tests are:
Rabies (required to enter foreign countries, but not to enter US, although it is recommended)
FVRCP (Feline Viral Rhinotracheitis, Calicivirus, Panleukopenia)
Feline Leukemia
Bordetella
Fecal exam
Global microchip
You'll want to have certifications and proof of these on-hand at the airport. Travelling internationally can pose additional difficulties, as certain countries may require an isolation period for incoming pets if the certifications aren't up to snuff. As always, you'll want to research each area you're travelling to individually to ensure you're prepared.
Don't worry, flying with a cat is all about preparation - once you've done that, the hard part is over, and you and your feline friend can enjoy your flight!
Get the best advice, tips and top tech for your beloved Pets