Is pet insurance worth it? A vet's view
"Is pet insurance worth it" is a common question, so in order to help you assess it's value, we break down the pros and cons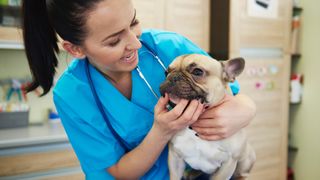 (Image credit: Getty Images)
As a responsible pet owner, you may find yourself asking, "is pet insurance worth it?" After all, pet insurance is another monthly payment that has to come out of your household budget, and you want to know if it will pay off in the long run. 
Unfortunately, even with the best pet insurance there's no easy way to predict whether you will benefit financially from having it. The value of pet insurance will be based on the plan you select, your expectations of that plan, your pet's overall health, and luck. 
There will be some pet owners whose puppy needs multiple foreign body removal surgeries in a single year, all covered by insurance, and other clients with healthy pets who rarely needed to take advantage of their pet insurance coverage. Despite this uncertainty, the peace of mind that pet insurance provides can be priceless.  
Benefits of pet insurance 
While we all hope that our pet will never experience an emergency, many pets need emergency care at some time in their lives. Unfortunately, emergencies can be expensive. According to Petplan, a provider of pet insurance, the average cost of an emergency veterinary visit for dogs and cats ranges from $800-1,500, depending on your geographic location. Some emergencies far exceed that amount, depending on the condition and required treatment. 
What happens if your pet experiences an emergency and you don't have pet insurance? Hopefully, you have a savings account or a credit card that you can use to pay for emergency care. If not, you may choose to apply for CareCredit or ask friends and family for help. If none of these solutions work out for you, however, you may find yourself in a situation where you are unable to authorize the care your pet needs. In this case, you will need to work with the veterinarian to determine whether your pet can safely go without treatment or whether humane euthanasia is the best option for your pet. 
No veterinarian wants to euthanize a pet due to financial constraints. Unfortunately, the reality is that veterinary medicine is a business. If a practice cannot afford to pay its staff, keep its equipment maintained, or pay the facility's operating costs, the veterinary hospital cannot afford to remain open. Your veterinarian is unable to treat your pet for free, which is why she would prefer that your pet have pet insurance. Pet insurance ensures that you can authorize the best possible care in an emergency situation. 
How does pet insurance work? 
On the surface, pet insurance sounds like human health insurance. While there are certainly some similarities, there are also key differences. 
The first difference, and one that surprises many pet owners, is that most pet insurance providers do not pay your veterinarian directly. Instead, you are typically expected to pay for your pet's care at the time of your veterinary visit. You then submit the bill to your pet insurance provider and they will reimburse a portion of your expenses. 
Additionally, pet insurance policies often contain a lot of "fine print." In addition to deductibles and pre-existing condition exclusions, like you might see in a human health insurance policy, there may be excluded genetic conditions, waiting periods, and annual maximums. While some policies do include a wellness benefit, most pet insurance policies are only intended to address illnesses and injuries. Pet insurance is primarily intended to cover those emergencies that would be difficult for you to pay for yourself. 
It is important to be familiar with how pet insurance works prior to enrolling in coverage, so that you truly understand what you are purchasing. 
Disadvantages of pet insurance 
As you review pet insurance policies, there are several drawbacks to watch out for. None of these issues should be regarded as deal-breakers, but it is important to be aware of these limitations and determine which of these policies you can and cannot live with: 
Pre-existing Condition Exclusions: Almost every pet insurance policy will have pre-existing condition exclusions, but providers differ in how they define "pre-existing condition." Review policies carefully to determine which of your pet's conditions may be excluded from care.  
Annual Maximum: Most pet insurance policies have a set annual maximum. This is the upper limit of what they will pay out in a given year. In general, less expensive policies have lower annual maximums and more expensive policies have higher annual maximums. 
Genetic/Hereditary Conditions: Some providers (not all) maintain lists of conditions that they consider hereditary in all pets or in pets of a certain breed. These conditions are often excluded from coverage. While this isn't necessarily a deal-breaker, it's something you will want to consider carefully when choosing a pet insurance provider and policy. 
Pet insurance alternatives  
There are a number of products that you may see referenced as pet insurance alternatives. These products can be beneficial, but it's important to understand how they differ from pet insurance. 
Many veterinary hospitals offer wellness plans or preventative care plans. These plans allow you to pay a set monthly fee in exchange for an established package of wellness care services. A canine wellness plan might include vaccines, one or two physical exams per year, heartworm testing, fecal parasite testing, and annual wellness bloodwork. These plans allow you to spread out the cost of your pet's wellness care over a year. Additionally, the packaged services are often offered at a discount and you may also receive a discount on services that are not covered by the plan. It's important to remember that a wellness plan is not pet insurance. If your pet is hit by a car, a wellness plan may provide you with a free office visit and/or a small discount on your pet's treatment, but it will not cover a significant portion of treatment (like a pet insurance plan would do). 
New companies like PetAssure are developing additional pet insurance alternatives. PetAssure allows members to receive a 25% discount off the price of care when they visit any participating veterinarian in the PetAssure network. At the moment, PetAssure is an employer-provided benefit, but they may make their product available for purchase in the future. 
While these pet insurance alternatives can be beneficial for many pet owners, it is important to understand that they are not insurance. Research pet insurance alternatives carefully before enrolling to be sure that you understand the product you are purchasing. 
Should I bother with pet insurance?  
Many new pet owners find themselves wondering, "is pet insurance worth it?" Based on my experience as a veterinarian, the answer is a resounding yes. Pet insurance is an effective means of ensuring that you will never have to forgo life-saving treatment due to financial constraints. However, it's important to do your research when selecting a pet insurance plan. Read the fine print carefully and think about your priorities when selecting a policy, realizing that you may have to make some trade-offs to find the plan that works best for your family.  
Dr. Barnette received both her Bachelor of Science degree in zoology and her Doctor of Veterinary Medicine from the University of Florida. She's an experienced writer, educator, and veterinarian, with a passion for making scientific and medical information accessible to public and professional audiences.
Get the best advice, tips and top tech for your beloved Pets
Thank you for signing up to Petsradar. You will receive a verification email shortly.
There was a problem. Please refresh the page and try again.