10 types of dog beds explained: Which one is best for your pooch
There are so many types of dog beds around, but which should you choose? We run through the benefits of each one…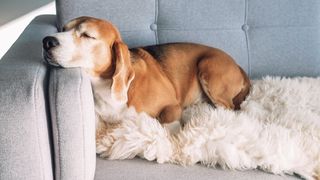 (Image credit: Getty)
The sheer volume of the types of dog beds available can make choosing one a tricky proposition. Moreover, how are you supposed to know which one your dog is most likely to take to? In truth, it's a bit of a case of trial and error, but ultimately if your dog likes a particular type of bed, they will find some way of making their feelings clear. Whether that manifests itself through crashing out on your sofa, making for warm or cold surfaces, or completely ignoring their expensive new sleeping zone altogether, remains to be seen. Regardless, read on for some guidance on the best dog beds around…
1. Standard
As the name suggests, this type of bed is very much the default kind that you'll probably end up buying first. These come in a variety of shapes, such as round, rectangular, and square; are made of assorted different materials, like fleece, flannel, microfiber, or even suede, and can have built-in accoutrements like pillows and cushions. While these will generally be fine for most dogs, you might find that some dogs don't like sleeping in an open space, or that it isn't suitable if your dog has any particular medical needs.
2. Crate
Ideal if your dog spends a lot of time in a crate, as the chances are they will be used to sleep in too. While it can double up as a travel container for them, it also needs to be cosy enough for them to sleep in. It is also ideal for these kinds of beds to be waterproof and easy to clean, since your dog will likely be spending a lot of time in them when traveling, and may need to be cleaned up after. You can find plenty of options in our guide to the best dog crates.
3. Orthopaedic
Best for dogs that are either old, particularly thin, or suffer from muscular and/or skeletal issues. The best orthopaedic dog beds usually come with a lot more padding than standard dog beds, which conforms to your dog's natural shape, making it easier on their bodies, and a lot more comfortable as a consequence. Sometimes, these even come with heated parts, making them appealing to dogs that suffer from joint pain or arthritis.
4. Donut
Very similar to nest beds (we didn't see the point in including them as separate entries here, since they look virtually the same, aside from slightly raised edges in the nest beds), these will keep your dog fully enclosed from all sides, allowing them to feel completely safe and secure. They come in a round or oval shape, and are extremely soft. However, while they're comfortable, their raised edges might make them tricky for small or old dogs to navigate in and out of.
5. Covered
If donut beds aren't secure enough, then covered beds add another layer of sleeping anonymity altogether by coming with their own roof. Particularly appealing for shy dogs, or those who are used to spending a lot of time in kennels, these can take the form of tents or small houses, and are capable of benefiting from a high level of customization. These can function as a dog's safe space, great for when they want to get away from the world.
6. Elevated
Elevated beds are ideal for both owners and dogs for different reasons: for dogs because being a short distance off the ground allows them to perceive a level of protection and safety, and for humans, because being off the ground means their dog is away from the cold or dirty floor, plus it's also a little bit further for bed bugs to travel. Usually formed from a metal frame, they can also be made from wood, wicker and plastic. While they're great for a number of breeds of dogs, older or more frail ones may struggle with it.
7. Travel
For obvious reasons, travel beds need to be a lot smaller – you'll potentially be carrying them around with you, or transporting them in the limited confines of your car. They'll ideally be of much thinner and lightweight material, making them easy to fold and roll up, and might possibly come with handles attached. They're probably more ideal for younger dogs – we doubt a senior would appreciate being made to chill out on a relatively thinner surface.
8. Heated
A more popular purchase for dog owners over the last ten years or so, these are perfect if your pooch is one who tends to feel the cold, and is relentless in letting you know about it. Moreover, it could be useful for smaller or skinnier breeds, who are more susceptible to hypothermia in the winter months. They work by using electrically heated pads, which are either included separately to place underneath the bed, or are incorporated into the bed itself. A great idea, these nonetheless vary in quality, so make sure you check out the reviews before buying.
9. Cooling
Conversely, some dogs are prone to getting a bit too warm, especially big or shaggy ones – you'll know it if they make a habit out of lying on hard, cold surfaces like wood or tiles. Typically made from plastic or something similar, they'll often be filled with a type of gel material that cools easily. Usually embedded into the bed itself, make sure you read up on the safety instructions included with the bed itself before using.
10. Sofa
Does your dog have a habit of getting up on the sofa with you? While you may not personally mind, it's a habit that some may want to get their dog out of. Taking the form of a miniature sofa, they're great as the next best thing for dogs who want to be a bit more like their owners, come in a variety of designs, and provide a degree of security for the dog, being elevated from the ground. They usually aren't cheap, but hey, if you want to pamper them…
Get the best advice, tips and top tech for your beloved Pets
Steve writes and proofreads buying guides, news stories and advice for Pets Radar, drawing on his lifelong experience as a pet owner. Currently sharing his house with two cats and a dog, he draws on the many highs and occasional lows of pet ownership he has borne witness to in his writing. He has worked in publishing for 15 years as an editor, sub editor and writer on a range of titles, such as SciFiNow, How It Works, All About History, Real Crime and Horrorville. You can follow him on Twitter @stevewright22