Best fly rugs for horses: Six outfits for your horse
Keep pesky flies away with the best fly rugs for horses on the market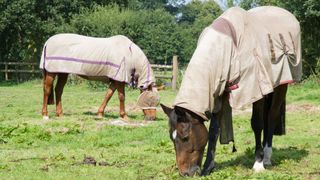 (Image credit: Getty Images)
Choosing the best fly rugs for horses will provide them with protection against insects and the hot weather, while also preventing them from overheating in the summer sun. Flies can cause your horse to become annoyed and stressed, but some horses also react badly to bites.
In the worst cases, some horses develop sweet itch – an allergic reaction to the bite of a particular midge – which causes them to become very irritated. Along with using fly repellents, covering your horse with a fly rug is one of the most effective ways to minimize the effect of biting flies and midges.
Rug companies have funded a lot of research in recent years to find out how they can best deter flies, and the results have delivered a whole host of technical rugs and some fun designs, including zebra print and some bright color combos, that actually prevent flies from landing on your horse.
In order to do a good job at protecting your horse from any flying insects, the rug also needs to have good coverage – in this case, the more of your horse that's covered the better. This is why you'll see a whole host of additional features, such as extra-large tail flaps and belly flaps, that you don't see on a turnout. But with all this extra material to protect your horse, each rug has to be really lightweight and heat reflective to prevent them from getting too warm.
The selection of rugs we've chosen below cover all of these points.
Premier Equine Super-Lite fly rug with surcingles
Best overall fly rug for horses
Specifications
Special features:
70% UV reflective
Reasons to buy
+
Offers UV protection
+
Anti-static lining
+
Lightweight
+
Durable material
Premier Equine claims this rug to be one of the most lightweight and breathable fly rugs on the market, and we think they might be right. It is made from a super-lightweight technical material that has been developed to provide protection against the sun, heat build-up, and flies. The lightweight nylon is strong and durable, while still feeling soft and comfortable – Premier Equine does warn that it takes a few uses for it to soften up.
It's not only really breathable and highly protective against insects, but it also offers UVA protection and is heat reflective, so keeps your horse cooler than if they were wearing a traditional fly sheet. This rug is approximately 70% UV reflective, making it the perfect protection for horses who struggle to stay cool in warmer weather.
The long integrated neck cover, which is secured with double-locking straps, provides further protection for your horse while they're grazing. Unfortunately, you can't remove it if your horse is prone to rubbing on his mane, but to combat this it's lined with an anti-static antibacterial polyester. The same lining is used in doubled layers over the wither and shoulder, and there is also a large double-thickness tail flap that provides extra fly protection.
The tail strap is PVC coated, so it's really durable and easy to clean. Being such a light color means the rug will show up dirt quite easily, but as it's machine washable this is a very minor problem.
All the fastenings on this rug are good quality – there are stainless steel quick-release chest straps, which are easy to fasten, and cross surcingles under the belly. The rug is available in silver – presumably as this is the best heat reflecting color – and in sizes 66 to 87 inches. Unlike many of Premier Equine's rugs, this one is not available in the smaller sizes, although they do have plenty of other great options to choose from.
Horseware Mio fly rug
Best budget fly rug for horses
Reasons to buy
+
Competitive price
+
UV-reflective properties
+
Shoulder and mane lining
The Mio collection is Horseware's budget range – but coming from a brand as reputable as Horseware, this doesn't mean there's a compromise on quality. Instead, you're just likely to get fewer technical features than you would from other fly rugs offered by the brand.
The rug is made of a knitted polyester with UV-reflective properties, and the light color should help to reflect heat away from the body and keep your horse cool. The rug has patented front leg arches, which allow plenty of freedom to move, and it features a silky shoulder and mane lining to prevent rubbing in these vulnerable areas. You'll notice the side panels are shorter and less shaped than other Horseware rugs, providing slightly less protection. There's also no belly flap and, although still longer than many brands, the tail flap is slightly smaller. However, these small differences don't stop the fly rug doing its job – it might just be slightly less efficient and effective than a more premium-priced design.
This fly rug has a fixed hood, which is handy to have as it extends the coverage, but a detachable hood is sometimes preferable – just in case. It has classic twist front closures that are easy to fasten.
A budget rug is never going to measure up to the all-singing-all-dancing top-of-the-range ones, but this fly rug certainly does the job, and if you don't have a horse with particularly special needs and you're not looking to spend a lot, this rug is a fantastic option. Reviewers report that this rug stands up really well to general wear and tear considering the lower price point.
Weatherbeeta Comfitec Ripshield Plus Detach A Neck with belly wrap
Best fly rug for horses with a detachable neck
Reasons to buy
+
Strong 1200D weave
+
Large belly flap
+
Detachable neck
+
Leg straps
This fly rug is one of only a few that offer the versatility of a detachable neck – and if this is something you're looking for it can make all the difference. The rug itself is made of a durable fine mesh, which has a 1200D cross-hatch weave that will help to prevent damage and tears. This is particularly handy if you own a known rug tearer.
It is shaped with a traditional side gusset that allows for natural, unhindered movement. The front is fastened with two buckle closures – these allow for a greater degree of adjustability compared to clip fastenings, but they are more fiddly. In the summer months this is likely to be less of a problem, however, as you don't have to deal with cold fingers, so it really depends on how much a fiddly fastening might annoy you versus how adjustable you'd like your fly rug to be.
It has a large belly flap that offers a really substantial amount of protection to your horse's underside, which is a vulnerable area that flies often target. The tail flap is designed with a full wrap, so it's really secure and offers a high level of protection. The tail flap, shoulder, and mane areas are also lined for added protection against rubbing. A feature that is missing on many other fly rugs, but not this one, is the addition of leg straps – they are adjustable and removable, and very handy for keeping your fly rug secure.
Overall, this rug is a strong, all-round fly rug that offers a great degree of protection as well as versatility. It's available in two colors, and in sizes 66–84in.
Horseware Amigo 3-in-1 Evolution fly rug
Best waterproof fly rug
Specifications
Special features:
Insect-deterring color
Reasons to buy
+
Waterproof
+
Colors deter flies
+
Lightweight fastenings
Reasons to avoid
-
Waterproof section makes it heavier overall
This rug is a waterproof turnout and fly sheet in one, which makes it perfect for times of changeable weather, as you don't want to leave your horse out in the rain in a traditional fly sheet. The top section, which spans the integrated neck and along the back, is made of a waterproof and breathable 900D polyester/nylon mix. It's also lined with a protective and shine-enhancing fabric – as is the area over the shoulder and the tail flap. The deep mesh side panels allow for maximum coverage and breathability, which will help prevent your horse from overheating in warm conditions.
Many fly rugs come in lighter colors with the aim to reflect heat, but this one's color is geared towards deterring insects. The orange/aqua color combination has been chosen as the latest science suggests the way insects see these colors together in the UV spectrum is a natural deterrent, putting this rug at the forefront of insect-repelling technology. The pattern not only looks fun, but also confuses the insects, making them less likely to land on your horse as they struggle to identify them as a target. The rug also offers UV protection.
It has a disc-front Velcro closure, which is unique to Horseware, lightweight, and easy to fasten. The shape of the neck is designed to prevent rubbing and the rug has three straight surcingles and a belly flap that provide maximum coverage. The oversized tail flap is also designed to provide extra protection and the tail cord is wipe clean.
Shires Sweet-Itch Combo
Best for full-body protection
Reasons to buy
+
Protection right up to ears
+
Secure neck fastening
+
Belly flap
This fly rug offers excellent protection against biting insects. It goes a little further towards protecting your horse completely by covering right up to his ears – the neck has ample fabric and the ear panel is elastic to allow for unhindered grazing. The neck is fastened with four touch-close straps for a really secure and snug fit, preventing any insects from intruding.
The fly rug itself is made of a lightweight and highly breathable 600D ripstop fabric, which is not as strong as others on this list, but it should be enough able to resist general wear and tear. This fly rug will also provide your horse with additional UV protection.
The inside of the rug is fully lined along the neck, chest and shoulders to prevent rubbing and irritation. It's designed with deep shoulder gussets allowing a good freedom of movement, and it has a belly flap with three adjustable surcingles that provides additional protection to a particularly vulnerable area that's not offered by all fly rugs. It also has a large tail flap. The front is fastened with two adjustable buckles – great if you're looking for increased adjustability, but not ideal if you just want a quick and simple fastening.
Compared with other brands and styles, the Shires Sweet-Itch Combo offers a smaller range of sizes, as it only starts at 69 inches.
Mark Todd Ultra Combo fly rug
Best fitting design
Specifications
Special features:
90% UV protection
Reasons to buy
+
High level of UV protection
+
Snug belly flap
+
Lycra neck gusset
Reasons to avoid
-
Velcro fastenings can be tricky to maintain
The Mark Todd Ultra Combo fly rug is made from a soft, tightly woven mesh that's designed to provide the ultimate protection against all flying insects. The belly flap has elastic straps that allow a close fit, which is important for keeping out any insects while not restricting your horse in any way. This rug is unique within the list as it has a clever stretchy Lycra gusset inserted between the rug and neck cover that helps to prevent rubs by allowing free movement and helps keep your horse comfortable while grazing. The neck cover is also quite long, coming right up to but not over the ears. The shoulder areas are reinforced with an anti-rub lining.
The rug is fastened at the front with adjustable buckles, while it also features adjustable and removable leg straps, making this rug really secure. The neck cover and belly flap both fasten with hook and loop Velcro fastenings, which are easy to use, but it's important to match the Velcro up well or it can become clogged up with dirt and hay, which will hinder its fastening abilities.
The tight weave mesh has been tested in intense sunlight and it provides your horse with between 80–90% UV protection, which helps to prevent your horse's coat from becoming bleached. This fly rug is available in a reflective silver color, and in sizes 66 to 84 inches.
How to choose the best fly rug for horses
Why you can trust PetsRadar Our expert reviewers spend hours testing and comparing products and services so you can choose the best for you. Find out more about how we test.
How badly the flies affect your horse is the first factor to consider when browsing all the different fly rug options. If your horse suffers from sweet itch, or reacts badly to bites, you're best to opt for one that offers maximum coverage, including his neck, belly, and tail.
Rugs with integrated necks can cause less rubbing, especially if the neck features an anti-rub lining, but consider whether you would prefer the option to remove the neck completely – although this obviously provides less coverage, it can be beneficial to some horses in particular circumstances. Make sure the fastenings on your chosen rug are of good quality, as this will keep it secure and prevent it from coming off, which could potentially cause an accident if left unnoticed.
As fly sheets are lighter weight and thinner than a turnout rug, they are more vulnerable to damage. If your horse is known for being a rug ripper, seek out one that's made of a material with a high denier rating – these fabrics are likely to last longer as they're designed to withstand a greater amount of wear and tear. A waterproof fly sheet is handy when the weather's changeable, so worth considering if you can't get to your horse to take his fly rug off if it starts to rain.
Finally, many fly rugs may look like they have fun fly-deterring prints, but not all are backed by scientific research, so it's definitely worth checking out the reviews first.
Get the best advice, tips and top tech for your beloved Pets