10 dog dad gifts: Great gifts from the dog to dad
Say thank you to the dog dad in your life with these brilliant dog dad gifts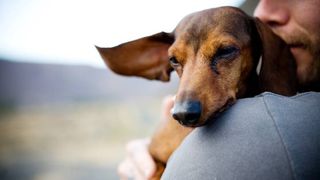 (Image credit: Getty Images)
Whether it's Father's Day or their birthday, these dog dad gifts will make any doting dog father smile.
Taking on the role of Chief Pet Parent is a big responsibility; whether they frequently step up to the job of taking your pooch on their daily walk on the coldest day or get out of bed early to feed your hungry hound, giving your dog dad a gift is the ultimate way to say thank you.
If you're feeling a little abashed about presenting them with your gift, you can always pretend it's from your pooch instead.
We've rounded up a collection of presents, ranging from stylish apparel to sweet, sentimental gifts from the dog to dad, that's so good he'll be paws-itively delighted.
Best dog dad gifts in the US
Why you can trust PetsRadar Our expert reviewers spend hours testing and comparing products and services so you can choose the best for you. Find out more about how we test.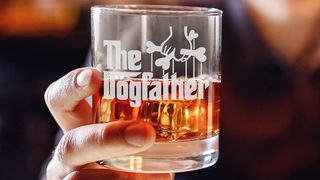 1. The Dogfather glass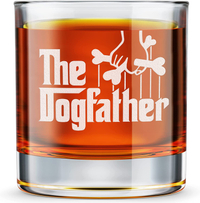 The Dogfather – Etched 10.25 Whiskey Rocks Glass
It's a dog dad gift he really can't refuse. The Dogfather whiskey glass looks simply cool – and that's before you've added the whiskey on the rocks. Borrowing inspiration from the 1972 film classic, The Dogfather glass is laser engraved with a canine version of the film's iconic logo.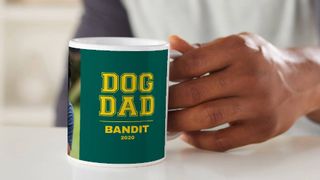 2. Personalized "Dog Dad" mug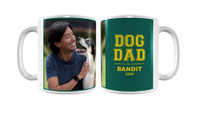 Frisco Personalized "Dog Dad" White Coffee Mug
Nothing says thank you quite like a personalized mug; this stylish offering from Chewy is the ideal way to remind them of their favorite moment shared with their canine chum.
You upload the photo, choose a background color and add some customizable text, then the clever folks at Chewy turn it into a mug so magnificent he'll be proudly displaying it at the next office meeting.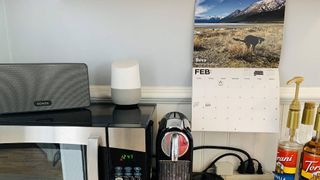 3. 2021 Pooping Pooches Gift Calendar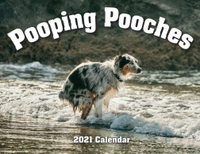 2021 Pooping Pooches White Elephant Gag Gift Calendar
If you're looking for a comical gift from the dog to dad then look no further than the Pooping Pooches White Elephant Gag Gift Calendar. This hilarious calendar is full of, well, pooping pooches; if your dog is constantly causing a mess in the backyard, it might just be the perfect private joke.
Plus, $1 from every calendar is donated to the Maui Humane Society to support animals in need. Win-win!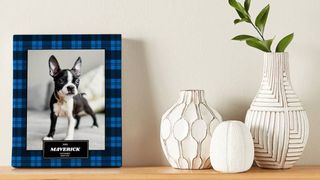 4. Personalized plaid gallery canvas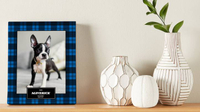 Frisco Personalized Plaid Gallery-Wrapped Canvas
Add your beloved pooch to your home décor with this personalized piece of wall art featuring your own pet. This customizable, gallery-wrapped canvas wall piece comes ready to hang and ready to bring you the warm fuzzies as soon as you see it.
Pick your favorite photo of your pet, add some custom text, such as their name or a cute saying, and receive a personalized keepsake for you or the pet lover on your list to cherish.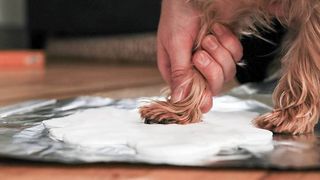 5. Pawprint cast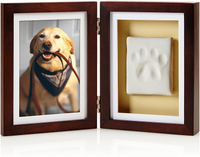 Pearhead Pet Pawprints Desk Picture Frame and Imprint Kit
A lovely gift from the dog to dad, the Pearhead Pet Pawprints Desk Picture Frame and Imprint Kit features a photo of your pet and their pawprint displayed together in a high-quality espresso-colored frame.
Just make sure the dog dad you intend to give it to doesn't accidentally walk in when you're capturing your pooch's print!
Best dog dad gifts in the UK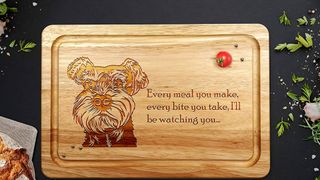 1. Dog themed chopping board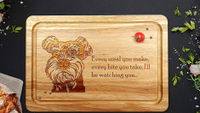 Dog-themed Wooden Chopping Board
Is your dog dad a dab hand in the kitchen? Then you need this dog-inspired chopping board. Don't worry if you don't own a Miniature Schnauzer as there are plenty of other dog breeds available to choose from. Added bonus if your dog dad is a music lover; we love the dog-inspired twist on popular lyrics.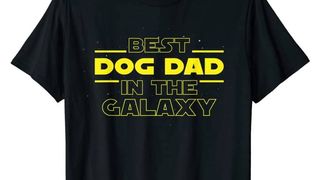 2. Best dog dad in the galaxy t-shirt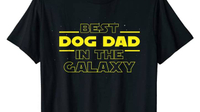 Best Dog Dad In The Galaxy Best Dog Dad Ever T-Shirt
If you think you know the best dog dad in the world, why not make it the galaxy instead with this incredible t-shirt?
Based on branding from the Star Wars series, this simple tee will make a bold statement for the doting dog dad in your life, whether it's walkies down the park or at the neighbor's BBQ.
3. Doodling for Dog People book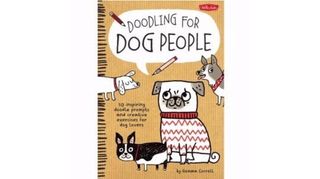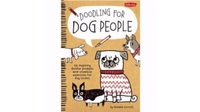 Doodling for Dog People book
Know a creative dog dad? This handy book is filled with 50 inspiring doodle prompts and creative exercises for dog lovers.
Illustrator Gemma Correll spurs canine lovers to explore, experiment, and brainstorm ways to draw and doodle their favorite furry friends with her cute and clever art style.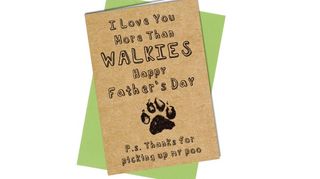 4. Father's day card from dog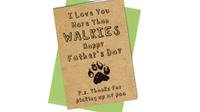 Card from the dog
If you really want to say thank you from the dog, a card is truly the best way. Special occasion cards direct from our pets have been rising in popularity in recent years and for good reason too: it's a sweet and comical way to put a smile on your dog dad's face.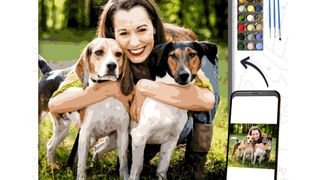 5. Pet Paint by Numbers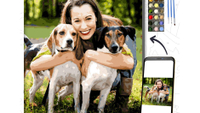 GAILEAF Personalized Customized Paint by Numbers for Adults
Remember the concept of Painting by Numbers when you were a kid? This is the same idea, but for adults to enjoy.
If you're particularly crafty but reckon you need a guide to help capture a special moment in your dog dad's life, then simply match the numbers on the canvas with the corresponding labeled numbers on the paint.
GAILEAF will produce your own custom kit, all you need to do is upload the photo.
Get the best advice, tips and top tech for your beloved Pets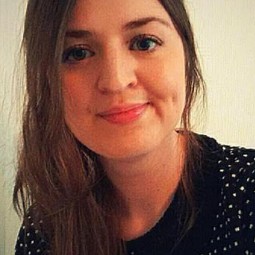 Ashleigh is Digital Editor on PetsRadar. With over 8 years of experience in print and digital media, she has acted as an editorial lead on a variety of projects, with animal themes a keen interest. As an avid animal lover, you can often find Ashleigh checking out the newest trends in animal care or looking at cute cat videos on TikTok.