Best snuffle mats for dogs: 6 picks to stimulate and entertain your dog
The best snuffle mats for dogs will give your canine companion a stimulating mental workout that ends with a delicious reward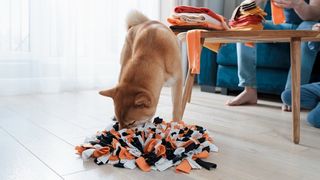 (Image credit: Getty Images)
The best snuffle mats for dogs are a worthwhile addition to your canine kitty for those days when you're looking to provide your pup with a stimulating mental workout. Ideal for hiding either the best dry dog food or dog treats, snuffle mats can help add an extra layer of excitement to meal or snack times while also helping to keep your fur baby's brain sharp.
Available in a range of designs and challenge levels, snuffle mats allow you to conceal your dog's food rather than simply putting it in a bowl in front of them. They'll then need to use their nose to sniff out the best dog treats or kibble that you've hidden in the mat, which provides a level of enrichment that your standard dog bowl simply can't.
But, as with almost any item on the market these days, snuffle mats are being designed and rolled out in their hundreds, so with that many to choose from, how do you know which mat is right for your mutt? You'll be relieved to hear that unlike the best dog beds which you might invest in only to find out they're not big enough or comfortable enough, you really can't go wrong with snuffle mats. That being said, there are a few things worth looking out for.
As we mentioned, snuffle mats do come in all sorts of different designs, ranging from basic models that are best suited to puppies or those who have never used a snuffle mat before, all the way up to intricate patterns that offer tons of hiding spots for food and treats. We recommend you start with a basic snuffle mat and once your dog has mastered that, feel free to move up to something a little more complicated to make things more challenging.
In addition to the level of difficulty, look for a snuffle mat that has suction cups or a non-slip base as this will stop the mat from slipping and sliding all over the place when your dog is foraging for their food. It's also worth choosing one made from machine washable materials as this will make keeping it clean that much easier for you.
With all of that in mind, here's our pick of the best snuffle mats for dogs lining the shelves in 2023...
PetsRadar's pick of the best snuffle mats for dogs
Why you can trust PetsRadar Our expert reviewers spend hours testing and comparing products and services so you can choose the best for you. Find out more about how we test.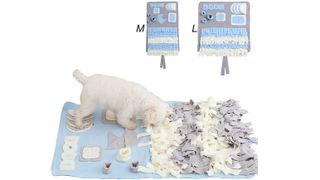 Routesun Snuffle Mat for Dogs
Best overall snuffle mat for dogs
Specifications
Size:
frm 23.6 x 39.4 inch
Reasons to buy
+
Non-slip mat
+
Two sizes
+
Ideal for small and large breeds
+
Multiple challenges
Keeping your pet pooch stimulated and entertained is not only good for their mental health but will also stop them from engaging in destructive behavior. When a dog gets bored, it will search for something to do – you don't want that to be chewing up the ends of your new sofa. This snuffle mat will help stop that from happening.
Made from a soft eco-friendly, machine-washable, sustainable polar fleece material, it is comfortable and inviting but at the same time durable. That's ideal if your dog gets over-excited and starts chewing.
The snuffle mat comes in two sizes, medium and large, making it suitable for small, medium, and large breed dogs. The medium mat measures 23.6in x 39.4in, while the large mat adds another foot and a half in width, making it over three feet square. A rubber non-slip material is embedded into the bottom of the mat to help keep it in place and make it easier to get to those tasty treats.
Both mats are divided into different spaces to give your fur friend maximum interactivity, stimulation, and some fun. A set of strands that mimic grass, though in this case not in color, takes up half the mat and is great for hiding small treats and kibble. Watch as your pet pooch tries to sniff them out.
To further stimulate your dog's senses, the other half of the mat has a host of flaps, pockets, and cups to help get them thinking. And when you and your fur friend have finished with the snuffle mat, you can simply roll it up, tie it up and store it away.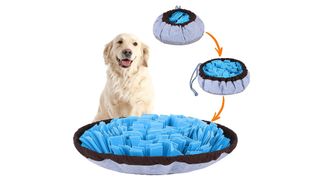 PET ARENA Adjustable Snuffle Mat for Dogs
Best budget snuffle mat for dogs
Specifications
Size:
10.12 x 9.61 x 3.35 inches
Reasons to buy
+
Dual-use design
+
Machine washable
+
Durable and non-slip
Reasons to avoid
-
May be too easy for highly intelligent breeds
If you're in the market for a bargain snuffle mat, this one from Pet Arena is well worth considering adding to your shopping cart. Particularly well suited to larger breeds, this mat will help challenge your pup and provide them with a stimulating mental workout while also slowing down their eating speed to improve digestion.
The dual usage design of this food puzzles for dogs makes it unique and allows you to convert it into snuffle mat, feeding bowl or a small storage bag by adjusting its PP belt. It's made from eco-friendly, sustainable, anti pilling upgraded polar fleece material and is both highly durable and machine washable.
Measuring 10.12 x 9.61 x 3.35 inches, the snuffle mat comes with a base made of non-slip cloth so you don't have to worry about it slipping and sliding all over the place while your dog is foraging for their treats.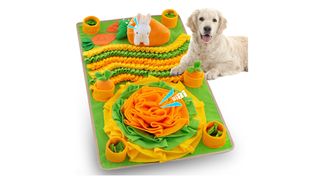 Meilzer Pet Snuffle Mat for Dogs
Best novelty snuffle mat for dogs
Specifications
Color:
Orange, green and yellow
Reasons to buy
+
Great design
+
Plenty of challenge
+
Non-slip base
Reasons to avoid
-
One of the more expensive mats on the market
This adorable and intricate snuffle mat will keep your canine companion content for ages thanks to the multitude of hiding places on offer. The flower shape in the middle of the foraging mat can hold big chunks of food while the wavy grass is ideal for disguising smaller treats.
The dimension of the large snuffle mat is 31 x 19 inches, which is perfect for all dog breeds. It also comes with velcro tape that helps to hold the mat in place. Made with super soft fabric, it features a squeaky toy for added fun and is easy to wash and store.
While it's definitely one of the more expensive snuffle mats we've seen, we feel the quality and the complex design make it well worth the investment. This is definitely a snuffle mat that will offer plenty of entertainment and challenge.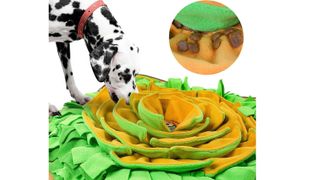 AWOOF Snuffle Mat Pet Dog Feeding Mat
Best challenging snuffle mat for dogs
Specifications
Material:
Oxford Fabric and Polar Fleece
Reasons to buy
+
Many different challenges
+
Easy foldaway storage
+
Clips to secure mat in place
+
Flower design
Reasons to avoid
-
Some challenges too simple
A dog's nose is around 40 times better than humans at analyzing smells, so your pet pooch will be pretty good at sniffing out its favorite tasty treats. But, to stimulate your pet pooch's brain and improve their mental health, they need a challenge and this snuffle mat provides plenty of them.
The Awoof is designed to provide layers of funs and challenges. Shaped like a large flower, it has four layers of petals coming out from the center, which in turn are surrounded by an outer ring of messy fake grass strands.
These are both integrated into the base, which continues the flower theme with four petal-shaped areas, all of which contain even more challenges for your pet pooch.
In the center, the layers of petals aren't tightly packed, so don't offer much of a challenge for your fur friend. But for extra stimulus and excitement, there are three bells and four pieces of ringing paper randomly placed amongst the petals. The outer ring provides continuous fake grass strands for more challenging treat retrieval. And finally, a selection of four different types of challenges such as cups, flaps, and harder-to-reach flaps, complete the challenge.
The base isn't just petal-shaped to look good. Each of the four outer 'petals' folds into the center, creating an integrated carry bag for the mat. Four quick-release buckles make sure that it stays securely packed away when carrying and storing. But smartly, they double up as an anchor when the snuffle mat is in action. You can clip them around the legs of your heavy furniture and make sure the mat stays in place.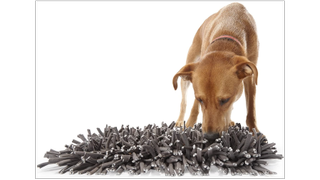 Best environmentally-friendly snuffle mat for dogs
Reasons to buy
+
Good for all breeds
+
Made from non-toxic upcycled materials
+
Simple, but challenging, design
If your dog loves a trip out and a good sniff around in long grass, then this snuffle mat could be just what you are looking for. It's a simple but challenging design that's unlike many of the other snuffle mats available. It doesn't use wide felt strands to hide its tasty treats but looks to create a more realistic environment.
The design brings together rolled-up strands that mimic large natural grass strands. It does this by using a combination of non-toxic and dog-safe virgin and upcycled materials that are hand-made, more environmentally friendly, and more durable.
So even if your dog likes to chew, it will last longer than felt and it's machine washable to get rid of any dog slobber. This makes it ideal for owners who want to help the planet as well as keep their dogs happy and healthy.
The mat measures 12in x 18in, so it is not the largest snuffle mat you can buy, but it what it lacks in length and width it makes up for with its depth. This makes it ideal for all breeds.
The deep pile of fake grass strands is good at hiding any tasty treats or kibble that you drop into the mat. This in itself provides a challenge for your fur friend. They will be able to sniff out the treat pretty quickly, but it won't be that easy to get it out, especially if the treat has slipped down to the bottom.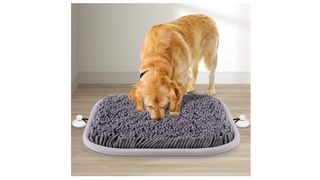 RundA Snuffle Mat for Dogs
Best interactive snuffle mat for dogs
Reasons to buy
+
Easy to clean
+
Suction cups to fix mat in place
+
Durable design
Don't be fooled by the simple design of this unassuming-looking snuffle mat, it has hidden depths that will provide plenty of challenges to keep your pet pup happy and stop them from getting bored.
Made from felt, it is gentle on your dog's nose, is non-toxic, so won't cause any stomach issues, and is odorless so it won't interfere with any tasty treat aromas that your fur friend will be looking to get their teeth into. Plus it's durable and, like all good snuffle mats, is washable to stay slobber-free.
Rectangular in design, the RundA snuffle mat measures17 x 21 inches, making it best suited to small breeds, although some larger dogs may still enjoy this mat. Drop in your dog's favorite treats – or even small toys, if you want to go a little left field – and rock the mat side to side a few times for them to drop into the recesses.
This mat has a non-slip base and comes with suction cups that you can use to fix it into place - great for wood, tile and vinyl floors. It also has a 1-inch edge height to prevent food from falling out.
How to choose the best snuffle mats for dogs
There is no one critical factor that you need to think about to make sure that you are getting the right snuffle mat for your dog. However, a combination of features will help decide your purchasing choice.
Probably the top consideration will be how much of a challenge your chosen snuffle mat provides. All dogs are different, some are smarter than others, so if a snuffle mat has too many challenges your dog might get frustrated rather than stimulated. You can start out simple and see how that works. Or make a judgment call and choose the challenge level you think is a good fit – no one knows your dog better than you.
Size does matter, but most snuffle mats are suitable for most dogs. Smaller mats can provide a real challenge for large breeds with large snouts, while a large mat can have lots of small challenges – it depends on what works best for your pet pooch.
What material the mat is made from is also something to check. All will be made from a non-toxic, dog-safe medium – if not, don't even consider it. But you might want to think about mats made from upcycled or recycled material – this is more environmentally friendly and saves on waste. We all know dogs like to chew, so think about how durable is the material is.
Get the best advice, tips and top tech for your beloved Pets
Steve Jenkins is a freelance content creator and long-time journalist with more than 20 years in the industry. He has written for numerous titles covering tech to pets, with his latest faithful hound always by his side. When not walking his dog, or discussing who's best - cats or dogs? Loud guitars, AFC Bournemouth, Photoshop, and trying to save the world take up the rest of this time.