Best gifts for dog owners and dog lovers in your life
The best gifts for dog owners are unique and thoughtful presents that pet parents will love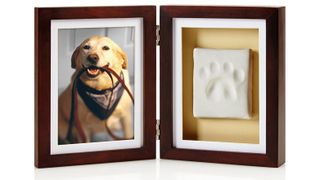 (Image credit: Amazon)
The best gifts for dog owners go down well whether it's a birthday, holiday, or you just want to show some love for your dog-loving friend. This guide is here to help you make the right choice.
It goes without saying that dog owners love their dogs, they are adorable, faithful, and make great companions. Your pet pooch is always happy to listen and they love you unconditionally. And, if they could buy you a gift they would get you something that you would love. But what makes a great gift for a dog lover?

For starters, it has to be something that is dog-related. If it is practical, or fun, or both, then even better. How about a tumbler with a fun message to keep your drink hot or cold? Perfect for short walks or a stroll in the woods. Or how about something that your dog-loving friend can wear to display their love for their pet pooch. For a real treat, how about a gift that lets you create your own dog treats? They can decide what goes in their treat so their fur friend will get something they love and stay healthy at the same.
For a personal gift, a photo frame and paw print is a great keepsake, Or how about a uniquely designed keepsake box for small mementos, Or for the techno whiz who can't always be at home, a treat-tossing dog camera means they can always be close at hand, even if it's only remotely.
This guide brings you plenty of top-quality choices to help you pick the perfect gift for the dog lover in your life.
PetsRadar's pick of the best gifts for dog owners
Why you can trust PetsRadar Our expert reviewers spend hours testing and comparing products and services so you can choose the best for you. Find out more about how we test.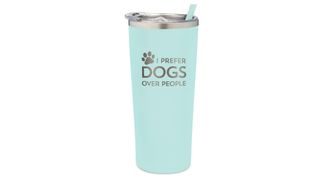 SassyCups Funny Dog Tumbler
Best overall gifts for dog owners
Color: Mint | Weight: 11.8oz | Size: 3.35 x 2.64 x 7.83 inches | Material: Stainless steel
Engraved message
Keeps drinks hot or cold
Leakproof
Only one colour
Dog owners will know why the message on this officially licensed Dogs Over People 22oz mint-colored tumbler is so true and why it is an ideal gift for many dog lovers. I Prefer Dogs Over People is a sentiment that sits well with many owners and why not? Dogs are loyal, lovable, cute, cuddly and make the perfect companion as they never answer back. And who doesn't want to take a hot drink on a walk, especially on those cold winter mornings?
Thanks to its vacuum insulated design, the tumbler will keep your hot drink hot for up to six hours and your cold drink cold for up to 24 hours. More than long enough for any walk.
Made from powder-coated stainless steel, it measures 7.83in x 3.35in diameter so fits neatly in the hand, and thanks to its double-wall, it won't be too hot or cold to the touch. The engraved logo means you aren't getting any cheap stick-on message, but one that will stay with you as long as you own the cup. And let's be honest if you love the message you are unlikely to change your mind any time soon.
The cup has an enhanced lid that fits tightly making it leakproof and a lid slider that gives you easy access to the contents of the tumbler. This can be removed for a good clean, but the more you remove the lid the less tight the seal becomes.
If you don't want to drink straight from the cup there is a silicon straw included and when you do need to put it down, there is an anti-slip base to help make sure that your drink doesn't take a tumble.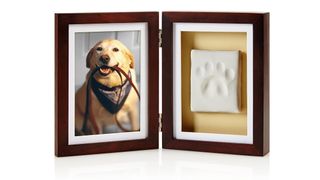 Pearhead Pet Pawprints Desk Picture Frame and Imprint Kit
Best photo frame gift for dog owners
Color: Espresso, Distressed, Black, White | Weight: 1.45lbs | Size: 1.38 x 7.5 x 11.69 inches | Material: Wood
Ideal for desk or tabletop
Well-built
Clay included
Long drying time on clay
You and your dog have been making memories from the day they come into your home and what better way to remind you how cute your pet pooch was the day you got them than a photo and their paw print?
This is exactly what you get with this Pet Pawprints Desk Picture Frame and Imprint Kit from Pearhead. It's a solid wood shadowbox frame that comes in four different finishes and colors. Two frames are held together with a couple of brass hinges making it ideal for displaying on a desktop or folding up for storage if moving home.
The left side of the frame can house a 4 x 6 photo of your pet pooch, while the right frame is perfect for displaying their paw print. It's easy to mount the photo, but you will need to get more involved with the paw print. The kit includes a package of soft, air-drying clay, a ruler, and double-sided tape to help get the job done.
All you need to do is unpack the clay, roll it out and gently push their paw into the 100 percent pet-safe clay. Trim up the clay and let it dry for a couple of days and then use the double-sided sticky tape to mount. It's not difficult, but it is time-consuming.
However, the real beauty of this gift is that you don't need to worry if your dog-owning friend already has one. If they do, the photo and paw print is unlikely to be recent. So they can take a new photo and paw print and add it to their collection. And even if it is, they can keep the frame until they want to use it. Everyone's happy.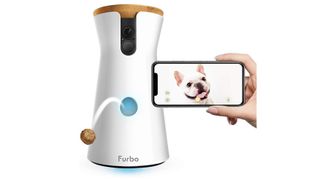 Furbo Dog Camera
Best dog camera gift for dog owners
Color: White | Weight: 2.09lbs | Size: 5.91 x 4.72 x 8.86 inches | Material: n/a
1080p Full HD camera
Night vision
Treat dispenser
Data usage is around 30MB for five minutes
Do you ever wonder what your fur baby gets up to when you leave the house? Are they tearing up the furniture? Are they constantly barking and annoying the neighbors? Are they sniffing around for something to eat? Are they trying to chew through some electric wires? Whatever they are up to, you can keep a watchful eye on them with this net-connected dog camera.
Boasting a 1080p Full HD camera and night vision, you can live stream video any time of the day and monitor them via your phone. The whole thing is easy to set up, all you need to do is plug it into a power outlet, download the Furbo app, connect to your home wifi and you are ready to go.
Once set up, you can use the 160-degree wide-angle view camera to get a good look at what's going on. Though you won't be able to see everything – there's no rotating camera here – but you can get a close up look at any action thanks to the camera's 4x zoom capability.
If you can't check in on your pet pooch constantly, Furbo lets you set up bark alerts. You will get a notification when your dog is barking so you can check as soon as possible. If you have a yappy dog who is constantly barking, don't panic. You can adjust the barking detection sensitivity through the app settings. And when you check in on them, make good use of the two-way audio to help calm them down and reassure them all is okay.
However, the best bit is the treat dispenser. You can store up to 100 small treats and get Furbo to toss out a treat via the app. So you can treat your fur baby even when you are not at home.
An optional 90-day free subscription offers even more, with real-time smart alerts for quick check-ins, event-triggered Cloud recording to see what's been happening and Doggie Diary for video highlights of the day.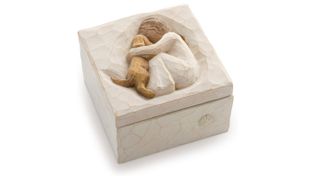 Willow Tree True Sculpted Hand-Painted Keepsake Box
Best keepsake gift for dog owners
Color: Cream | Weight: 8.8oz | Size: 3 x 3 x 2-inches | Material: Resin
Hand-painted
Cute lid design
Hard-wearing and easy to clean
Small size
Dogs are family. They live in your home, keep you company and celebrate holidays and birthdays, just like you. Remember when they were a puppy, or when they escaped into the neighbor's yard? Remember the time they chewed your favorite slippers? Just like every other family member, they create memories that will last a lifetime.
This cute cast of a handcrafted hand-carved keepsake box from Willow Tree is the work of Susan Lordi, who has a whole range of friendship memento boxes to choose from. The lid of this box features a seated figure in a cream dress, playing/hugging a dog, making it the perfect gift for dog owners who want to store little snippets of memories.
Made from a hard-wearing, easy-to-clean resin, it is based on the sculpture's original work, and each box is hand-painted making it unique in its own way. Inside each box, there is a message of love and sentiment – Truly a friend – to help stir memories each time you browse through the contents.
Measuring 3 x 3 x 2-inches, this isn't a large memento box. You could keep small photos, dog tags, a locket of hair in there, but not much else. But that might be to your advantage, as you will only be able to keep really important mementos. It is neatly packaged, making it ideal for a gift, and comes with its own enclosure card so you can leave a heartfelt message for those who are lucky enough to receive it.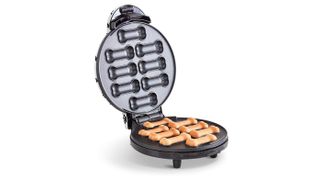 Dash Dog Treat Maker
Best treat maker gift for dog owners
Color: Black and white | Weight: 3.65lbs | Size: 11.81 x 9.17 x 5.16 inches | Material: Metal
Small footprint
Makes 8 tasty treats
Non-stick
Treats are not always bone shaped
Every dog owner loves to spoil their pet pooch with a tasty treat, but there is one way to make sure you know how healthy their treats are and that's by making your own. This treat maker can help make that happen – you can decide what ingredients go in your dog treats and you can pack it with all the flavors that your pet pooch loves. You'll have peace of mind – and control of their diet – and we're sure your dog will love them as well.
Much like a waffle maker, this Dash Dog Treat Maker measures 9 x 10.5 inches and allows you to add your own homemade batter/dough and cook up a treat. In fact, up to eight tasty treats at a time all in the shape of a mini-bone measuring three inches by one inch. And we know that dogs love bones.
A pet-safe non-stick coating on the inside of the maker means that your treats won't stick. But they are quite small so can be a little tricky to lift out on occasions. Once out, let them cool down before your pet pooch can enjoy them. A lid latch makes sure that the top stays secure while cooking and a cute paw and bone design means it will look good on any kitchen worktop.
If you are stuck for recipe ideas or want to try something different, the treat maker comes with a selection of pet-approved recipes to help get you started. The guide contains easy-to-make dog treats using natural and unprocessed ingredients. Something you'll love and so will your dog.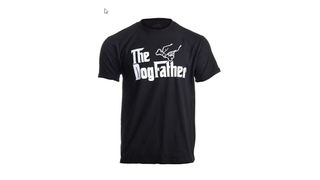 The Dogfather Fun Humor T-Shirt
Best t-shirt gift for dog owners
Color: Black | Weight: 4.96oz | Size: Small - 3XL | Material: 100% cotton
Quality t-shirt
Durable crack-resistant print
Homage to The Godfather
Only available in black
A homage to one of the greatest crime movies ever made, this amusing t-shirt shows who's the top dog in the household (even if it's not true). But what it does tell people is that you are a pet parent to a loving and cute pet pooch and you would do anything for them. After all, they are family.
It's a great idea for a gift when the Xmas holidays come round. Not sure what to buy your favorite dog-owning family member or friend then stick this on the list. Available in black, the t-shirt from the Ann Arbor T-shirt Co. is emblazoned with the words The DogFather in white, mimicking the famous Godfather logo. Embracing the dog theme, the puppet handle and strings are replaced with a hand holding a bone instead. See what they've done there.
High-quality inks are used for the logo, making the print vibrant, durable, and highly crack resistant. So the t-shirt will be with you as long as your dog will be.
Made from 100 percent USA-grown cotton, they are mid-weight shirts that are soft and smooth with a high thread count. They are comfortable to wear and offer decent durability, even after a good few washes. Size-wise, they range from small right through to 3XL. Basically, any size you want for an adult (sorry, no children's sizes here).
And, if you're loving The DogFather t-shirt but want something more suitable or relevant for your mom, sister or girlfriend then don't panic, you can get a The DogMother version of the t-shirt to show who's boss.
How to choose the best gifts for dog owners
Price
When purchasing a present for someone the price can be important unless you have endless pots of money – and most of us don't. Consider how well you know them. Is it a gift for family, a friend, or a colleague? If it's for family or a friend you will probably be happy to spend more than you would on a work colleague. Put a ceiling on how much you want to spend before you start looking for a gift. But, ultimately, the choice on how much you want to spend is yours.
Suitability
Will they like it? The purpose of a gift is to give someone something that you think they will like. Consider asking friends or family if they have a wishlist you can take a look at. If it's for a work colleague, ask other work colleagues. Why not do some social stalking and see if they have an Instagram - or Twitter or Facebook account - to help give you some clues.
Make it personal
If you want to add a touch of style and thought to a gift you could get something personalized, such as a t-shirt with their name and their dog's name. If the gift is made from metal or wood, you could get it engraved with a message from you or add the owner's and dog's names for a unique touch.
Get the best advice, tips and top tech for your beloved Pets
Steve Jenkins is a freelance content creator and long-time journalist with more than 20 years in the industry. He has written for numerous titles covering tech to pets, with his latest faithful hound always by his side. When not walking his dog, or discussing who's best - cats or dogs? Loud guitars, AFC Bournemouth, Photoshop, and trying to save the world take up the rest of this time.