Best rabbit brushes: Keep their fur in fabulous condition
Bunnies spend much of the day grooming, but they still need some help, and that's where the best rabbit brushes can come in handy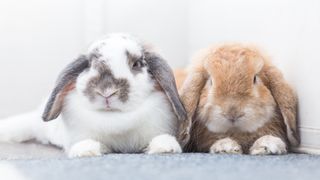 (Image credit: Getty Images)
Choosing the best rabbit brush for your flop-eared friend is important, but with so many options out there, it's not the easiest of tasks. There are slicker brushes, bristle brushes, gloves adorned with pins and many combs all claiming to be the best option for your bunny. One thing's for sure, you can't rely entirely on your rabbit's self-grooming even if these cute furballs are adept at keeping themselves clean.
A major issue is hair becoming matted, tangled and knotted, particularly so if your rabbit has a long coat. No amount of licking is going to be entirely effective in this instance and besides, excessive grooming can cause digestive problems. A good brush allows you to remove any dead hair and promote the distribution of natural oils.
You'll definitely need to get active with a brush during heavy shedding seasons. Rabbits shed every three months, alternating between light and heavy and the loss of hair can go on for some time. By aiding your rabbit, you'll also be removing dirt and stopping too much fur from entering their body. This is crucial. Hairballs can prove very dangerous because rabbits are unable to vomit. It's also worth checking your pet for bald or scratchy patches of skin while you brush as this could be an indicator of mites.
In this guide, we take a look at some of the best rabbit brushes you can buy, catering to different needs and budgets. Be sure to check out our guides for best rabbit hutches and best rabbit runs too if you're new to owning a rabbit or are looking to upgrade their existing accommodation.
PetsRadar's pick of the best rabbit brushes
Best overall rabbit brush: Small Pet Select HairBuster Comb
Best rabbit brush for detangling hair: Pecute Dematting Comb Grooming Tool Kit
Best rabbit brush for ease of cleaning: MENNYO Self Cleaning slicker brush
Best glove rabbit brush: Kennels & Kats Pet Grooming Glove Set
Best rabbit brush for versatility: Ware Small Animal Grooming Kit
Small Pet Select HairBuster Comb
Best overall rabbit brush
Brush type: Comb | Rabbit hair type: All | Material: Plastic
Claims to be the best ever comb
Removes a lot of hair
Has innovative, patented features
A bit on the expensive side
One thing to mention straight away: this comb couldn't be described as a budget buy. There are far cheaper combs on the market, but we haven't found one that claims to be the absolute best. In fact, the manufacturer says it promises you won't find another comb that compares (albeit falling short of a money-back guarantee). But what's behind such a strong boast?
Well, as affirmed by many user reviews, this patented comb removes a great amount of excess hair and that's down to the design. Each tooth of the comb, for instance, is of a sufficient length to get into the undercoat and the rounded ends means it does so without scratching the skin. Meanwhile, the plastic sleeves act as a band to catch fur. They create friction too and this stimulates fatty acids to transfer to the coat.
Even so, it may take a little bit of practice. The instructions say you should comb along the growth pattern of your rabbit's hair and then switch to start combing against the hair. It may take a small amount of time to get your bunny used to it (and to perfect the technique) but by going slowly, users say it starts to work a treat.
Pecute Dematting Comb Grooming Tool Kit
Best rabbit brush for detangling hair
Brush type: Rake | Rabbit hair type: All | Material: Stainless steel
Comes with a rake and a comb
Rake has a double-sided head
Comfortable grip handle
Some say it may not always be sharp enough
Sometimes a rabbit's hair can become tangled, knotted and matted and that can make grooming with a conventional brush rather painful. You can often feel a resistant tug when you're running a standard comb through fur that's tangled, so the kindest way of dealing with it is to use a product like this: a rake comb with stainless steel blades that will cut through the problem patches.
As well as making light work of the tangles by slicing the matted hair into more manageable, separable strands, it also removes the loose undercoat. It's certainly a friendlier alternative to whipping out a shaver and the good news is that it won't cause huge problems for your bunny's skin either since the product has been designed to minimize irritation thanks to its rounded edges.
Having a choice of using 12 or 23 teeth combs also makes this a versatile device – one that's also comfortable for you to use because the handle is non-slip. You'll tend to use fewer teeth to get in deep on the worst of the tangles and the larger number of teeth for greater thinning. You can then make use of the grooming comb that comes bundled with the rake to remove the excess hair and dirt, giving your rabbit a nice, clean coat. This has wide spaces between the smooth round teeth on one end and narrower spaces on the other, again catering for different levels of matting.
MENNYO Self Cleaning slicker brush
Best rabbit brush for ease of cleaning
Brush type: Slicker | Rabbit hair type: All | Material: ABS and TPR
Easy to clean
Removes dead undercoat hair
Round tips reduce scratching
Pins may be a little too spaced apart
For tangles, knots and mats that don't look like they need to be cut, a slicker brush is a great way to keep fur in tip-top shape. Such brushes are suitable for any pet and they are certainly perfect for rabbits. They can be used as part of your weekly grooming regime to help you keep on top of your bunny's excess hair.
With this product, a few soft, short strokes is often all that you'll need. The rounded pins help create a flowing coat but reduce the amount of pull on the skin although some users report the pins being a little too spaced apart. There's every chance that your rabbit will enjoy the experience too since the brush massages the skin, increasing circulation of the blood and making grooming a more pleasurable experience.
One of the best features, though, is the easy manner in which you can dispose of the hair and dirt you've removed. There's a button on the back of the head, in easy reach of your thumb from the non-slip naturally fitting handle. Pressing it causes the bristles to retract and that will allow the waste to fall, with the remaining strands easily swept and wiped away.
Kennels & Kats Pet Grooming Glove Set
Brush type: Glove | Rabbit hair type: All | Material: Silicone
Has a lot of tips
Comes with a box and storage bag
Gently massages your rabbit too
May not be a good fit for you
A good alternative to an actual brush is a glove and this pair is about as premium as they come. For the price, you actually get two, packed in a well-presented box and looking almost fashionable – about as fashionable a grooming glove could ever be, anyway.
Improvements have been made to this product in 2021 which shows the care taken by the manufacturer, K&K. They're now being advertised as suitable for most hand sizes – in the past they appeared to be marketed for all but some users complained they could be too big. They are also double-stitched around the wrist which K&K say makes them impossible to rip.
It makes for a compelling product; one that has 260 tips spread across tough flexible medical-grade silicone, each of a sufficient length to brush unwanted hair away. As you move your hand over your rabbit's body, you'll also be giving them a massage and, if you find hair on your furnishings, you can use the glove to remove those too.
The only thing we'd like to point out is that the description says the glove can be used when bathing a pet. There's no doubt that it would work well in water but be aware that this product is designed for a number of pets including dogs and it's not advisable to bath a rabbit. They are generally clean pets and bathing them will likely strip their fur of natural oils and maybe cause distress.
Ware Small Animal Grooming Kit
Best rabbit brush for versatility
Brush type: Slicker and bristle | Rabbit hair type: All | Material: Various
Ideal for first time rabbit owners
Will help with matting
You need to be careful with the pins
Chew is just painted wood
If you're not sure whether you should grab hold of a slicker brush or a soft bristle brush, then why not grab them both. While you're at it, it may also be a good idea to snap up some nail clippers and a distracting chew toy while you get on with the task at hand. Expensive? It doesn't have to be.
With this set, you don't need to make any decisions, making it ideal for novice rabbit owners. You'll get all four items in a handy value pack and you can simply get on with the various tasks at hand. For starters, the slicker brush's stiff pins will remove excess hair and help to reduce shedding. The softer bristle brush can then help distribute natural oils across the coat by gently massaging the skin.
Using both should help with matted hair and they'll help to keep a rabbit's coat in very good shape. While you perhaps shouldn't expect the same quality as products sold individually, users are, for the most part, more than happy with the quality. So long as you're careful when using the slicker brush, you'll be able to groom without scratching the skin. And that will lead to a very happy bunny indeed!
How to choose the best rabbit brush
The rabbit brush you choose will depend to a great extent on your overall aim. In general, you can leave a rabbit to their own devices and only intervene when you feel it's a appropriate, but there's no harm in using a brush with stiff bristles to remove dead hair on a semi-regular basis. You can then step up to a slicker brush if the hair is becoming tangled.
A glove brush may be ideal if you want to groom while petting. Rabbits like being patted and stroked and it's a way to do both at once. It's also worth paying that little bit more for a brush. There are lots of cheap ones on the market, but they're not all built to last and you don't want to keep replacing them.
Get the best advice, tips and top tech for your beloved Pets
Thank you for signing up to Petsradar. You will receive a verification email shortly.
There was a problem. Please refresh the page and try again.